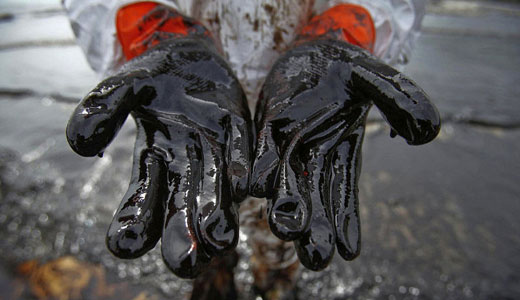 Continuing to prove that oil spills are the new normal, a pipeline in Smithville, Texas leaked about 17,000 gallons of crude on October 30. The spill occurred just 40 miles southeast of Austin, and contaminated a local private pond and two reservoirs (which reportedly aren't used by the public) before damage control got under way. What makes this incident particularly outrageous is the fact that the pipeline is owned by the billionaire capitalist Koch Brothers, through Koch Pipeline Co., a subsidiary of Koch Industries.
This spill is yet another reminder of the crumbling infrastructure in the U.S. Frances Beinecke, president of the Natural Resources Defense Council, said pipeline leaks are far from a rare occurrence. He noted, "Over the past two decades, more than 5,600 failures in oil and natural gas pipelines – many of which predate the Eisenhower administration – have resulted in more than 100 million gallons of oil spilled. We should make investments now to update our nation's aging pipelines in ways that make them safer, more efficient, and environmentally sound."
But greedy corporations cannot be counted on to make such upgrades, especially Koch Industries, which has a legacy as filthy as the Smithville crude. Its history includes the funding of right-wing think tanks (some of which help to promote climate change denial); attempts to buy elections; theft of oil from Native American reservations; and a long list of other crimes, both environmental and civil.
The Koch brothers have also put $50 million toward think tanks and Congress members in support of the controversial Keystone XL pipeline. And they, together with the American Legislative Exchange Council, have launched numerous attacks on renewable energy as well, while at the same time throwing their full support behind fossil fuels, which obviously mean higher profits for corporations. But corporations' recent habit of touting pipelines as a safe way to transport oil has come under fire, as they have been proven wrong time and again this year.
The faulty pipeline in Smithville was discovered during a routine aerial inspection, and though crude has now stopped spilling, experts are still trying to determine the source of the leak. In other words, it has not yet been plugged, nor has the pipeline been replaced. Koch Pipeline Co. declared in an official statement that it had "no estimated time for repairs."
Meanwhile in Congress, there is a perverse effort to enable oil industries to wreak further havoc. On October 29, a day before the Texas incident, the House Energy and Commerce Committee held a hearing for bipartisan legislation called the North American Energy Infrastructure Act. It would speed up the permitting process for oil and natural gas pipelines, particularly those that crossed country borders (like the planned Keystone XL), by removing President Obama's authority to issue such permits, instead leaving that up to other agencies.
Lois Epstein, a civil engineer and pipeline expert with the Wilderness Society, suggested that the recent spat of oil spills this year was bound to happen. "Many of us have been asking for this for over a decade," she remarked. "We really have regulatory paralysis in terms of pipeline safety requirements."
Photo: A cleanup expert's gloves are covered in crude in Smithville, Texas. AP