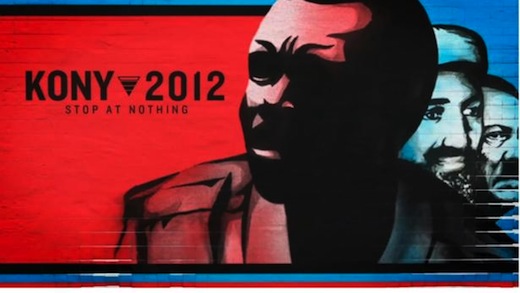 Kony2012 exploded onto the world stage last week with a savvy, social media-based campaign that is reaching tens of millions of people with its simple message: Stop Joseph Kony, child abductor.
It's a message with which no one could possibly disagree. Kony kidnaps children, makes them soldiers and forces them to commit atrocities. Let's stop him.
Yet, by making complex situations simple, it means leaving out crucial information. (See UNICEF video below.)
For example, in 2008, Ugandan armed forces with U.S. military support tried to stop Kony. Called Operation Lightening Thunder, the intervention was supposed to end the reign of terror by Kony and his Lord's Resistance Army.
It failed miserably. Kony and the LRA got away and retaliated, killing nearly 1,000 Congolese people, displacing 180,000 and hundreds more children were abducted for forced conscription. The military operation further regionalized the conflict, sending the LRA into Central African Republic.
The LRA hasn't been active in Uganda since 2005, the same year the International Criminal Court indicted Kony and his lieutenants for war crimes, including sexual enslavement and forced enlistment of children. The LRA has moved its criminal operation to neighboring countries, the Democratic Republic of the Congo, the newly-formed South Sudan, and now, since the military fiasco, the CAR.
When the court issued its arrest warrants for Kony, Ugandans and others asked why didn't the court also indict Ugandan troops?
During current President Yewari Museveni's regime, Ugandan troops forced thousands of people in northern Uganda, mainly Achioli people, into displacement camps, reportedly forcing them to live – and die – in horrendous conditions.
Professor Tim Allen of the London School of Economics went to northern Uganda in 2004 to research the work of the ICC in relation to the conflict on behalf of the charity, Save the Children and saw the internment camps. He was among those who met with the international court's prosecutor about the LRA-only indictment. Allen co-edited "The Lord's Resistance Army: Myth and Reality."
Allen told an audience at a talk in London that the prosecutor was pointedly asked why warrants had not been issued for those Ugandan officials responsible for the "mass forced displacement," which according to the ICC is a form of genocide. This uneven application of international law begged the question: were politics at work.
Uganda's Museveni enjoys support in American ruling circles, in particular among the Christian rightwing. Evangelical churches in Uganda get support from their U.S. counterparts and influence Ugandan politics.
In 2005, the Museveni government changed its reportedly effective HIV/AIDS prevention strategy and adopted a U.S. funded abstinence-only program pushed during George W. Bush's years.
A few years later, U.S. evangelicals helped craft anti-gay legislation in Uganda that included the death penalty and forcing citizens to report any homosexual activity or face imprisonment.
Other connections between Uganda and U.S. far-right Christian groups include the initiator of Kony 2012, Invisible Children. According to Alternet, the group receives sizable sums from groups with an anti-gay agenda and finds common cause with the Ugandan government.
This may explain the selectivity of Invisible Children's campaign, says the author, ignoring "their provisional partner, the government of Uganda – whose president shot his way into power using child soldiers, before Joseph Kony began using child soldiers."
Uganda is strategically located in Africa's natural resource-rich Great Lakes region. Oil reserves on the scale of Mexico's were recently discovered in northern Uganda.
Africa is a battleground for corporations and states to get access and control of natural resources. U.S. corporate and military interests, worried about the rise of China – including its influence in Africa, are sure to see "vital" U.S. interests in the region.
Despite the wealth of the region, more children die of poverty, hunger and preventable diseases than any other reason.
Responding to both lobbying pressures and U.S. "interests," President Barack Obama ordered last year some 100 U.S. military troops to Uganda to assist in capturing Kony.
The move drew praise from both sides of the aisle, most notably from Republican Sen. James Inhofe of Oklahoma who travels to Uganda regularly. Inhofe is featured in Invisible Children's Kony 2012 video. He is a well-known far-right politician and reportedly a member of a secretive fundamentalist group called The Family that has influence in the United States and Uganda.
No matter what the motivations, many people say capturing and trying Kony would be a positive step for justice.
Allen appreciates that Kony 2012 has placed an "emphasis on capturing him and prosecuting him by the ICC" as opposed to killing him, he said in a recent email interview.
However, there are powerful forces that do not want a trial.
"President Museveni does not want a trial in The Hague – which would implicate him and the Ugandan army. He would rather Kony was killed," he said. "It could prove embarrassing for U.S. allies."
Noting that the U.S. never ratified the treaty recognizing the ICC, Allen said if the campaign "pushes the U.S. towards ratification that would be great."
In the end, Allen says, Kony 2012 may be helpful in shedding light on a complicated area of the world.
"If Kony is captured it would not resolve the problems of the region. But it would be a positive step. The publicity would be useful."
Photo: From Invisible Children's Kony 2012 campaign.