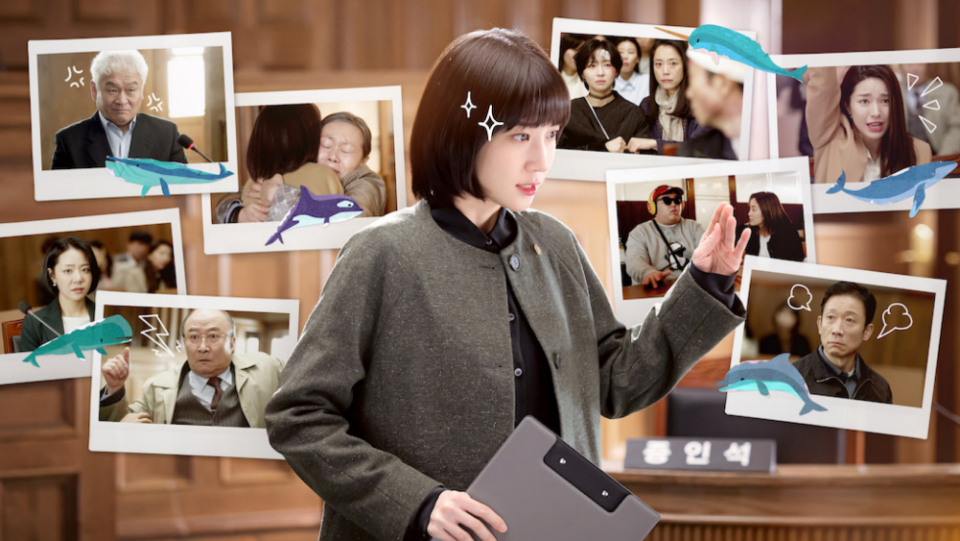 On its face, "Extraordinary Attorney Woo" is a gentle plea for tolerance and understanding. Netflix's new Korean television series is the story of a young attorney, fresh out of law school, taking her first job as a lawyer in a prestigious, powerful downtown Seoul law firm.
Woo is extraordinary as she is not only the brightest star in her graduating class from Seoul National University, but she is also a high functioning autistic. Generally, the autistic are thought to struggle with conventional social interactions, accepted appropriate behavior, and all manner of social and affectional relationships.
But Woo's intelligence and her eidetic memory not only help her navigate her way through social and professional relationships. They also provide a sharp contrast and offer an alternative view of the law and the social and economic underpinnings of our entire society. Woo constantly sheds a bright light on how we have become accustomed to live our lives under this law and how we might improve.
In this respect, Woo is a gentle subversive. She is attractive and charming to the point of preciosity. Her mannerisms range from cute to grating. The sweetness of her character mostly is a winning attribute. Occasionally, the audience may wish she acted differently. But this is not a morality play, and she is always in character, much to her credit.
On the surface, Woo is consumed with concern for whales, dolphins, and aquatic life writ large. She rattles off the particulars of sea animals, focusing on their endangered status. An activist, she demonstrates against environmental threats. Her compassion, however, is not limited to the animals which often wander across her field of vision, especially when she has legal epiphanies. Her concerns for social justice engage her in cases and causes of corporate corruption, labor struggles, private attempts to encroach on the public good, and women's rights.
Woo is written off as without guile. But instead of weakness, her lack of sophistication and experience proves a strength, as she is able to see a wider scope of solutions to issues than those around her in the corporate legal world who are inured to injustice. Her creativity, boundless energy, and intelligence renders her less willing to be placated with half-truths, compromises, and bad action.
Legal realism frequently brings the show's idealism crashing dramatically back to earth. Woo is not a superhero; she is not Perry Mason who wins every case. Too often her principled stands are thwarted. Still, her struggles are inspirational and instructive.
In its first season, EAW has set records in ratings and number of viewers, making it one of the highest rated dramas in Korean cable television history. It has been the most viewed non-English show globally on Netflix for weeks, the most watched series in eight countries, appearing in the Top 10 in 27 other nations.
Beyond its popularity with the viewing public, the show has been nominated by critics for Best Drama of the Year, Best Director, Best Writer, and Best Actress (Park Eun-bin), and Best Supporting Actress.
Park Eun-bin as the heroine is particularly affective, engaging, and humorous. She is supported by a fine ensemble of some of South Korea's finest young actors—romantic lead Kang Tae-oh, supportive Ha Yoon-kyung, the villainous Joo Jong-hyuk, and the very funny Joo Hyun-young, a veteran of Korean SNL.
The "Extraordinary Attorney Woo" is available on Netflix. It has just been extended for a second season.