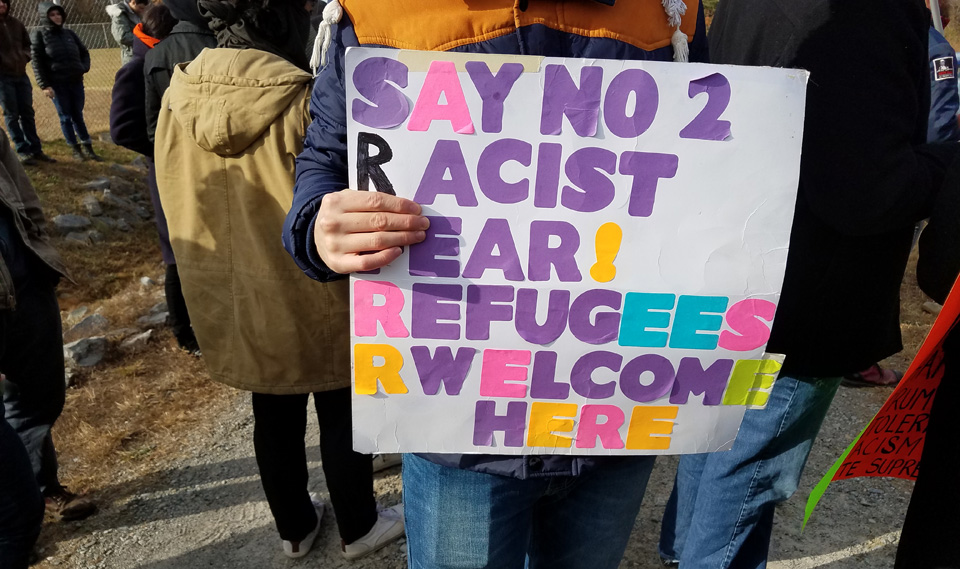 PELHAM, N.C. — The victory parade that the Ku Klux Klan had scheduled for December 3 to celebrate Donald Trump's election fizzled. There were at least 100 counter-demonstrators gathered in Pelham, NC to voice their opposition to hate and division, but the Klan didn't show up.
The Loyal White Knights of the Ku Klux Klan announced plans three weeks ago to hold a "Victory Klavalkade Klan Parade" to celebrate the victory of Donald Trump. As reported by the Burlington Times News, the KKK said it expected "a pretty good turnout." John Roberts, the Exalted Cyclops of the group, told the Times News "People who can't make our normal rallies and meetings, they're going to be flying in or driving in for this." This same group was responsible last year for a protest in South Carolina against removing the Confederate battle flag from the statehouse grounds.
Progressives showed up from around North Carolina. People's World counted just over 100 participants. The Triangle Industrial Workers of the World (IWW or Wobblies) organized a large group of people from the Raleigh/Durham area. Their Facebook page counted 480 people as "Interested" and 130 as "Going." The Wobblies met at Duke Park in Durham, NC at 8AM and proceeded to Pelham from there. This group was not as large as the 130 who had committed to going via Facebook, but was a sizable group nonetheless. Other protestors attended from the nearby Triad area (Greensboro/High Point/Winston-Salem), and as far away as Greenville and New Bern, which are near the coast.
At the same time, a coalition of groups in Greensboro also planned an anti-KKK rally.
The KKK had indicated previously that they were not announcing the exact time or location until just before the event, so the counter-demonstrators gathered first at the Piedmont Triad Visitor Center just off of Route 29 near Pelham while awaiting details of where and when the parade would take place. When so many showed up, they moved to the nearby Pelham Community Center where more parking was available.
As the crowd milled around, talking about the issues of the day and making new friends, songs such as "Bread and Roses" spontaneously broke out among attendees. A variety of placards were in evidence, such as "No Nazis in NC" and "Unite to Fight the Right."
A contingent of observers from the National Lawyers Guild, all wearing high-visibility green baseball caps, was present. They were there to observe any hassles from law enforcement, but that didn't happen either. A Sheriff's Deputy patrol car cruised through the Community Center parking lot at one point; as one protestor noted, "This is the most interesting thing happening in the whole county today." Later, a black Yukon or Denali SUV with Virginia license plates pulled in. A couple of men (who looked like they were used to wearing suits but had put on the chinos and V-neck sweaters to fit in with the "casual crowd") hopped out, firearms clearly visible underneath the sweaters.
People's World talked to some of the local folks as well as those from Raleigh or Winston-Salem. One local man said he wasn't surprised that the Klan hadn't done anything. "You know the local group is just two guys in a trailer with a website, don't you?" He went on: "They used to march in High Point pretty often. People handled it well. The police would issue them a parade permit. About 10 or 12 Klansmen would show up, chanting 'KKK for the USA' and the like. No one would go watch. We'd just ignore them."
I remarked that this was the kind of treatment they deserved – back then. Now that Trump has been elected, things have changed. It's not just Donald Trump; it's the people he's appointing to key federal positions too. And more than that, his campaign has stirred up a lot of hate that has been there, beneath the surface of American life, looking for a chance to emerge. Now they feel emboldened, and if they are not opposed, they can do lasting damage at home and abroad.
In the end, the Grand Cyclops said that "the bottom fell out" and they cancelled, according to Natalie Janicello on the IWW Facebook page.
KKK: 0; Protesters: 100. It's a start.