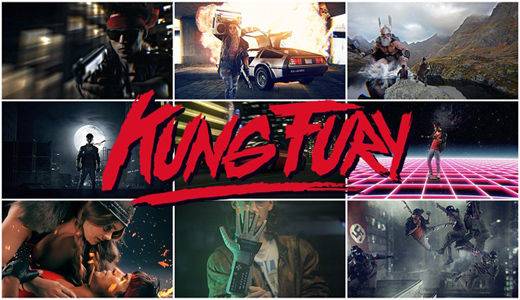 Kung Fury, a 31-minute, crowd funded 80s inspired action comedy movie, was released for free today on YouTube. Produced by Swedish studio Laser Unicorns that launched a kickstarter campaign to help funded it was able to raise $630,019 from what was originally a goal of only $200,000.
Kung Fury takes place in 1985 Miami and from the very first opening scene, which involves a cop car being flipped over by a skateboard, you can tell that you are going to be in for some physics-defying action and fun. The main villain of the movie is none other than Adolf Hitler or "Kung Führer" in the movie because he has mastered the art of Kung Fu and only the chosen one Kung Fury can travel back in time and take him down.
The sound effects and music for the movie are of course something straight out of the 1980s. It sounds like everything was produced from a Yamaha keyboard and that is actually a good thing! The 80s icon, David Hasselhoff, wrote the lead track "True Survivor" and it even has its own music video. The special effects in the movie are actually the biggest break from the 1980s theme as the computer generated special effects and animation goes far beyond the technology they had in the 1980s.
The acting in the movie was great based on the how low the budget is. Written, directed and starring David Sandberg as the main character "Kung Fury" brings corny catch phrases and ultra violent action together into one great short film. The ending leaves open the possibility of a sequel. Overall Kung Fury is a fun movie to watch and might give you a case of nostalgia.
"Kung Fury"
Directed by David Sandberg
31 min., 2015, Violence/language-not for kids
Photo: official Kickstarter page