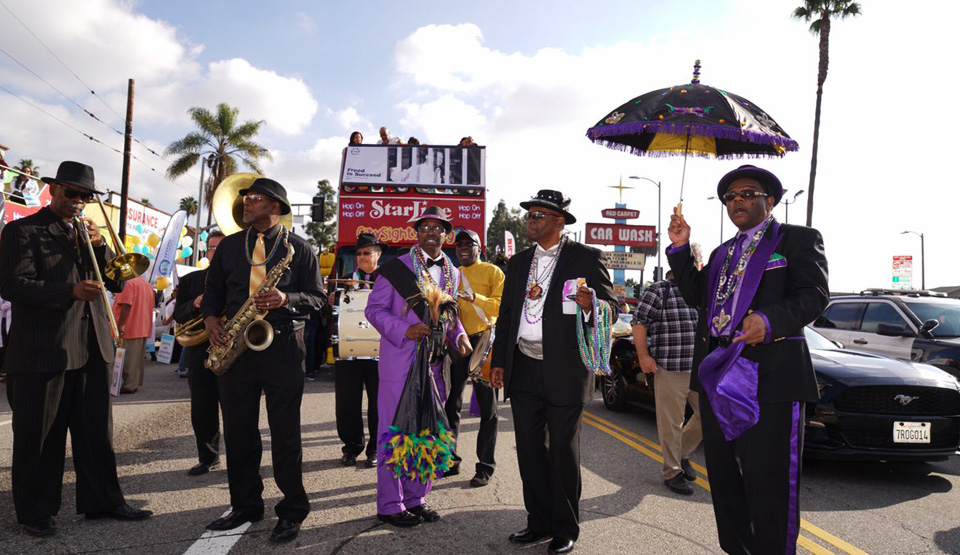 LOS ANGELES — The 800,000-member Los Angeles County Federation of Labor made it clear that it will resist actions of the Trump administration and Republican-controlled Congress that harm working families in its Martin Luther King Jr. birthday celebration highlighted by a Jan. 14 labor breakfast in downtown's Bonaventure Hotel.
When the Trump administration tries "to deport our friends and brothers and sisters…we will stand in the way." When Congress tries to undo programs like "Obamacare, we will rise up and get in the way… make good trouble… and must be willing to go to jail," said Rusty Hicks, executive secretary-treasurer of the L.A. Fed in his remarks to the standing room-only gathering of over 1000 labor, political and community leaders and activists.
Introduced by Laphonza Butler, president of SEIU Local 2015 and SEIU California State Council, newly elected U.S. Senator Kamala Harris (D-Calif.) brought the crowd to its feet cheering when she announced she would oppose President-elect Donald Trump's nominee for U.S. attorney general, Sen. Jeff Sessions. "When our ideals and fundamental values are under attack," she asked, "do we retreat or do we fight? I say we fight! Whenever there's been an assault on working families, we've never backed down. We've stood together. And that's exactly what we'll do now." In opposing Sessions' nomination, she cited his record of opposing civil rights and other questions of equality as "contrary to our ideals." Harris was California's attorney general before being sworn in as a U.S. senator early this month.
Referring to Election Day 2016, Sen. Harris said the "post 11-8 period…is a pivotal moment in our country's history when we must ask the question who are we looking at in the mirror." The answer, she went on, is that we are "a good country" because of our ideals and fundamental values, and that fighting for them "makes us patriots."
She ended paraphrasing Coretta Scott King, saying that the fight for civil rights must be fought for each generation and that today's challenges can be overcome.
The labor breakfast keynote speaker was Bryan Stevenson, founding director of the Equal Justice Initiative, a leading human rights attorney and advocate and author who champions racial justice within the courts and prison system. He has successfully argued several cases before the Supreme Court and recently won a historic ruling that mandatory life-without-parole sentences for all children 17 or younger are unconstitutional.
Stevenson outlined the historic and still escalating criminalization of people of color, and advocated for greater commitment by progressives in four basic ways:
1. Getting and staying close to those affected by these racist practices and in whose lives come the answers for what is needed.
2. Changing the narrative on racism, starting from its roots in the genocide of indigenous people, slavery of African Americans and modern outgrowths of slavery in the oppression of people of color.
3. Maintaining that justice and equality can and will be won; and
4. Maintaining the determination, the willingness to work where there is discomfort.
The theme of the breakfast was "Freed to Succeed." Rusty Hicks pointed out how "Dr. Martin Luther King Jr. was arrested 30 times in his long march for civil rights. Each time, every time, Dr. King was freed he marched again to succeed…. When Trump tries to register Muslims as dangerous people, uses blatant racism to divide White from Black and Black from Brown, and send more working people to the poor house by trying to eliminate their voice on the job, we will put the words of Dr. King into action and vote him out of the White House."
The event honored the first graduating class of the Federation's newly launched Los Angeles Reentry Workforce Collaborative, whose Second Chance Pre-Apprenticeship Boot Camp prepares workers freed from prison to get union jobs.
At the breakfast and online and through other outreach efforts the L.A. Fed called for mass labor and community participation in numerous marches and activities calling for opposition to President-elect Trump's and the reactionary Republican Congress' anti people policies. Such demonstrations are focused around the inauguration of Donald Trump as president, including the upcoming January 21 Women's March Los Angeles, and the January 20 United Against Hate-Inauguration March. The Fed also supported the January 14 We Are Here to Stay rally and the January 15 Save Our Health Care Rally in Los Angeles.