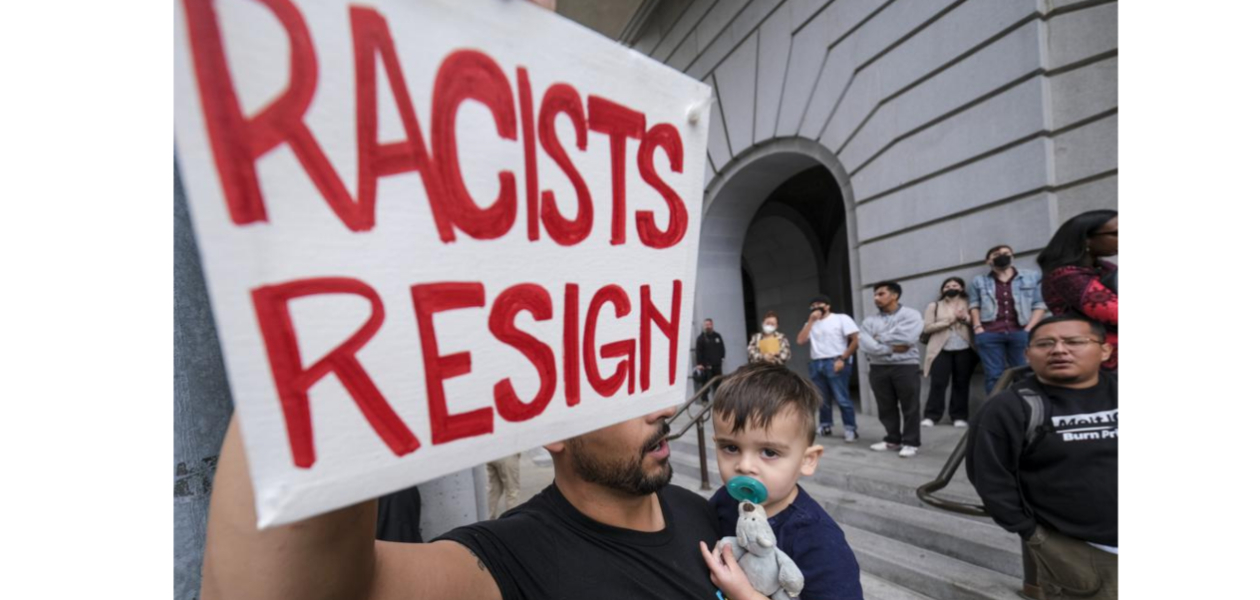 LOS ANGELES—Politics in Los Angeles has been rocked in recent days by an inflammatory recorded conversation among three prominent City Council members and a union leader that was leaked to the public.
Council President Nury Martinez, Council members Kevin de León and Gil Cedillo, and L.A. County Federation of Labor President Ron Herrera were recorded in the latter's office discussing a number of topics concerning redistricting and politics in the city. Riddled throughout the meeting were anti-Black and anti-Indigenous sentiments, along with conspiratorial discussion around dividing up the city map to only serve themselves and those on their "team."
The leaked recording, of a meeting that took place in October 2021, has sparked outrage throughout the city. Meanwhile, the progressive movement is attempting to deal with the fallout as elections, including the crucially important November midterms and the race for L.A. mayor, are fast approaching.
Originally, the leaked audio was anonymously posted on the popular social media site Reddit. But it wasn't until the Los Angeles Times and Knock LA wrote about the recording that the story caught fire. In the audio, Martinez talks at length about fellow Council member Mike Bonin and his Black son. In her derogatory rant, she calls Bonin, who is gay and married, "a little b*tch" and refers to his son as "su negrito" (his little Black boy). Martinez said of the youngster, then three years old, "parece changuito," meaning "he looks like a little monkey."
The council president also verbally lashed out regarding progressive Los Angeles District Attorney George Gascón. Martinez is heard saying, "F*ck that guy, he's with the Blacks."
Speaking of the people who inhabit L.A.'s Koreatown (K-Town), Martinez remarks how she sees a lot of short, dark people. It is pointed out in the conversation that these are people of Oaxacan (Indigenous Mexican) descent. Martinez responds by saying, "Tan feo," translated as "So ugly." Not left out of the conversation are the "judíos" (the Jews) and the Armenians.
None of the others in attendance are heard pushing back against any of Martinez's assertions.
Along with these racist and xenophobic sentiments, it is clear in the conversation that the four are focused on redistricting Los Angeles voting boundaries to empower themselves and only those they see as aligned with them. The dialogue acquires a highly classist mindset.
When talking about K-Town, Martinez, Cedillo, de León, and Herrera seem set on gerrymandering councilmember Nithya Raman's district. Cedillo asserts that some people aren't worth "saving," that Nithya is not their ally, and that her district is not one they can "count on." They speak about the majority of renters in the diverse area, and wanting to split them up, giving Raman more homeowners to "keep her on the fence"—homeowners being assumed to vote more conservatively.
Herrera is heard telling de León, Martinez, and Cedillo that his goal is to get the three of them elected, and that he is "just focused on that." He says that the four of them are like "a little Latino caucus" of their own. (Cedillo subsequently lost his seat in the 2022 primary election.)
To be clear, it is not unheard of to consider race when dealing with redistricting. Used fairly, it can be a way to not disenfranchise already marginalized groups from the representation they need. When abused, it can serve to dilute the political power of often already oppressed groups. Yet, considering that the City Council has the authority to approve the Los Angeles map, it was a shock to Angelenos to hear three Council members speaking so disparagingly about other races and groupings.
In the recording, the four individuals speak of their frustration with what they believe is the underrepresentation of Latinx in local government. They reference the fact that Latinx make up nearly half of the population, while holding one-third of the 15 Council seats.
Following the audio leak, initially Martinez, de León, Cedillo, and Herrera issued short public apologies, and Herrera resigned Monday night as the head of the Federation of Labor. Martinez stepped down from her presidency of the council, and after that was deemed clearly insufficient, she then took an indeterminate leave of absence. As the outrage mounted, Martinez finally issued a statement relinquishing her council seat as well.
Numerous officials, activists, leaders, and residents continue to demand further accountability and resignations. At press time, it is unknown what, if any, further action might be taken.
Given Herrera's role as L.A.'s top union leader, the labor movement has stepped up with a number of statements condemning the conversation and emphasizing that labor represents all workers and not just a designated few.
The leader of the California Labor Federation, Lorena Gonzalez Fletcher, issued a statement saying that "it is repulsive and unacceptable to use anti-Black language. Black and brown communities are too often pitted against each other in our fight for equity. Absolutely nothing could justify these racist comments, they are painful to read and hear. Black and brown leaders need to come together to fight for justice for our shared communities."
Gonzalez Fletcher also called for the resignation of all those involved in the meeting.
The leaders of SEIU California, with a huge L.A. area membership, issued the following statement:
"The anti-Black and anti-Indigenous racism, homophobia, abuse of power, divisiveness, and outright cruelty expressed in this conversation are outrageous and unacceptable. These are not the values of the labor movement, and they undermine the unity required to build an equitable Los Angeles. These individuals have failed the test of leadership. It is important that they resign their positions and step aside so the healing can begin and our movement can come together to make progress for all working people in Los Angeles.
"To Councilmember Bonin and your family, we share your sorrow, anger, and hurt. No family should ever face such abuse. To the Black, Indigenous, and LGBTQ+ communities who are today processing another toxic attack on our children's and our families' worth and dignity, we join with you and commit to fighting for a better society."
The California IATSE Council said: "What took place at the October 2021 meeting flies in the face of everything that we stand for. The core value of the labor movement is equality and justice for all without regard for the color of your skin, the language you speak, or whom you choose to love. We represent all our IATSE members with that commitment first and foremost. The CIC is appalled by the behavior and racist comments expressed at that meeting. We join with many others in calling for the immediate resignations of all Los Angeles City Council members who were involved."
Council members Heather Hutt, Curren Price, and Marqueece Harris-Dawson issued a joint statement:
"This is a very dark day in L.A. politics for African-Americans, the LGBTQ+ community, Indigenous people, and Angelenos who have put faith and trust in their local government. This is a City Council that has said time and again that Black Lives Matter, that love is love, that our families come first and we are all equal…. The actions of our Colleagues should not be tolerated, and a vapid tongue has no place in City Hall. Not today, not tomorrow, not ever."
California State Assemblymember Isaac G. Bryan spoke publicly at the most recent Council meeting, expressing that "Brown political power cannot be rooted in Black erasure, homophobic speech…. We deserve better. The people have called for these resignations… There will be healing, but we can't have that without accountability."
The controversy has put the topics of brown and Black unity, division, colorism, and classism in Los Angeles politics center stage.
Activist Alicia Sanchez stated in a public Twitter thread that "Black and Indigenous folks from Latin America are very familiar with the anti-Black, anti-Indigenous language Nury Martinez used. We aren't surprised—we hear it from politicians, media, at the grocery story, in school… Everything Nury Martinez said behind closed doors, we have heard IN PUBLIC. It harms Black Americans, it harms Indigenous folks—our material conditions. These are policy makers. Can [we] trust them to resource Black and Indigenous communities?"
Trudy Goodwin Barnes, a self-identified "Black woman, mother, grandmother, and community elder," writing to the editor of the L.A. Times (Oct. 12), said, "There can be no trust between the Black community and the Latinx leadership when those who represent us are the ones calling for actions to diminish the voices of Black people and showing disdain for Black children."
Rossana Cambron, co-chair of the Communist Party USA and an L.A. activist, told People's World: "The remarks made in that recording do not speak for the Latino community as a whole. The resounding force calling for unity among Black and brown people, I stand wholeheartedly with that. When it comes to the issue of redistricting, it has to be about making sure it benefits all working people, not one group over the other."
Speaking to the division this causes among marginalized people of color, retired L.A. teacher Teresa González, stated, "Maybe it's the optimist in me, but we all need political soul healing. Otherwise, we are playing right into the fascist right-wing hands. They are probably sitting, drinking cognac and smoking cigars having a good laugh, while we go at each other's throats."
Who benefits?
This sentiment of course raises the obvious question: Whom does this audio leak benefit? As we approach the important midterm elections, democracy is on the line across the country. In L.A., a contentious mayoral race between progressive Black Congresswoman Karen Bass and billionaire developer Rick Caruso is roiling the city, especially considering the 10 to 1 disparity in campaign expenditures between the two candidates.
Although the recording is of a meeting that took place last Fall, for some reason it is being released now—only four weeks before this historic election.
Kevin de León, it must be remembered, also ran in the mayoral primary, and came in third, with 7.8% of the vote, behind Bass and Caruso. Yet he has not endorsed either Bass or Caruso, even though his percentage of the vote, if added to Bass's, would make her win the mayoralty. Gil Cedillo, to the dismay of many of his constituents, has endorsed Caruso.
While it is still unknown both who made the recording and who released it, not to mention who thought they would directly benefit from such an incendiary controversy, it is clear who does not benefit from this event—the progressive movement that has, among its many successes in L.A., also now gathered around Rep. Bass.
Sentiments like the ones expressed in that recording are poison to true unity among working people. Latino empowerment cannot be seen as dependent upon the detriment of other people of color, including fellow Latinos of Indigenous backgrounds. This kind of division is translated into policies that do no good for the fight for change. Someone else may have leaked the audio, but no one put those venomous words into the mouths of Martinez, de León, Cedillo, and Herrera.
Both Martinez and Herrera have stepped down from their positions, but there is a long way to go to achieve a semblance of full accountability—in particular, how redistricting is controlled and what measures need to be put in place so that this power is not further abused. Fortunately, the four individuals on tape do not represent the whole movement for change. This scandalous incident reveals some of the hurdles that must be overcome to strengthen not only Black and brown unity, but the unity of working people as a whole.
The divide-and-conquer tactic is not a winning strategy for true democracy and change. One of the positive and hopeful aspects of the response to these events is the universal revulsion against hate speech of any kind.