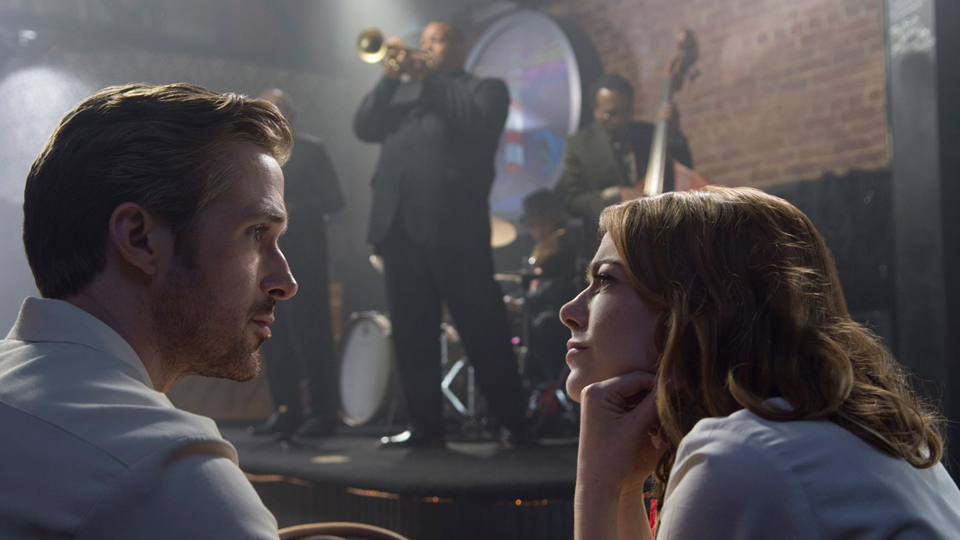 It's one of the older stories in the book. Boy meets girl in L.A. They fall in love. But their careening careers conflict. Will they find happiness together? Will love triumph over artistic success? Will they even find artistic success at all?
Sebastian (Ryan Gosling) loves jazz. Clearly he's talented and cool. Just look at those shoes! He's a traditionalist who respects jazz history, as well as its thematic importance. . . an old school guy though as fresh as his leading man good looks, nimble taps and rich to reedy voice. His goal is to open a club where he can play as well as host other acts.
Mia (Emma Stone) hates jazz. But as she and Gosling are thrown together, her growing love of Gosling makes her appreciate the creative attributes of jazz. She's an ambitious playwright. Like Gosling, she is consumed by her craft. Endless auditions and initial failures batter her aspirations, but not her spirit. Her toothy smile and huge eyes leave little unclaimed terrain on her face. Gosling is smitten and they move in together.
The steps to success lead him to play with his old friend, mentor, alter ego and band leader, Keith (John Legend). Legend is seamless and winning as he pushes Gosling onto the road to success: travel and the sacrifice of personal life. They also make great music together.
The soundtrack to success is a bit more pop than jazz, spirited melodic compositions which weave together the high gloss, bright colored look and mood of LA sets (by David and Sandy Reynolds Wasco) vaguely harkening back to the optimism of the thirties and musicals of the forties and fifties. The dash of contemporary angst doesn't dampen the spirit as much as whet the appetite for success. The spirited Justin Hurwitz music is well complemented by songwriters Benj Pasek and Justin Paul (School mates who met at University of Michigan). The track well fleshes out Stone's ambitious character, while Gosling's slight rebellious pout is set in the haunting thematic refrain "City of Stars."
There are no real surprises in La La Land. It is all about artistry. Gosling and Stone are such talented actors that we believe them in these iconic roles. The series of splashy, colorful, sharply choreographed upbeat numbers showcase artistry that seems to expand before our eyes.
Writer-Director Damien Chazelle ("Whiplash") has created an effective, fast moving, minimalist script well suited for Gosling and Stone's expressive sprint through the story line. The principals are not there to reflectively celebrate or anguish over their fate or even probe the meaning as much as to demonstrate what it means to take certain actions. In that respect, this is a very American film in that most American medium, the musical. Ours is not to explain the world. Ours it to show how it works by living it out.
Chazelle's simple, yet nuanced, moral tale has updated and modernized the art form while offering its timeless lesson.
La La Land
Director: Damien Chazelle
Writer: Damien Chazelle
Stars: Ryan Gosling, Emma Stone, Rosemarie DeWitt, John Legend
PG-13  |  128 min