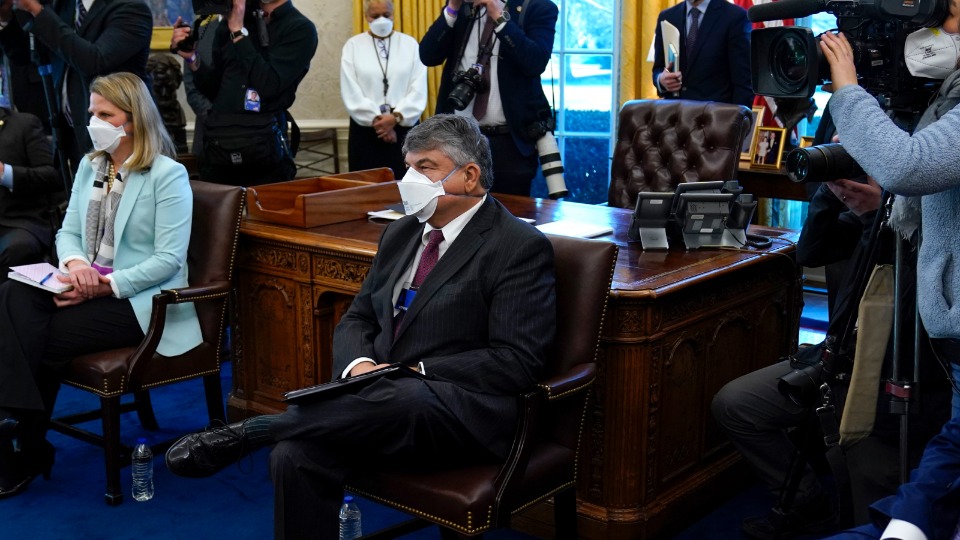 LOS ANGELES—The urgency and historic significance of the American Rescue Plan are being amplified by the gamut of civic and community groups around the country, from labor to civil rights, health care, education, child, senior, unemployed, disability, homeless, and other advocacy groups. Momentum is building for mass public pressure to get the strongest measure passed and signed before the expiration of key parts of the previous relief and stimulus package, which was passed in December.
The House of Representatives is expected to vote on the $1.9 trillion pandemic relief package no later than Fri., Feb. 26. The bill, as currently worded, supports COVID vaccines; cuts child poverty in half; helps the unemployed; provides more nutrition aid, housing assistance, one-time payments, child care, and paid leave; supports education and other state and local services; and much more.
"It is the most important convergence of needs and solutions that I've ever seen in my 40 years of professional life; we need to win it and build on it," Deborah Weinstein, executive director of the Coalition on Human Needs, said of the bill.
The Coalition underscores how the package is designed to give a "knockout blow" to the pandemic and its gruesome health, economic, and social impacts. To get to the other side of the crisis, the country has to address the longer-term problems of declining and stagnating living standards and quality of life in the 21st century, and the ARP begins to do just that.
It's got the backing of organized labor, too.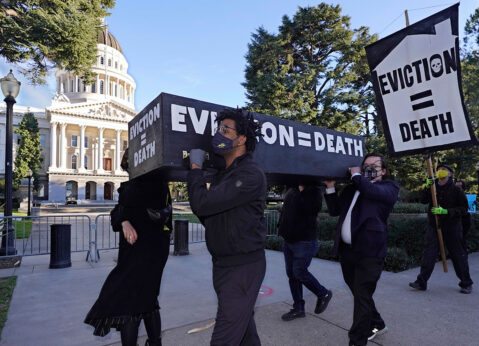 Richard Trumka, President of the AFL-CIO, and other national labor leaders met with President Joe Biden on Feb. 17 in the White House to discuss the stimulus package and other worker safety issues along with infrastructure needs. The AFL-CIO's Workers First Agenda makes bringing the COVID-19 pandemic under control its most immediate focus of 2021. The Agenda advocates worker empowerment, safety, good jobs, and public investment, racial justice and democracy, and economic security.
Last week, SEIU, NEA, AFT, and other unions issued national calls to begin pressuring members of Congress to support the rescue package, with particular focus on issues like the minimum wage and education needs. Biden and Harris have addressed town halls and the press to build public support.
A final up or down vote is scheduled by the House by the end of this week, with passage by a comfortable margin expected. Public input and pressure on House members now, however, is seen as necessary to build influence for passage of a stronger bill by both chambers. The Senate will begin deliberations Mon., March 1. To qualify for budget reconciliation approval there, the Act needs to pass with the vote of 50 Senators plus Vice President Harris's tie-breaking vote, if necessary.
With this in mind, the Coalition on Human Needs is mobilizing popular support for a strong stimulus package, with messages on Twitter, text, and phone. Messages are focusing on key issues like the minimum wage; aid to states, cities, territories, and reservations; full benefit levels to households, the unemployed, tenants, and persons experiencing homelessness; the child tax credits; and more that will immediately improve people's social wellbeing.
Sen. Bernie Sanders, I-Vt., chair of the Senate Budget Committee, said on Feb. 19 that the section of the bill that includes raising the federal minimum wage to $15 an hour should be decided on this week.
Floor debate in the Senate will likely be like a tempest in a teapot, with Republicans proposing a barrage of amendments to blast away at provisions in the bill, with arguments likely to trash, trivialize, demonize, confuse, and generally dampen public support of the package, even though polls show up to 80% public approval of what is contained in it.
It's a tight Congressional schedule: The whole 591-page bill will have to be passed in both chambers and signed by Biden by Thursday, March 11, in order to avoid the March 14 cutoff of unemployment benefits and eviction and foreclosure moratoriums, and to provide time for distribution of resources.
The Biden administration is also upping the pressure for the bill's passage by emphasizing the need to make up for time lost under Trump in the struggle to beat back the COVID-19 pandemic with increased production and distribution of mass inoculations and personal protective equipment for health workers. The potential health and economic impacts of the ARP are inseparable.
"Passing the stimulus bill would be a down payment on leveling the playing field and creating momentum to allow the federal government to enact a second economic plan on major investments in infrastructure, clean energy, domestic manufacturing, child and elder care," says Gilbert Cedillo, Los Angeles City Councilman, a lifelong labor, immigrant rights, and housing rights leader and legislator representing districts with large numbers of essential workers of color and their families.
California State Sen. Maria Elena Durazo, a historic Latina labor leader who once led the 800,000-plus member Los Angeles County Federation of Labor and was a member of the national AFL-CIO Executive Council, says, "We need to go big with this stimulus package to begin our long road back to recovery from this economic crisis, and that's what this plan will do. In California, we are planning our own economic recovery plan that is contingent upon the federal stimulus package, and local governments across California under economic strain because of the pandemic will also receive much needed support from the package."
In greater Los Angeles and Southern California reside the nation's largest concentrations of Latina/o essential workers, who according to national studies have suffered the health and economic brunt of the pandemic along with African Americans and Indigenous peoples. The community inoculation approach of the Biden administration in recent weeks treats whole communities regardless of immigration status.
On the economic side of the crisis, the state and local governments around the county have taken steps to increase pay for essential workers. Notably, the cities of Long Beach, Montebello, Coachella, and Oakland have passed ordinances requiring higher pay for designated essential workers. Corporate retaliation by the Kroger national grocery chain in Long Beach closed two markets on February 1.
The County Federation of Labor condemned the move, saying, "Despite making record profits and issuing $1.3 billion in stock buybacks last year, Kroger decided to close two of their locations, destroying the lives of hundreds of workers, rather than rewarding their essential workers with hero pay…. It is now obvious that Kroger views their workers and communities as sacrificial rather than essential."
Such corporate behavior is a sign for the struggle ahead toward full recovery. Commenting on the growing public health approach to mass inoculation, Joelle Fishman, chair of the Communist Party USA Political Action Committee, pointed out that "public health is more than just physical health. It is also economic, social, and morale, and mental health. A grassroots approach is needed. The stimulus bill embodies such an approach in many ways, and public pressure on Congress right now is the primary way to win its passage."
Some key aspects of the American Recovery Plan:
More funding for a national vaccine program with nationwide community vaccination centers
Hiring 100,000 additional public health workers for vaccine outreach, contact tracing, and other work to improve care in underserved communities
An education campaign to persuade people that vaccines are safe and effective
More money for COVID-19 testing, treatment, and protective supplies
Increased access to health coverage through subsidies for COBRA for the unemployed and increased Premium Tax Credits to help people afford insurance, as well as expanded mental health and substance use disorder services
$1,400 stimulus checks added to the current $600 payments
Enhanced unemployment insurance benefits ($400 per week, plus continuation of other pandemic unemployment programs)
Increased food assistance in all states and territories for the duration of our current crisis, with automatic triggers for increases during future health or economic crises
Critical aid to renters, people threatened with or experiencing homelessness, and households unable to pay heat or water bills
An extension of the eviction and foreclosure moratoria
Money for small businesses targeted to those hardest hit, including those owned by people of color
$350 billion for state, local and territorial governments that have seen finances plummet during the pandemic recession, crippling services and causing layoffs
Funds for public transit agencies
$170 billion for schools, including roughly $130 billion dedicated toward safe reopening and/or effective remote learning for K-12, and funds to help colleges deal with the shift to distance learning and other pandemic-tied problems; also $1B for Head Start
Dramatic increases to the Child Tax Credit to $3,000 per child, or $3,600 for a child under 6 years old. (These credits are fully refundable, which means even the poorest families in our country can receive the full benefit. This measure also increases the Earned Income Tax Credit for the poorest workers without dependent children.)
An increase in the federal minimum wage to $15/hour
$20 billion to support Tribal governments' pandemic response, including health care and increased access to clean water, electricity, and broadband
14 weeks Paid Sick and Family and Medical Leave—incentives for employers