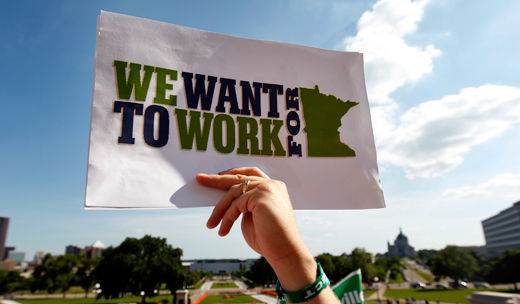 WASHINGTON – There's bad news for the nation's 14 million unemployed: Two top experts at the Economic Policy Institute say the jobs slump will continue.
As a matter of fact, forecasts EPI economist Josh Bivens, it could last as long as five more years before the economy gets back to where it was in 2007.
The continuing job losses mean the federal government should concentrate on getting people into jobs, or – in the case of state and local governments – saving them, not on budget-cutting. Cuts could actually hurt any recovery effort, add Bivens and EPI Senior Economist Heidi Shierholz.
"We've got a lot of time for more stimulus spending to help the economy because we're going to be in this jobs hole for a long time," Bivens told a July 6 telephone press conference. But congressional passage of such a stimulus is unlikely, Shierholz said.
Bivens and Shierholz spoke on the second anniversary of mainstream economists' 2009 declaration that the recession – which began when the housing "bubble" burst 18 months before – had officially ended.
But it doesn't seem like that to workers, who have seen unemployment rocket to 9.1 percent, millions of homes either in foreclosure or with their mortgages "underwater," and the bald fact that companies aren't hiring new workers. And workers' median weekly income, after adjusting for inflation, has dropped, starting in the first Bush crash of 2001.
"The worker who says the recession never ended" since 2001 "has a point," Shierholz said. "We had the first recession, then a paltry expansion and then this."
The one bright spot from the latest recession having bottomed out, she said, is that at least companies seem not be laying off people in droves anymore, as they were in the depths of the crash in 2008 and 2009.
But they aren't adding enough jobs to bring the unemployment rate down or to increase the percentage of people in the labor force, which is at its lowest point in decades. It's only when people start returning to the workforce, Shierholz said, that they will begin to believe the Great Recession is over.
One reason businesses aren't adding jobs, the two said, is that this recession, like the dot-com bust of the late 1990s and the 2001 slump, is caused by financial factors rather than the normal causes of recessions. Families' worsening finances, including the $8 trillion in lost home value in this crash, force them to cut consumer spending and it shows no signs of rebounding, the two economists said.
Photo: Protesters at AFSCME and MAPE rally at the Minnesota State Capitol, St. Paul, July 6. Carlos Gonzalez/ The Star Tribune/AP