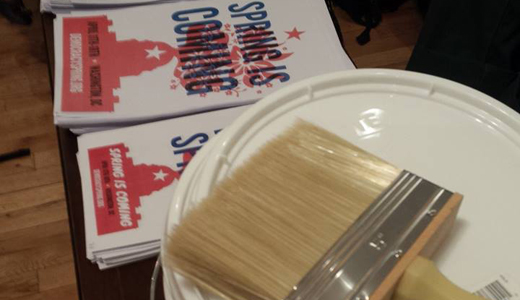 SAN DIEGO — The AFL-CIO's executive council has endorsed two coming actions, both in April, aimed at wresting control over the nation's elections from corporations and billionaires who labor says are literally buying our politicians. The nation's largest labor federation is joining over 200 other labor, human rights, civil rights and environmental organizations in two mass actions this spring that will demand restoration of democracy in America.
The first of these actions is the Democracy Spring, which begins April 2 in Philadelphia with a march commencing from the Liberty Bell and concluding at the Capitol in Washington, D.C. on April 11. Thousands are expected to gather there "to reclaim the U.S. Capitol in a powerful, peaceful, and massive sit-in that no one can ignore," according to the website set up for the event organizers. With over 2,100 people already pledged to risk arrest, this campaign is "expected to be one of the largest civil disobedience actions in a generation."
DemocracySpring.org states that, "We will demand that Congress listen to the people and take immediate action to save our democracy. And we won't leave until they do – or until they send thousands of us to jail, along with the unmistakable message that our country needs a new Congress, one that that will end the legalized corruption of our democracy and ensure that every American has an equal voice in government."
The Democracy Awakening/Congress of Conscience will be a 3-day mobilization converging on Washington, D.C. April 16-18, consisting of "an array of actions, including demonstrations, teach-ins, direct action trainings, music, a "rally for democracy," and pressing for a "Congress of Conscience" through non-violent direct action and advocacy.
Democracy Awakening is a coalition of over 170 organizations including the labor, peace, environmental, student, racial justice, civil rights and money-in-politics-reform-movements. The coalition's website states, "We share a firm belief that we will not win on the full range of policy issues we all care about until we combat attacks on voting rights and the integrity of the vote by big money."
A statement released by the AFL-CIO Executive Council on Feb. 23 said:
"Our members must be engaged as voters, activists, volunteers and stakeholders. Our unique infrastructure, which is in place in 50 states, allows us to catalyze organizing, mobilizing and resourcing democracy work with and through our affiliates, constituency groups and national strategic partners. Therefore, we stand firm with the principles of the Spring Democracy uprisings:
Expansion and protection of voting rights at the federal and state level;
Preventing corporations and the wealthy few from buying elections;
Changing structural rules to ensure that every vote and every voice counts equally; and
Reshaping the political debate to demand full democracy at every level of government."
Daniel Duncan, President of the Northern Virginia AFL-CIO, said "protecting voting rights and getting big money out of our democracy is essential to winning any victories for working people. That goes for everything from having clean water to drink, the right to organize and racial justice."
Photo: Putting up posters. Democracy Spring. Facebook.