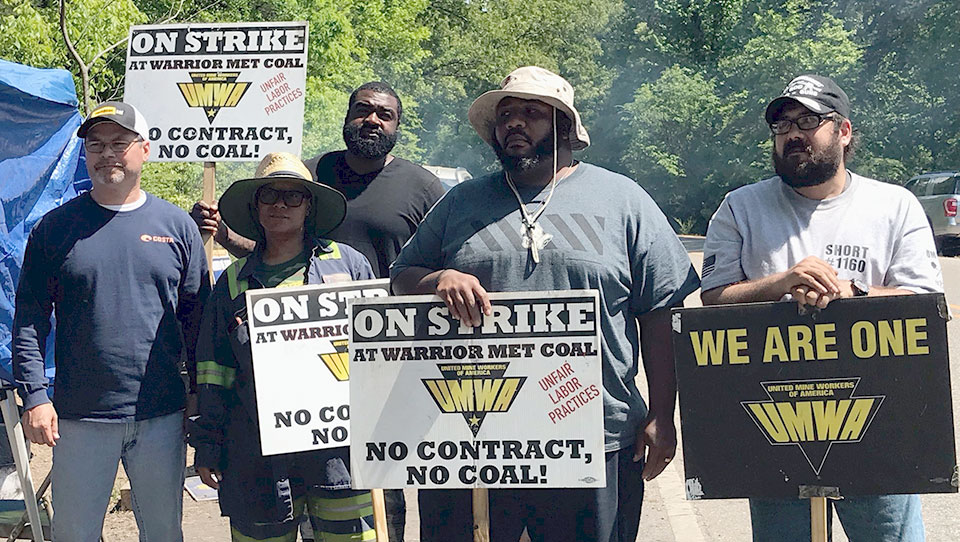 BROOKWOOD, Ala. (PAI)—A National Labor Relations Board administrative law judge has strongly blasted the Warrior Met coal company in its long-running dispute over a new contract with the United Mine Workers—a dispute which led bosses to lock out the firm's 1,100 miners for more than a year and a half. The judge formally ruled the firm's unfair labor practices provoked the conflict.
In an 88-page ruling, ALJ Melissa Olivero came down particularly hard on company officials for claiming they couldn't afford the union's demands for raises in each year of a new contract, and the union's tries at reclaiming the givebacks the workers had to yield to keep the firm going when it was the old, and bankrupt, Jim Walter mine.
Even as the firm gave out big bonuses to its corporate honchos, in a poor area of rural Alabama, and shoveled out millions of dollars in stock options and dividends to its Wall Street investors, it was claiming poverty and saying paying the miners would force it to close, Olivero said. It denied making the closure threat, but Olivero found its denials were not credible.
Such claims, Olivero noted, entitled the Mine Workers (UMWA) to review the mine's books, but the mine bosses refused to turn them over, and that broke labor law, too, Olivero said. That led UMWA to declare the strike was about Warrior Met labor law-breaking, formally called unfair labor practices.
That made the strike, and Warrior Met's lockout of the workers, an unfair labor practices strike, Olivero ruled. Warrior Met appealed her decision to the full board, which has called for briefs from both sides by late August.
Warrior Met also was hiring subcontractors to work alongside the miners, Olivero noted—another bone of contention in the bargaining between the two sides.
The conflict forced the 1,100 UMWA members at Warrior Met to take a strike authorization vote and also to reject the bosses' "last, best and final" contract proposal. They were forced to walk April 1, 2021—and Warrior Met promptly locked all of them out.
After a year and a half out, and in taking the dispute to Warrior Met's financial backers as near as D.C. and Wall Street and as far away as Australia, the Mine Workers finally unilaterally went back.
But UMWA declared the struggle wasn't over and the union would keep bargaining, a promise Mine Workers President Cecil Roberts reiterated in a union video to members.
"She said—the judge said—this company violated the law before the strike, they violated the law at the beginning of the strike, they violated the law at the end of the strike. And brothers and sisters, they're violating the law now," Roberts said.
Warrior Met consistently refused to provide the financial data ever since March 2021, Olivero said. The judge told Warrior Met to come back to the talks—and bring the data, which stretched over pages of detail in Olivero's ruling—too.
"She ordered Warrior Met to come back to the bargaining table and bargain in good faith. She ordered Warrior Met to provide certain financial information needed to reach an agreement. Unions are entitled to that information," Roberts continued.
"The union sought information regarding non-unit personnel because unit members felt they were being treated unfairly by" Warrior Met," Olivero's ruling added. "Union bargainers explained they sought "information on compensation and bonuses for foremen because union members reported foremen working alongside unit members had received large bonuses.
"These bonuses, and raises to respondent's senior executives, were paid at a time when" Warrior Met "claimed to be operating at a multimillion-dollar loss. Thus, I find the union established the relevance and necessity of information concerning non-unit employees," Olivero wrote.
We hope you appreciated this article. At 

People's World

, we believe news and information should be free and accessible to all, but we need your help. Our journalism is free of corporate influence and paywalls because we are totally reader-supported. Only you, our readers and supporters, make this possible. If you enjoy reading 

People's World

 and the stories we bring you, please 

support our work by donating or becoming a monthly sustainer today

. Thank you!