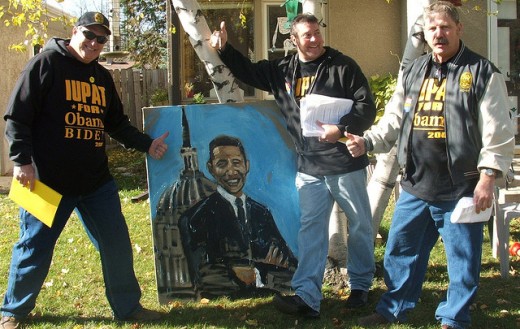 MILWAUKEE (PAI)–The President of the United States – along with his Secretary of Labor and the president of the national AFL-CIO – will be special Labor Day guests at Milwaukee's LaborFest.
President Obama plans to motorcade through Milwaukee on Sept. 6, and speak to working families and the general public in the early afternoon of the traditional free festival organized for the community every year by the Milwaukee Area Labor Council of the AFL-CIO.
The president's speech is expected to deal with the economy and jobs — key issues for the working community, noted the event's lead organizer, the council's chief operating officer, Sheila D. Cochran.
The president is expected to again reiterate that the economic stimulus law he pushed through a balky Congress last year saved or created 3 million jobs and prevented the Great Recession from becoming a rerun of the Great Depression. He is also expected to concede that more must be done and to urge reluctant lawmakers to consider further aid for the jobless.
"We want to hear a jobs message — what he'll do to create work for the future, building our future and defending our future," said AFL-CIO President Richard Trumka, who planned to join Obama at LaborFest, and to also speak there.
"He's done a great job on that," added Trumka on Sept. 1, pointing out that without the stimulus law, which labor helped lobby for, the Great Recession would have become a second depression.
Seating for the president's address is expected to be strictly limited, but even viewers outside the special area can hear his remarks. Special presidential tickets are being distributed by union affiliates of the central council to their members and working families. But the arrangement at LaborFest allows the general public to see and hear the speakers at Miller Stage — where Obama, Solis and Trumka will speak — from around the grounds.
Also appearing with Obama, Trumka and Solis are top candidates in the Nov. 2 general election, including Democratic gubernatorial nominee Tom Barrett — whom Obama raised funds for in Milwaukee within the last two months.
Photo: Union members and working families make up a significant part of the president's active support base. (AFLCIO)