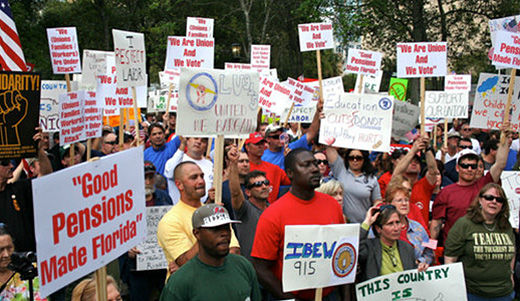 MIAMI (PAI) – A Florida civil rights group's legal complaint has led the U.S. Labor Department to toss yet another GOP scheme to deny workers jobless benefits, by imposing a qualification test so tough that many workers can't pass it.
And if Florida doesn't change its rules, DOL warns, it faces loss of federal funds for jobless benefits administration.
Florida is one of many GOP-run states that imposed new restrictions on workers seeking jobless benefits, following the Republican takeover in the 2010 election. In 2011, the GOP-run legislature ordered the new restrictions.
What made Florida's actions particularly notable is that the Sunshine State had one of the highest jobless rates in the U.S., thanks to the housing collapse. And its actions restrict access to benefit applications, and that its test for workers seeking benefits is particularly onerous.
The Miami Workers Center complained to the federal Labor Department in late 2011 about the state's two key moves. One abolished telephone and paper jobless benefit applications, leaving only online filing as an alternative. The other required applicants to pass a 45-question assessment of their math and reading skills.
The center said those two requirements particularly hurt jobless benefits seekers who are disabled, or for whom English is not their first language. Florida has a large and growing Spanish-speaking population.
On April 26, the feds sided with the workers center and against Florida.
Right now, National Employment Law Project attorney George Wentworth said when the center filed its case against the state, "Florida workers who are unemployed through no fault of their own face more obstacles to accessing unemployment benefits than anywhere else in the country. This is the direct result of deliberate actions by the legislature and executive branch to make it harder than ever for average workers to apply for unemployment insurance they earned through their history of employment."
Workers Center Executive Director Gihan Perera said that Florida's restrictions mean "the upshot is that if your disability interferes with using a computer, or you can't read or understand English well, your benefits can be stopped just because you can't do some skills test on the Internet."
The state may try to solve the problem with changes to its phone system and with exemptions for groups of workers, but the workers center notes that won't be enough. The exemptions are small and the phone system is overloaded.
Photo: Florida workers and activists on the move.