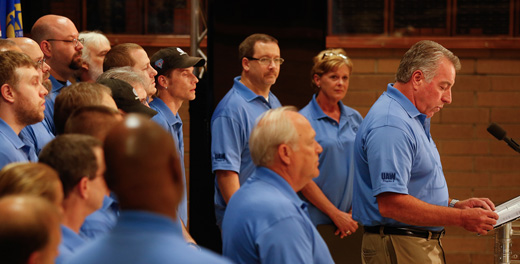 WASHINGTON – If the mood of America's top union leaders here is any indication, they are fighting mad, and they and the workers they represent are not going to take it anymore. Meeting here this week, members of the AFL-CIO Executive Council vow to continue to fight the corporate and right-wing attacks on labor, which has implications for union organizing itself.
When he came out of a closed door session of the council here July 30 Larry Cohen, the chair of the AFL-CIO's organizing committee, said that from here on out union organizing is going to take on a different face: "You're going to see, as you did with the auto workers in Chattanooga, the establishment by workers of more and more 'membership organizations,' groups that workers join voluntarily to fight for their rights, groups that don't, at first, have collective bargaining contracts in place but get there after they grow."
Cohen spoke about the different approach after a meeting in which executive council members grappled with the issue of how to corporations and right-wing tea party lawmakers who are more determined than ever to deplete unions of their resources, silence workers who might join them and cripple their ability to take action.
His reference to Chattanooga had to do with the announcement in early July by the United Auto Workers and pro-union workers at the Volkswagen plant there, that they were setting up UAW Local 42 (the number that appeared on Baseball player Jackie Robinson's uniform).
The local was established despite the fact that the union lost a representation election at the plant by a vote of 712 to 626. Although VW had remained officially neutral the state's Republican governor and Republican U.S. Sen. Bob Corker ran round-the-clock ad campaigns telling workers they would lose their jobs if they voted for the union.
Although Local 42 is not the official collective bargaining agent for the workers yet, "we fully expect that it will be recognized by the company for that purpose when a majority of the workers have joined."
In the meantime, union leaders note, the enormous number of workers at the plant who do want the union have at least some form of representation and a good tool with which to win official collective bargaining status.
"I fully expect that the UAW is going to do this at a lot of the transplants all over the South," Cohen said. By "transplants" he was referring to the many foreign-owned auto plants that have been opening across the South. Unlike Volkswagen, not all of those companies want to see a union in place with Nissan, which has a huge operation in Canton, Mississippi, being at the top of that list.
"We have to fight for representation for workers with or without collective bargaining contracts," Cohen said.
His own union has a history of working on the membership organization approach to union organizing, he said.
"The Mississippi Alliance of State Employees is part of CWA and it started out as the State Workers Organizing Committee," Cohen said. "We got the idea of the name from the Steel Workers Organizing Committee back in the 1930's." The SOC was the representation that steelworkers had until the movement eventually grew into a powerful Steelworkers union.
And it's not just unions that can lend support to setting up the new membership organizations that would represent unrepresented workers, he said, pointing to major assistance from Mississippi NAACP members in organizing city and state workers in Jackson, Mississippi. The CWA has also organized Texas state employees into Local 6186, another union local established, in this case where collective bargaining rights do not exist for the public workers involved.
Cohen said not waiting to establish representative groups, including union locals, until there is official collective bargaining is critical for a host of reasons, including the ability to influence political events. "Look at Seattle," he said, "and the ability of fast food workers there to put on the pressure to win the $15 minimum wage.
"What's being done with this different, if not totally new, form of organizing is at the core of what has to be done to defeat the right wing," he said, "and it is a critical part of what workers are doing to defend their own interests and advance their rights."
Labor leaders here say none of this means, however, that traditional forms of union organizing will be abandoned and some, in fact, report huge successes there despite the political power wielded by anti-union forces.
The 1.6 million-member American Federation of State, County and Municipal Employees, for example, reported 90,000 new members since January and attributes much of that growth, particularly among EMT's and home health aids, to "face-to-face" organizing.
"We understand what it means to be tossed around in rough seas," said Lee Saunders, president of the AFSCME. The goal is getting to where workers have their just due and that takes keeping your sights on where you are going, courage and perspective."
Photo: UAW Secretary-Treasurer Gary Casteel stands with Volkswagen Chattanooga employees as he speaks during a news conference July 10 to announce the formation of a new local. Despite narrowly losing a representation election the UAW set up Local 42 to represent Volkswagen workers in Chattanooga who did support the union and they expect the local will become the official bargaining rep for the entire plant when a majority of VW employees join. It is expected that this approach will be taken widely across the South and other parts of the country. Doug Strickland/ Chattanooga Times Free Press/AP