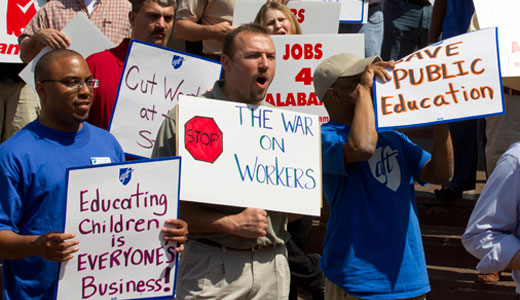 Organized labor mobilized in congressional districts nationwide in August, with two top leaders saying union activists this year will take the place of the tea party radicals of 2009-10. And the unionists, leaders and organizers say, are mad.
In separate telephone conferences, AFL-CIO President Richard Trumka and Communications Workers President Larry Cohen laid out the ambitious agenda. They said unionists demand lawmakers stop paying attention to Wall Street and resume paying attention to Main Street – and specifically to measures to create jobs.
If they don't, both the leaders and other activists say, the pols will suffer at the polls this November and next.
The mobilization comes as Congress cleared out of town for its August recess, having narrowly averted U.S. default and having left 4,000 workers at the Federal Aviation Administration, and 70,000 construction workers on FAA airport upgrade projects, hung out to dry.
The default was averted by a massive deficit-debt deal that did little for workers. It did not even limit tax breaks for the rich, while posing a future threat, from a deficit-reduction congressional committee, to Medicare and Social Security. And congressional leaders successfully scrambled to revive the FAA, temporarily, after a 2-week lull.
Cohen declared the mobilization not only would tackle current demands, such as preserving Social Security and Medicare and fighting for job creation, but that it carries an implied political message: Politicians who do not support workers and their causes will not get labor's endorsements or money in elections this fall and next year.
As evidence, he cited the New Jersey AFL-CIO convention, which voted on endorsements in this fall's state legislative races. To get statewide endorsements, candidates needed votes from delegates representing 67 percent of the state's unionists.
New Jersey Democrats who supported GOP Gov. Chris Christie's law cutting state workers' pension benefits and increasing their contributions – including one unionist who is state Assembly speaker – flunked. Many got majorities; none got two-thirds.
"People are ready to be at town halls and meetings in August, confronting them," Cohen said of politicians who either actively oppose workers or who sit on their hands. "This will not be like two years ago" where the tea party dominated the debate, he said.
One rank-and-file CWA organizer on the 10,000-person conference call added that "We have to define the reaction" to anti-worker moves both in state legislatures and Washington. "People are angry because one party (the GOP) is holding the nation hostage and the other (Democrats) isn't stopping them.
"Regular people have this brief window" of the August mobilization during the recess "to stand up and make our voices heard," the organizer added.
"We spent the last couple of months dealing with a politically manufactured debt ceiling crisis, not the jobs crisis," Trumka said, referring to the debt-deficit deal and the brinkmanship, pushed by the tea party radicals, that led to the deal.
"Working people will fight back, with allies, to say 'Enough is enough,'" he added.
The federation organized dozens of events in cities nationwide to demand politicians tend to the jobs problem, at a time of 9.1 percent unemployment and unemployment and underemployment that ranges from one-sixth to one-fourth of the workforce. It also plans to send workers and activists to lawmakers' town hall meetings to demand action on a broad-based jobs agenda.
Those activists will take the place of the tea party radicals of two years ago, whose sometimes violent demonstrations scared supporters of health care revision – and whose energy was then co-opted by corporate interests for their own ends, notably smashing workers and the middle class.
"Working families will demand that politicians bring the same urgency to the jobs crisis that they did to the debt crisis," Trumka said.
Photo: AFL-CIO rally for jobs, on the steps of the Alabama Statehouse in Montgomery, Ala., in March. (Dave Martin/AP)