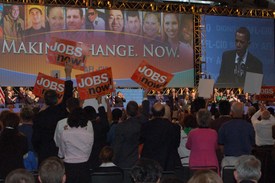 PITTSBURGH – Fourteen hour days, five hours of sleep maximum, grabbing a bite of fast food only now and then – it's no problem, so far, for 3,000 delegates, guests and supporters well into their second day here at the 26th Convention of the AFL-CIO.
"I've never been so fired up," Dean Reynolds, a delegate who works as a staffer for AFSCME and serves as president of Pennsylvania's Northeast Central Labor Council, told the World this morning. "The best part so far was marching for health care with hundreds of my union brothers and sisters from the convention to the Michael Moore movie."
Teresa Albano
March for single-payer health care in Pittsburgh Sept. 14.
The famous film maker, nurses from California and national labor leaders linked arms and led 1,300 convention participants in a march for health care to a downtown theater where they viewed the U.S. premier of "Capitalism, a Love Story." The film, an unabashed indictment of capitalism as an economic system, explores the causes and solutions for the worst economic crisis since the Great Depression. (See related story by Teresa Albano.)
"I'm not even going to get a chance to calm down from last night," Reynolds said, "because, and I still can't believe it, the president of the United States is coming here today to address a union convention. It's like the end of a long nightmare and the beginning of a beautiful new day."
Teresa Albano
President Barack Obama tells AFL-CIO they both want to build a future where 'success of all of us is built on the success of each of us.'
Reynolds hails from central Pennsylvania, the part of the state traditionally seen as the most conservative. "My County, Clinton County actually went blue. A key factor was the way Obama has been able to inspire the youth," he said.
The convention has been ticking off one first after another during the last two days.
This morning, Thea Wilson, the federation's policy director, said that as of today, the AFL-CIO will approve a resolution putting itself on record in support of H.R. 676, the Medicare for all plan introduced into Congress several years ago by Rep. John Conyers (D-Mich.) She said that although labor supports the president's plan which calls for a strong public option, the long term goal is to win passage of H.R. 676.
The federation approved a number of policy resolutions today, including one for new financial regulations including a tax on all Wall Street trading transactions.
Bill Samuels, the federation's legislative director, told the World this morning that he believes the 60 votes to prevent a filibuster of the Employee Free Choice Act will be present as soon as all the Democrats are seated. He was including the replacement for the seat vacated after the death of Sen. Edward Kennedy.
The convention gave a rousing reception to Hilda Solis, the Secretary of Labor.
They cheered wildly when she declared, "When labor is strong, America is strong and that's why the president and I join you to fight for the Employee Free Choice Act."
Delegates gave a rousing welcome to Caroline Kennedy.
She remembered her uncle: "One of Teddy's favorite things to do at a labor rally was to count up the years that he, my father, my uncle Bobby, and my cousins Joe and Patrick had spent in the halls of Congress. Then he'd proudly proclaim, 'That's 85 years of Kennedy's voting with labor!'"
A major effort has been made to reach out to non-traditional labor organizations. Pablo Alvarado, president of the National Day Laborer Organizing Network addressed the full convention. He told them that every day, "over 120,000 men and women work as day laborers. And this is just in one day. The number of day laborers over the course of the year is far higher, as people move back and forth, in and out of the informal economy and in an out of permanent jobs.
"We, the day laborers, work in an economy that depends on our services but in a country that is not yet ready to grant us our rights. An economy that accepts the fruits of our labor but does not accept our humanity."
Alvarado brought the convention to its feet in prolonged thunderous applause when he made three pledges to the crowd: "Brothers and sisters, I want to be absolutely clear: My organization makes the following pledges to you:
"First: No day laborer that belongs to our network will cross any picket line. They never have and they never will. Instead we will join the picket line to fight together. Shoulder to shoulder.
"Second: My organization will use every available resource to ensure passage of the Employee Free Choice Act. We must restore the right to organize in America.
"And Third: We will take the fight for worker rights directly to communities. Because building healthy communities requires strong unions, strong worker centers, and a strong labor center."