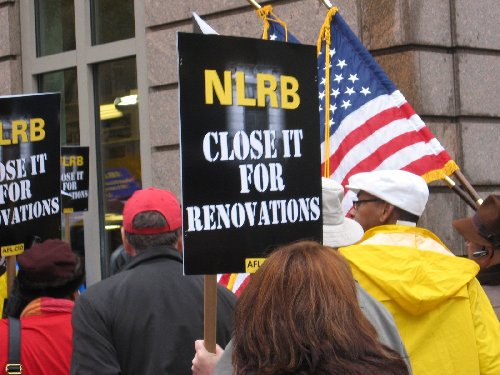 The Senate Democrats loss of a filibuster-proof 60-vote majority seems almost certain to doom attempts to revive the barely functioning National Labor Relations Board, the country¹s chief labor law administrator and enforcer.
That, along with its effects on health care reform, is certainly one of the most serious consequences stemming from the election of Massachusetts Republican Scott Brown to the seat formerly held by the late Ted Kennedy.
For more than two years, the five-seat NLRB has limped along with only two members, a Republican appointee of President George W. Bush and a Democratic appointee of President Bill Clinton. The other three seats had been held by Republicans, but were vacated when their five-year terms expired. Democrats, who by then controlled the Senate, refused to confirm the anti-labor Republicans that Bush nominated to replace them.
The two-member board has decided cases involving minor, non-controversial issues, but invariably has split one-to-one on major cases or simply decided against hearing them. That¹s left many important issues unresolved, and left both labor and management frequently unsure of what they should do.
Should employers be allowed to prohibit workers from using the employers' email systems to send union related messages, for instance? Just where on an employer¹s property can union organizers be allowed to distribute literature and talk to workers? Which workers can legitimately be classified as supervisors and thus ineligible for union membership? At what point does employer opposition to their employees¹ attempt to unionize become intimidation?
Dozens of NLRB cases that the board has decided have been appealed to the federal courts, on grounds that they weren¹t decided by a full board. Which raises the possibility that at least 80 of the 480 cases decided by the two-member board may be invalidated.
Several circuit courts ruled in favor of the two-member decisions, but the Circuit Court in Washington, D.C., held otherwise. The Supreme Court has agreed to make the final ruling, but meanwhile legitimate grievances of working people and their unions remain unsettled, often at a great hardship to the workers.
Some workers have waited years for the board to act. Workers at a home for the developmentally disabled in Brooklyn, for instance, have been waiting six years for the NLRB to certify their disputed vote to unionize.
The board¹s inability to make decisions has been especially hard on workers who've been fired illegally and seek reinstatement or back pay, as the law allows.
It could be worse, though ­ much worse, as it was when Bush appointees controlled the board. As the current NLRB chair, Clinton appointee Wilma Liebman, noted, "The board lost its credibility." The number of cases brought before it dropped by half as the Bush administration "turned labor law inside out and missed opportunities to make the law more effective."
The Bush-controlled board limited the ability of illegally fired workers to recover back pay, allowed employers to discriminate against union supporters in hiring and made it much harder to form unions.
President Obama, who appointed Liebman as NLRB chair, has moved to bring the board up to its full compliment of five. But that's been delayed because of heavy opposition from Senate Republicans led by John McCain of Arizona and two of the GOP's powerful corporate allies, the notoriously anti-labor U.S. Chamber of Commerce and National Association of Manufacturers.
One of the opponents' biggest worries is that an Obama majority on the Labor Board would put into law, through its decisions, provisions of the Employee Free Choice Act that GOP lawmakers have long kept from passage because it's designed to overcome the principal obstacles to unionization.
Chief among Obama's Labor Board nominees is Craig Becker, an associate general counsel for the AFL-CIO, Service Employees International Union and American Federation of Government Employees.
Democrat Tom Harkin of Iowa, who chairs the Senate Labor Committee, ranks Becker as "one of the pre-eminent labor law thinkers in the United States."
It's highly unlikely nevertheless that either Becker or Obama's other nominees will win Senate confirmation. The GOP senators and their anti-union allies fear that Becker would join Liebman to actually carry out the stated but frequently ignored mandate of the National Labor Relations Act that unionization should be encouraged.
America's working people need and deserve nothing less. But as long as Republican lawmakers stand in the way, they aren¹t going to get it.
Photo: George W. Bush's NLRB ruled many times against workers. This photo is from a 2007 protest calling attention to such anti-worker rulings. Tim1965/public domain