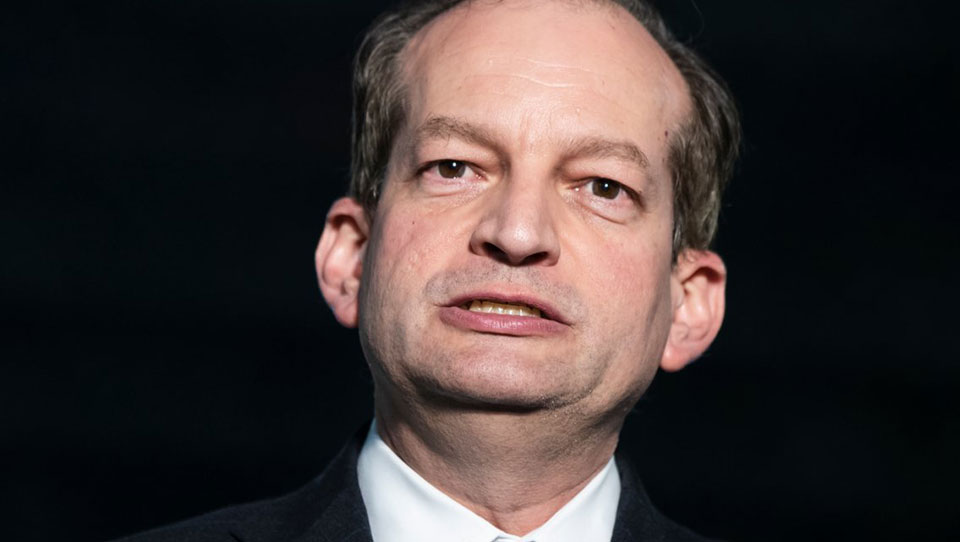 WASHINGTON—Under attack from across the political spectrum for his prior lenient plea bargain deal with serial sexual predator Jeffrey Epstein, embattled Trump Labor Secretary Alexander Acosta resigned on July 12.
President Donald Trump announced Acosta's resignation, with the secretary by his side, before boarding a helicopter for an out-of-town trip. Acosta called his departure the right thing to do.
Acosta resigned just after two more women stepped forward, in public and on TV, to detail how Epstein raped them when one was 14 and the other was 12 – both since the plea deal Acosta arranged for him 11 years ago. They spoke after New York federal prosecutors arrested Epstein on July 6 on a 14-page multi-count indictment for being a serial sexual predator and for trafficking in underage girls — children.
In his formal resignation letter to Trump, Acosta never mentioned Epstein or the plea deal.
Acosta was pushed out for aiding serial sexual predator Epstein. But Epstein himself is part of a larger pattern: Rich, powerful capitalist- class men who believe cash and clout can let them get away with exploiting everyone else of every class below them: Workers, women, people of color, LGBTQ people, and others.
Epstein was a multi-millionaire venture capitalist who hobnobbed with the powerful, including (the Access Hollywood video showed) Donald Trump and former President Bill Clinton. But other buddies of his ilk include the late right-wing media mogul Roger Ailes, creator of the infamous Fox "news" propaganda machine, and various Hollywood movie studio maestros.
In a July 10 hour-long press conference, which People's World attended, Acosta engaged in a lot of "pass the buck" language while calling Epstein "a bad man" who should go to jail. Acosta blamed local prosecutors in Florida who would have let Epstein walk before his federal office intervened – an account the former local chief prosecutor said later was untrue.
Former Palm Beach State Attorney Barry Krischer said, "Mr. Acosta should not be allowed to rewrite history."
Acosta also said Epstein's attorneys tried to use political clout in Washington, gained through Epstein's millions and his connections, to push Justice Department superiors to weaken the plea bargain. DOJ refused, he said.
So did his own prosecutors, Acosta stated. They stood firm on the eventual deal: An 18-month prison sentence, public listing as a sexual predator and ordering Epstein to pay restitution to his two dozen or more underage female victims. But the deal let Epstein leave the Palm Beach jail during daylight hours to go to his office and run his business. He never went to federal prison. Epstein served only 13 months in the jail, however, and only on days.
And then after finishing his lenient plea bargain, Epstein went right back to being a sexual predator, the New York indictment shows.
Acosta claimed he and his staff OKd the plea bargain because while they had enough evidence to indict Epstein on strong and multiple sex-trafficking charges, they weren't sure they could convict him. He said that's because of conditions and attitudes then, including blame-the-victim tactics Epstein's high-powered attorneys planned. Conviction would have jailed Epstein for life.
Just months before, though, Acosta's office, with just as much evidence, threw the book at a non-billionaire sex trafficker and won a decades-long prison sentence at a trial, news reports said.
Acosta didn't tell Epstein's victims about his deal, thus breaking federal law. They were understandably upset when they found out, last November, from a series in the Miami Herald and from a federal judge who blew his stack at Acosta's plea bargain. He ordered Epstein's attorneys to negotiate a new agreement with the victims' attorneys.
"Alexander Acosta is a disgrace to the office of the Secretary of Labor and if he had any sense of decency he would resign immediately," Elise Bryant, president of the Coalition of Labor Union Women, e-mailed to People's World after Acosta's press conference performance.
"Mr. Acosta gave a known sexual predator a 'sweetheart' deal that allowed the perpetrator to remain on the streets for 12 hours a day while he was supposed to be in jail. Mr. Acosta, by his actions, is an accessory after the fact and should be prosecuted for breaking the law that he swore to uphold."
"The Coalition of Labor Union Women joins voice with all who are outraged by the past actions of Alexander Acosta and demand his immediate resignation."
Teachers (AFT) President Randi Weingarten tied Acosta to the sexual exploitation of women by his boss, Trump. "While we can't count on our sexual predator president to take action, we can make sure the public knows just how dangerous it is to have a cabinet full of people who break the law and then try to get away with it," she told Politico.
Acosta's post is important to workers. The viciously anti-worker GOP president has ordered DOL through Acosta to scotch worker rules ranging from overtime pay to tipped wages to job safety and health protections. In May, National Nurses United provided yet another instance of Acosta's negative impact on workers, especially woman workers.
"Under the misleading pretext of religious freedom, the administration is promoting a sweeping, restrictive rule that exposes millions of women, in particular, to severe health and safety risks, as well as denying patients choice over their own medical decisions and care," said NNU President Jean Ross, RN. "At its heart, this discriminatory rule prioritizes a political gift to conservative lobbyists ahead of the safety of American women. That is reprehensible."
Acosta's "conscience rule" letting medical providers refuse to provide contraceptive services, along with abortion, "denies the science of reproductive health," first-year Rep. Lauren Underwood, D-Ill., a registered nurse, told Acosta at a May 1 hearing on DOL's budget. Some women also use contraceptives, she explained, to treat polycystic ovary syndrome, anemia and endometriosis.
At the same hearing, Rep. Frederica Wilson, D-Fla., whose district includes Miami, brought up Acosta's role in the Epstein case – long before all other Democrats, who are now calling for his head.
"Although the prosecution was ordered to notify the victims" of the settlement so they could comment or object, "you ordered them not to do so. Either you don't care about the victims – little underage girls he (Epstein) molested" or you have another reason, Wilson told Acosta. "I'm extremely concerned that we could expect a similar pattern in your role as Labor Secretary."