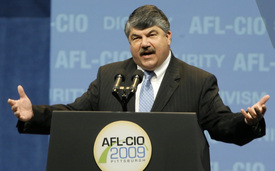 PITTSBURGH — It was clear at a rally here last night that the labor and environmental movements are more united now than ever before as they put forward demands on leaders of the G-20 nations that they believe are needed to rescue both workers and the planet.
As world leaders began arriving for their economic summit here, Richard Trumka, newly elected president of the AFL-CIO, addressed a rally that featured former Vice President Al Gore and environmental and union leaders.
Trumka told the gathering that a "new economic order" is needed both to pull workers out of the current economic crisis and to save the planet from the threat of global warming.
"The world cannot continue with globalization that works only for the very richest and leaves workers behind," Trumka declared.
The rally, attended by many activists in the labor and environmental movements, was organized by the United Steelworkers, the largest industrial union in the U.S., Repower America and the Blue-Green Alliance, among other organizations.
Environmental groups and unions issued a special joint declaration earlier in the day.
"Together labor and environmental organizations are a fighting force for change," the declaration read. "This is our time – the time to let the powers gathered here this week know what we want and what we stand for. We want a clean energy economy that creates good jobs and we want a safe and healthy planet.
"We need a new economic order that respects both workers and the planet. Globalization that benefits only the rich, the assault on workers and the planet, and the devastation it breeds has got to go."
Banks, real estate companies and insurance firms are among a virtual parade of big businesses that are touting Pittsburgh as an example of how beneficial globalization, big business style, can be to American cities. Major efforts are under way by business groups to attract additional investment to the city.
Trumka took on this issue during his presentation.
"Pittsburgh indeed did grow," Trumka said, "but not because of the export of jobs. The growth here came despite the banks and the corporations, not because of them."
He went on to explain how new higher tech jobs were created and how training for them was provided. He also explained how the ability to hold onto at least some of the manufacturing base and the role unions played in that fight made Pittsburgh different from some other locations devastated by de-industrialization.
Trumka said labor and environmental groups are demanding that the world leaders implement a four-part program.
The program calls for strict regulations, worldwide, on the finance industry, major public investment in clean energy and transportation, controls on carbon emissions, and strong support for the right of workers to form