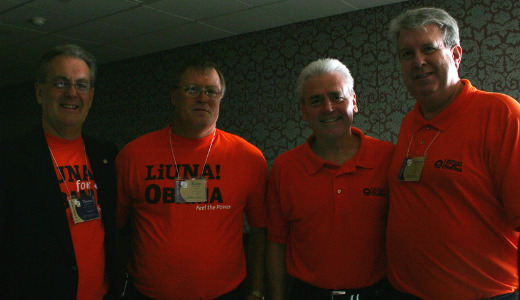 WASHINGTON (PAI) – Change To Win will lose yet another member on Oct. 1, when the Laborers rejoin the AFL-CIO. But in a sense, they never really left.
The Aug. 14 announcement by union President Terry O'Sullivan capped months of talks between his union, which has 500,000 members, including retirees, and the larger labor federation.
But for several years, LIUNA (Laborers International Union of North America) has also been an active member of the AFL-CIO Building and Construction Trades Department – even though it was a CTW union. And it has worked closely on politics with the AFL-CIO, O'Sullivan said.
Indeed, politics is a big reason it's rejoining the federation.
"Now more than ever, working people and our country need a united union movement," O'Sullivan said in a statement. "Despite the historic success of the 2008 federal elections, too much is not getting done on Capitol Hill. A united union movement can better focus Congress — and particularly the U.S. Senate — on helping to lead our nation, rather than being locked in inaction."
He also cited the Great Recession, which the union says "decimated the finances of millions of working men and women.
"In the construction industry alone, 2 million jobs have been lost in the current recession and nearly one in five construction workers are jobless, many going on a year," the union added.
AFL-CIO President Richard Trumka echoed the same themes in welcoming the Laborers back and thanking O'Sullivan.
"We are very happy LIUNA is rejoining the AFL-CIO at a critical moment for working people," Trumka said. "Union members, like all working families, have been hard hit by a brutal economy and decades of policies that undermined the middle class. More than ever, now is the moment for a unified labor movement. As we rebuild and strengthen the labor movement, we will work together to create good jobs, restore a middle-class economy, and elect leaders who stand with working people. Together, brick by brick, we will build an economy that works for everyone."
The Laborers' departure from CTW will leave only the Service Employees, the Farm Workers, United Food and Commercial Workers and the Teamsters in the smaller union group. Unite Here rejoined the AFL-CIO last year – except for 100,000 members who split off to join SEIU – and the Carpenters disaffiliated almost two years ago. CTW has named UFCW President Joe Hansen as its new chair, replacing Anna Burger, who resigned Aug. 11.
Photo: Laborers union President Terry O'Sullivan, second from right, with other LIUNA leaders at the Wisconsin AFL-CIO convention in September 2008 in Milwaukee. (AFL-CIO/Casie Yoder)