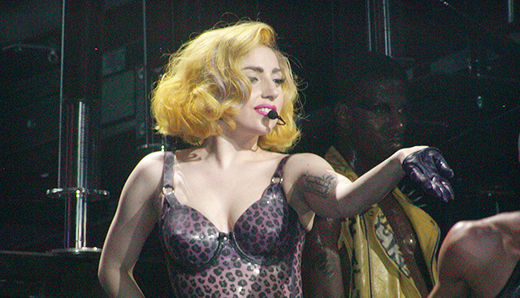 The Senate is expected to vote on repealing a 17-year-old law barring open gays from serving in the military Tuesday afternoon, as part of the annual defense authorization bill, which includes an amendment to end the ban.
Supporters of the repeal say they lack the necessary 60 votes to pass the legislation.
Pop star and gay rights activist Lady Gaga is taking her campaign to repeal "don't ask, don't tell" to the doorstep of two senators that could cast key votes in an attempt to override an expected GOP filibuster of the measure.
At a Monday rally in Portland, Maine, Gaga and the Servicemembers Legal defense Network, a gay and lesbian advocacy group, are urging Republican Sens. Susan Collins and Olympia Snowe, both of Maine, to help break the filibuster.
Collins and Snowe, both of whom are publicly undecided on the issue, are considered crucial swing votes. Collins voted previously to repeal "don't ask, don't tell," when the measure came before the Senate Armed Services Committee this summer.
Republican senators, led by ranking Armed Services Committee member John McCain of Arizona have threatened to block passage of the bill.
Gaga, born Stefani Germanotta, recently attended the 2010 MTV Video Music Awards with four servicemen and women who were discharged from the military for openly being gay or bisexual.
Last week Gaga, the most followed person on Twitter, released a video on YouTube urging Congress – in particular GOP Sens. McCain, Mitch McConnell, Ky., and James Inhofe, Okla., and Jeff Sessions, Ala., to vote in favor of repeal.
Gaga said the current law is being wrongfully enforced, promotes gay profiling and servicemen and women's emails and private spaces are being searched.
"Gay soldiers have become targets," she said, adding, "The law is unconstitutional."
"Our fight is a continuum of the ever present equal rights movement," said Gaga. "Everyday we fight to abolish laws that harbor hatred and discrimination against all people – laws that infringe on our civil liberties."
It's time to end this most serious prejudice, notes Gaga. She added she speaks on behalf of her generation and the nation's youth who everyday are negatively affected by this uncompromising law.
"No one person is more valuable than another," said Gaga. "We need to do this for our gay and lesbian soldiers and finally repeal 'don't ask, don't tell.'"
Gaga is using social media to directly urge her six-million-plus followers to pick up a phone and call their senators or make protest videos in support of repeal.
Other celebrities including Hip Hop mogul Russell Simmons are also denouncing the anti-gay policy. Simmons wrote an op-ed in the Huffington Post calling on the Senate to repeal the measure calling it a "broken law" and a "destructive form of torture."
In May, the House endorsed repeal of the measure in its defense authorization bill.
The Senate's $726 billion measure also includes and immigration bill, the DREAM Act, which would allow undocumented immigrant students who have been in the U.S. since childhood to serve in the military, go to college and earn citizenship.
The DREAM Act and repealing "don't ask, don't tell" were announced as amendments to the defense policy by Senate Majority Leader Harry Reid, D-Nev., last week.
Monday's afternoon rally took place near the University of Southern Main campus in Portland, Maine.
"We're bringing gay and straight service members to Portland to help make the case," said Aubrey Sarvis, an army veteran and executive director with the Servicemembers Legal Defense Network, to ABC News. "And we're proud to have the support of Lady Gaga to bring grassroots attention to repeal at a critical hour."
http://www.flickr.com/photos/christinegervais/4755534193/sizes/l/