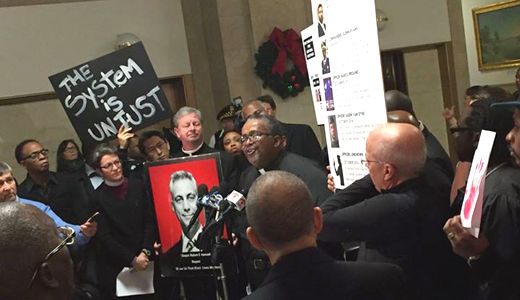 CHICAGO – The dash cam video capturing the execution of 17-year-old Laquan McDonald by Chicago police officer Jason Van Dyke on October 20, 2014 exposed a heinous crime before the world and has sparked nationwide revulsion and outrage.
It appears a widespread criminal cover-up of McDonald's murder was carried out by the police, state's attorney's office and the administration of Mayor Rahm Emanuel. This has created an unprecedented institutional crisis of credibility.
The sudden indictment of Van Dyke 400 days after the killing, the firing of Police Superintendent Garry McCarthy and the appointment of yet another task force by Emanuel are unlikely to restore trust or quell growing anger.
Hillary Clinton and Illinois State Attorney General Lisa Madigan are among those calling for an investigation by the U.S. Justice Department.
In the aftermath of the video's release, the veil is being lifted from an entire interdependent system of institutionalized racism and oppression and its ugly inner workings: a lawless and corrupt police department, the state's attorney's office and the Emanuel administration representing financial elites.
This edifice is feeding the mass incarceration of mainly young African American and Latino men. The Cook County court system is one of the nation's largest and its jail is the largest single site jail in the nation.
It sits on top of economic policies driving incredible wealth inequality, racism, deep concentrated poverty and violence, gentrification and privatization of public education.
First, immediately after McDonald was shot sixteen times by Van Dyke, witnesses were forced to leave the scene upon threat of arrest. One witness was taken to a police precinct and warned she "didn't see what she saw."
Officers entered the nearby Burger King and criminally erased crucial video of the shooting. Ironically, officers were unaware they were being recorded while at the controls. Sound from police videos is still missing.
Police lied in their initial report, claiming McDonald punctured a police cruiser tire and menaced them with a jack knife – all fabricated.
Secondly, whatever internal investigation being done is likely to go nowhere. The Police Internal Review Board (PIRB), staffed by police department officials, is a firewall protecting officers.
It took a decade- long battle for release of information from the PIRB by Invisible Institute, a nonprofit journalism organization, and the Mandel Legal Aid Clinic of the University of Chicago Law School.
The data for 2015 shows "that in more than 99 percent of the thousands of misconduct complaints against Chicago police officers, there has been no discipline. From 2011 to 2015, 97 percent of more than 28,500 citizen complaints resulted in no officer being punished, according to the files," reported the New York Times.
This includes officers with multiple complaints, for brutality, excessive force or verbal abuse. One officer, later convicted of robbing suspects, had 68 civilian complaints but was kept on the force. Van Dyke had numerous complaints including abuse and use of racial slurs.
The blue wall of silence is real. Police shoot at least one Chicago resident each week. Police have killed 70 people over the past 5 years. The story is always the same – the officer felt his or her life was threatened.
The existence of a secret holding cell was only recently revealed, where people can disappear for hours or days, without the ability to contact their attorneys or families.
It took years to bring to light the systematic brutal torture and forced confessions of scores of African American men by the "Midnight Crew" overseen by Lieutenant Jon Burge in the 1980s.
The city has spent $500 million over the last decade in settlements with the Burge torture victims and other victims and their families of police abuse and murder.
Thirdly, had the video of McDonald's murder not come to light it's highly unlikely Cook County State's Attorney Anita Alvarez would have charged Van Dyke. Up until his indictment, the state's attorney's office had not indicted any Chicago police officer for murder in 35 years.
A stinging commentary by former prosecutor Nicole Gonzalez Van Cleve on the NBC News website describes the corrupt, racist relationship between the prosecutor's office and the police department. She calls Emanuel and Alvarez "figureheads" of "a court system where the death of another black boy barely makes anyone stand up and take notice and staying quiet about the police officers involved in the shooting is considered a professional courtesy amongst peers."
The entire system is based largely on white judges and lawyers and black and Latino criminal defendants. To question the credibility of an officer is to risk one's career.
"Prosecutors are dependent upon police officers as their witnesses. Police testimony is crucial to winning trials and hence, earning promotions within the prosecutor's office. With such co-dependency, prosecutors describe a system of interdependence between prosecutors and police governed harshly by a code of silence and fear," writes Van Cleve.
Finally, the cover-up was essential to ensure Emanuel's re-election in April 2015. It was an unexpectedly tough re-election that saw an unpopular Emanuel forced into a runoff against independent reformer Jesus Garcia, backed by a growing progressive coalition.
The Emanuel administration did everything in its power to keep the shocking video from becoming public. It feared inflaming the African-American community, since the African American vote was decisive to his victory.
During the election campaign the city was negotiating with the McDonald family over what became a $5 million settlement that ensured the video would not become public. They hoped to bury it from public view due to an "ongoing investigation."
It took a courageous whistleblower within the police department to notify the media of the existence of the video and a FOIA lawsuit to get it released. The Emanuel administration resisted at every turn.
This is a growing crisis, especially for Emanuel. It will take continued public pressure and legal action to compel the release of more information.
There is a growing chorus calling for Alvarez's resignation and a movement for her ouster in the primary election in March, 2016. Kim Foxx, another former prosecutor, is opposing Alvarez.
Elections have consequences. The election of Marilyn Mosby as Baltimore prosecutor is a good lesson. Mosby ran on a platform to prosecute police crimes and later indicted the officers involved in the murder of Freddie Gray.
Part of the long-term fight to root out racism embedded within the system is creating new organs of democratic control of the police, including the establishment of an independent civilian police accountability council. Such a proposal is being advanced by a coalition led by the Chicago Alliance Against Racist and Political Repression.
The Community Renewal Society and others are calling for passage of a FAIR COPS bill that would establish a police auditor independent of mayoral control.
A special prosecutor is needed to investigate and prosecute police crimes, independent of the state's attorney.
It will take a much bigger and broader multi-racial coalition to compel meaningful and deep-going reforms of the police and criminal justice system. This includes electing an anti-racist, pro-people reform minded government that will radically change policies.
We are in the first stages of that fight.
Photo: FAIR COPS Action and Press Conference, Community Renewal Society, Facebook.