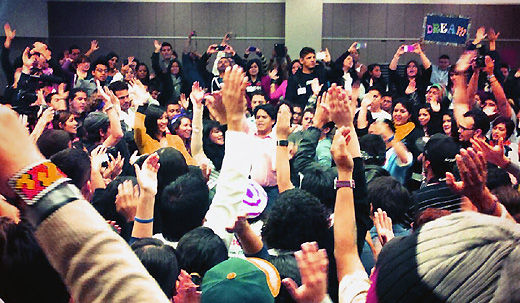 DREAMers, undocumented young people working for a path to U.S. residency and citizenship, formed the largest-ever gathering of undocumented youth this Nov. 30 to Dec. 2 at the national United We Dream conference in Kansas City, Mo.
They came out of the conference with an updated strategy in their push for immigrants' rights.
These undocumented youth bear the "DREAMer" moniker due to their push for passage of the DREAM Act, which would provide legalization and a path to citizenship for undocumented youth brought to the U.S. as children and who are currently in school or the military.
The DREAM Act was a bipartisan bill when introduced in 2001, but, when it came up for a vote in Dec. of 2010, the GOP used its filibuster power to stop it.
At the conference, delegates voted to fight for not only for enactment of the DREAM Act itself, but also for comprehensive immigration reform. They will fight for a path to citizenship not only for undocumented youth, but for all undocumented immigrants in the United States.
At the conference were 600 DREAMers. Though this number is small compared to the estimated 11 million undocumented youth forced into shadows and ambiguity over their post-high school plans, the conference was momentous in bringing such a large number together openly.
The movement's members see themselves as building on unprecedented victories in the past year.
In a telephone press conference, UWD Managing Director Cristina Jimenez described the event, saying, "We are building a powerful national movement for change and are excited for the coming fight." Jimenez added "We will hold politicians accountable for creating a roadmap to citizenship for DREAMers, our families and our communities and which ends senseless deportations and abuses."
Indeed, while DREAMers cannot vote, their friends and family can. In this way, they flexed their muscles in the November elections, helping to guarantee President Barack Obama the election. The Latino and Asian communities, both of which are affected by the immigration issue, came out to vote in huge numbers for the incumbent president, both in raw numbers and in percentage voting Democratic.
The election results changed the conversation on immigration reform in Washington, causing even Republican Newt Gingrich to openly suggest that the Republican Party put amnesty for immigrants in its platform.
Jimenez highlighted perhaps the most momentous victory that DREAMers have won yet, President Obama's Deferred Action for Undocumented Youth, signed by the president in August. Announced in June of this year, the policy allowed those eligible for the DREAM Act to apply for a two-year, renewable assurance that they would not be deported. They would be able to live and act as U.S. residents.
Because Deferred Action was ordered by President Obama, and not enacted through Congress, it does not provide a path to citizenship. Another drawback is that, because it was an executive order, DACA could be changed by a sitting president at any time. President Obama's reelection has given undocumented immigrants breathing room to press for their rights.
And pressing for their rights is what they are doing.
The new United We Dream platform includes six planks: 1) fair treatment for DREAMers and their families, including the path to citizenship for the 11 million undocumented youth; 2) the ability to travel, including driver's licenses and the ability to visit family abroad; 3) higher education access, including the right to the same financial aid that native born and permanent residents receive as well as in-state tuition at public schools; 4) the end of harsh and error-prone immigration policies, including e-Verify, "Secure Communities" and roadside checkpoints; and 5) access to the same health care and working conditions as citizens.
The sixth point is for the DREAM movement itself. UWD's platform calls for growing and diversifying the movement, bringing in more non-Latinos as well as others.
UWD affiliates across the country are planning for coordinated actions the week of President Obama's inauguration "to highlight the plight of our families under an excessive and immoral immigration enforcement system."
Photo: "DREAM warriors" vote on platform at their national conference, via the United We Dream Facebook page.