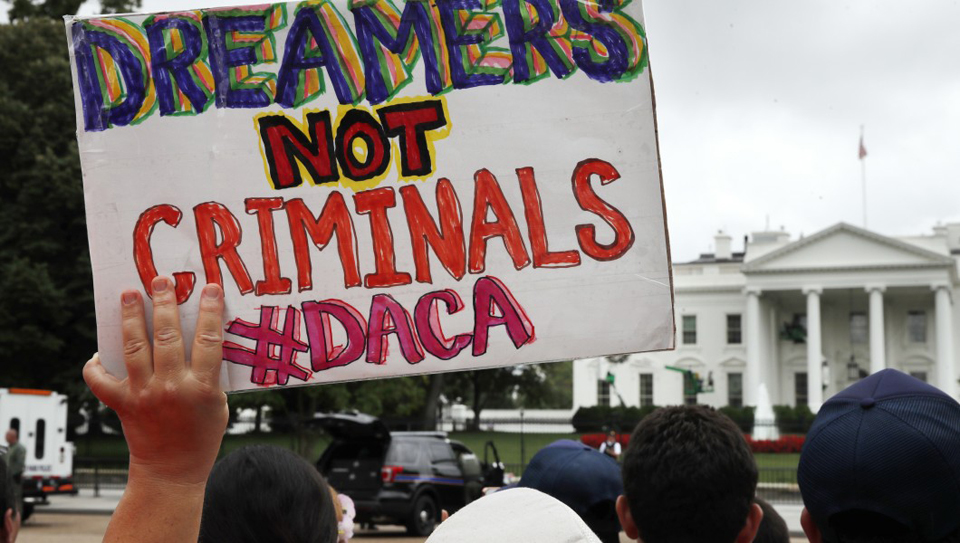 WASHINGTON—Keeping the Dreamers in the U.S. is out of the bill. GOP President Donald Trump's Mexican Wall is out – maybe. And the federal government may shut down again at midnight on March 23.
Welcome to the wacky world of congressional fighting over how to fund the federal government.
Lawmakers must pass a $1.3 trillion money bill by March 23 to fund the feds through Sept. 30. As usual, they left it to the last minute on March 22-23. The 2,232-page bill has – or hasn't – key details that would affect millions of people:
The Dreamers are out. Senate Democrats were prepared to allot money for Trump's $25 billion wall – symbol of his nativism and racism – in return for a permanent solution to keep all 800,000 Dreamers in the U.S., along with possibly 1 million more undocumented people. The Dreamers are teenagers and young adults brought here as little kids, who are now students, workers, or serving in the military. Trump rejected that tradeoff. He wants the wall, not the Dreamers.
The Democratic votes are important, especially in the Senate, where the GOP holds only a 51-49 edge. That's because enough right-wing House Republicans, plan to defect and oppose the money bill. They think too much is being spent on Social Security, Medicare, Medicaid and domestic programs. And Sen. Rand Paul, R-Ky., who shares some of their concerns, may try to stall it.  Without their votes, House Speaker Paul Ryan, R-Wis., and Senate Majority Leader Mitch McConnell, R-Kent., must rely on the Democrats to get the bill over the hump, which gives the Dems leverage for their priorities.
When it comes to the Dreamers, the Republicans are stalling, since federal courts overturned Trump's elimination of the Obama-era Deferred Action for Childhood Arrivals (DACA) program for them, at least for now. Trump's Department of Homeland Security has been forced to take re-applications by current DACA recipients to stay in the U.S. But nobody new can seek to stay.
All this hasn't stopped the AFL-CIO from launching a "call your congressman" campaign to get people to lobby for the Dreamers.
"March 5 was the expiration date given to Congress last September by the Trump administration for recipients of the Deferred Action for Childhood Arrivals program. Even though the courts temporarily blocked the March 5 'end date,' the future of the program and the working people covered by it are still uncertain. Call Congress now and urge it to secure the future of DACA and Temporary Protected Status," the labor federation said.
TPS, which covers almost 500,000 people, gives longtime shelter in the U.S., covered by fees recipients pay every two years, to people fleeing violence or natural disasters.  Thousands of legal TPS recipients are building trades members. Trump has started deporting TPS people, too.
Trump's Wall is out. Steve King wanted to put it back in. The nativist and racist Iowa Republican representative told House leaders he'd offer an $18 billion amendment to fund the wall.  The bill has $1.6 billion for "border security" but not for the "big, beautiful wall" Trump promised in 2016.
"Adequate funding for the border wall is essential because it satisfies a clear mandate the American people gave this government to uphold.  If Congress does not fully appropriate the amount the Trump administration requested to complete the entirety of wall construction, it will send a clear message to the people that politicians are playing games with the will of the people," King, known for his hatred of Hispanics – native or not – wrote.
Planned Parenthood money is in, but an Affordable Care Act fix is out. Controversial "riders," including the ban on money for Planned Parenthood, were dropped. Also dropped, though: Funding to make up a gap in the Affordable Care Act's health exchanges, worked out with McConnell by moderate Sen. Susan Collins, R-Maine, in exchange for her vote for Trump's $1.5 trillion tax cut for corporations and the rich.
"Write your lawmakers and tell them to pass a clean funding bill," Government Employees President J. David Cox urged.
Elizabeth "Betsy" DeVos wants to cut federal school spending. Congress doesn't. DeVos, named as Education Secretary because she was a GOP big giver from Michigan – and who is known for her rabid anti-public school, anti-union and anti-teacher views – carried the water for Trump's 11 percent budget cuts and her $1 billion increase in federal cash for vouchers for parents of private-school kids.
The House Appropriations Education subcommittee, which helps dole out federal funds for education and labor programs, gave her a chilly reception, especially when she proposed cutting teacher training and civil rights enforcement and eliminating money for school mental health services, on the day a teenaged gunman wounded two more students at a Southern Maryland high school.
"I am concerned about the administration continuing to request cuts Congress has rejected," subcommittee chairman Tom Cole, R-Okla., said.
ICE's crackdown drew flak. At Trump's instigation, the Immigration and Customs Enforcement Service (ICE) is rounding up undocumented people, even those who have been in the country for years. And the Border Patrol is literally tearing young refugee children away from their mothers when families appear at the southern border seeking asylum from civil wars and gang violence in Central America.
Trump wants more money for ICE and the Border Patrol for those campaigns. Human Rights Watch and the Leadership Conference on Civil and Human Rights, which includes organized labor, doesn't. LCCR's new executive director, former Obama Justice Department civil rights chief Vanita Gupta, formally asked McConnell, Ryan and Democratic leaders to reject Trump's demand. The groups won.
"Congress should not increase funding in these areas until serious failings in border policy, immigration detention, and enforcement that lead to rights violations have been addressed," they said.
Medicaid's still in danger. That's what the National Women's Law Center warns. So are other programs that help women, including both mothers and working women, it adds. The money bill "continues efforts to repeal the Affordable Care Act, roll back Medicaid, and block women's access to reproductive health care," the group said. But there's more money for domestic programs, too. NWLC still warns the money bill could again make being female a "pre-existing condition" that denies women health insurance.
More money for war. The Pentagon gets a boost of more than $80 billion, and its spending is more than half of the entire bill (not counting Social Security, Medicare, Medicaid and food stamps).
Many minor-league baseball players would get starvation wages, just like now. Unless the players have two-way major-league contracts – with one rate of pay if they're in the big leagues and another if they're not – minor leagues earn as little as $1,100 monthly for a 6-month season, with no overtime. Some are suing to be covered by the Fair Labor Standards Act, the basic law for minimum wages and overtime pay. Congressional staffers, led by McConnell's team, are reportedly working, at baseball's behest, on banning FLSA coverage for minor leaguers.
Trump wants a NASA mission to the moon, but not to Earth. Published reports, and Trump's budget, tout initial funding for a possible lunar mission, but NASA also uses its satellites for earth-mapping and investigation. Sen. Chris Van Hollen, D-Md., told an aeronautical group Trump wants to kill the agency's Plankton, Aerosol, Cloud and Ecosystem Mission. Van Hollen predicted the Senate would keep the $137 million program.  
Unknown: Will Congress cut the NLRB? Trump wants to cut the agency, which manages labor-management relations, by $23 million, to $249 million, in the new fiscal year. But the temporary money bill would presumably keep it level at $272 million.
The U.S. Fire Service is running out of money. Coloradan Ann English wrote her senators about that, pointing out the wildfires in California, New Mexico, Arizona and elsewhere exhausted available funds in the firefighting account. They urged the senators to replenish it – and to oppose a special "rider" from Senate Energy Committee Chair Lisa Murkowski, R-Alaska, to allow unlimited logging in her state's Tongass National Forest.
"The lands targeted are federal lands that belong to Coloradans and all Americans," English wrote.  "They include ancient trees — some over 800 years old — and unfractured forests critical for many species, including Sitka black-tailed deer, northern goshawks, brown and black bears, and the rare Alexander Archipelago wolf."