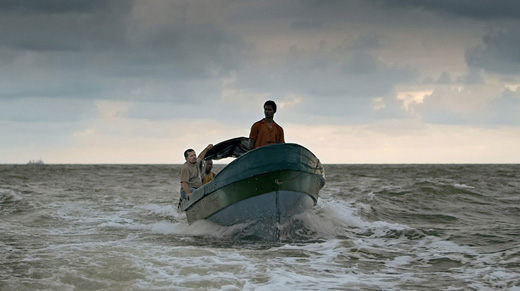 Several films by or about Latin Americans stood out at the 13th Annual Tribeca Film Festival in New York last month. One, the stylish black and white Güeros, won the award for Best Cinematography. It was reviewed in an earlier column. Another, produced by Spike Lee, addresses the international drug trade in Colombia. Manos Sucias, directed and written by Josef Wladyka, won him the Best New Narrative Director award at the festival. The jury said, "Not only did this director spend several years immersed in a marginalized community in order to tell the story in the most truthful way possible, he impacted and contributed to that community." The jury called the film "an eye and mind opener, that transported us to a different place, stimulating our thinking, allowing us to meditate on the relationship between violence and circumstance."
Rather than a road movie, Manos Sucias could be called a "river movie," as one unexpected event after another builds to an unexpected climax. It involves two young men trapped in the drug trade who find themselves towing a submerged torpedo behind their fishing boat down the Pacific coast of Colombia, trafficking millions of dollars worth of cocaine. It's either that – or try to survive a life of extreme hardship and deprivation. Five years in the making, Manos Sucias "refuses to glamorize the drug trade but rather seeks to offer a rare glimpse of its devastating effects."
Three films at the festival deal with famous sports events in Latin American history. They also reveal the politics behind the headlines.
Maravilla tells the story of Argentine boxer Sergio "Maravilla" Martinez, who tries to reclaim the boxing title he feels was unfairly snatched from him because of the boxing industry's emphasis on entertainment value over the sport itself.
Maradona '86 tells the story of Argentine soccer legend Maradona in the famous World Cup Series of 1986 where his winning goal caused a near riot. Even the instant replays couldn't prove that he touched the ball with his hand. The controversial athlete, who rose from the slums to become one of the world's most amazing and beloved athletes, dealt with a life of drug abuse, but became a strong opponent of U.S. imperialism and its pernicious attempts to take back control of Latin America. Maradona '86 is a short film so it might be available on YouTube soon. It's a thrilling portrait of the charismatic footballer, with all his complexities and talents. To learn more about his politics search out the stunning Serbian documentary, Maradona by Kusturica.
Another short film, The Opposition, shown in a double bill with Maradona '86, is a powerful reminder of the tragic 1973 Chilean military coup that resulted in the suicide of the nation's beloved leader, Salvador Allende. The film follows the training of the Olympic soccer team during the time of the coup. As a matter of fact they were training in the national stadium at the same time that leftists were being rounded up, tortured and killed. Most players were unaware of what was going on in the stadium, but one of the players refused to shake hands with coup leader Gen. Augosto Pinochet as the team headed off to the Soviet Union for playoffs. When they received a chilling welcome there, it became clear to most of them that a major tragedy had taken place in their country. When the Soviet Union was scheduled to play the next game in Chile in the same stadium, the Soviets refused to travel to Chile knowing that crimes were being committed in the stadium. In the only instance of a one-team Olympic soccer game, the Chilean team was told they had to play the game without an opposing team in order for it to be official. Watch this movie to see how that turned out.
Meanwhile, in a small Scottish town in 1974, engine workers expressed an amazing act of solidarity. They refused to repair engines from warplanes that were used in the Chilean coup. The planes had been sent to Scotland to be repaired, and the workers left them to rust in a factory yard where they mysteriously disappeared – never to be returned. The protest is artfully portrayed in a beautiful 13-minute Scottish film called Nae Pasaran that was shown along with many other wonderful shorts at the Tribeca Film Festival.
Preview of Nae Pasaran:
Photo: Scene from Manos Sucias