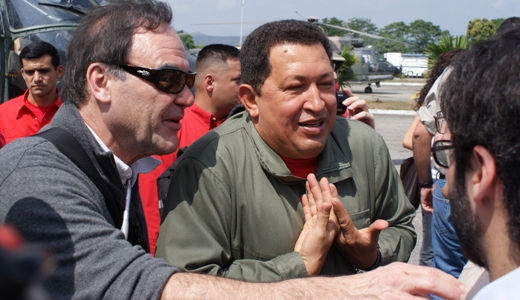 Movie Review
"South of the Border"
Directed by Oliver Stone
2010, Unrated, 78 min.
Have you ever wondered how seven important Latin American nations are coping while defying the International Monetary Fund and "free trade" neoliberalism? With partial guidance from Tariq Ali and Mark Weisbrot as co-writers, U.S. film director Oliver Stone brings his talent into the effort of explaining something that is entirely new to the south of the United States. As Argentina, Bolivia, Brazil, Cuba, Ecuador, Paraguay, and Venezuela, to one degree or another, break with imperialism for the first time in our combined American history.
First, the bad news. The sound was inconsistent in the theater where we watched. While filmmaker Stone put himself definitely on the side of the people's movement in South America, his revelations in this film were not particularly new. The questions he asked of these important leaders were hardly piercing, and he did not lead us toward any particularly worthwhile conclusions.
My movie buddy and I kept thinking that we'd have learned almost as much from interviews on the morning TV shows like "Today" or "Good Morning America."
Stone's problem seemed to be his own lack of appreciation for the astounding change in Latin America represented by anti-imperialist leadership in these major countries. At one point, he takes his distance from some of the anti-capitalist comments of the people he interviews. He says he favors a kind of "benign capitalism."
While watching heads of state deliver opinions, one might wish to hear from more ordinary people, but the movie might have been too long. One might have wanted new insights into the developments in Nicaragua and Guatemala but for the same limitation.
Neither Stone's nor the viewers' politics detract from the main value of "South of the Border." It holds our attention because of the dramatic changes in Latin America, where leaders tell how they manage to operate with the dark cloak of U.S. imperialism waiting to envelop them again.
Stone travels through the nations with soft questions to their leaders. His admiration for Venezuela's leftist President Hugo Chavez is especially strong. President Chavez is the centerpiece of the entire film. He is credited with standing up against the usual aspects of carnivorous imperialism, but also standing up to an actual military coup. President Evo Morales of Bolivia is a partner in this grand adventure. Stone and Morales chew coca leaves together while discussing world politics.
Argentina is examined as another example of democracy in South America. Stone discusses IMF objectives and the future of Argentina with former Argentine President Nestor Kirchner and with his wife, current Argentine President Cristina Kirchner. President of Brazil Luiz Inacio Lula da Silva, President of Ecuador Rafael Correa, President of Paraguay Fernando Lugo and finally life-time President of Cuba Raul Castro are all presented in Mr. Stone's documentary.
Through their words, we in the film audience examine the "free-trade" economic policies pushed by U.S. finance capital and International Monetary Fund. We see how these policies failed to promote Latin America's rise, while we share the promise of the present leaders. The film explains that financial depressions in Latin America and resentment over the selling off of natural resources by multinational companies led to the present peoples' democratic rebellions across the region.
One theme that runs through nearly all of the interviews is distaste for mainstream "news" sources, and particularly those that cloud the views of North Americans. President Morales says flatly that they are his worst enemy. Somewhere within the film, almost every viewer is sure to realize that these important figures have not appeared in interviews on North American television. Almost everything said about them here, the film makes clear, is twisted with ugly, malevolent, outright lies. Director Oliver Stone may not have conducted the best interviews possible, but they are the only open interviews we have seen and are likely to see while corporations throttle the truth in the United States.
Few Hollywood directors expose this bias and it would be hard to avoid admiring the politics and unpredictability. It is an impressive piece of work to store indelibly into memory. Go watch it now!
Photo: Director Oliver Stone and Venezuelan President Hugo Chávez greeted by the press. (Jose Ibanez/southoftheborderdoc.com)