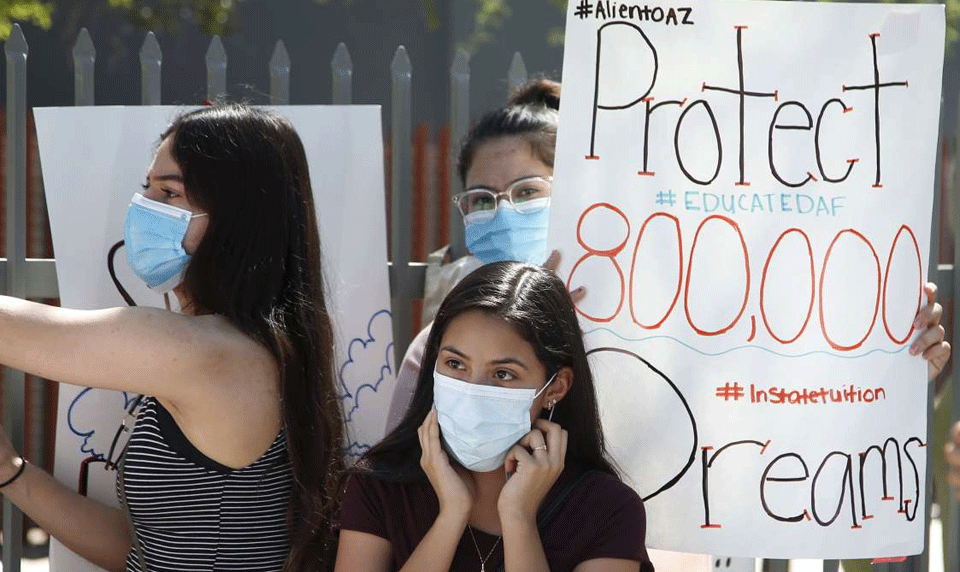 WASHINGTON—Immigrant rights groups, the AFL-CIO and other human rights organizations hailed the U.S. Supreme Court's June 18 decision which effectively leaves in place the Obama-era Deferred Action for Childhood Arrivals (DACA) program and blocks President Donald Trump's long campaign to end DACA and toss its 700,000 recipients – the Dreamers — out of the country.
The DACA program, instituted by an executive order of former President Barack Obama, provides legal status and the ability to work for 700,000 undocumented young Americans who had entered the U.S. as young children. The program provides for a renewable two-year period during which recipients are permitted to work and are not subject to deportation.
The unexpected victory in the middle of this uprising is not coincidental, Joe Sims, co-chair of the Communist Party USA told People's World. "It shows the enormous power and authority of the people's movement."
The 5-4 DACA decision was the second big High Court loss for Trump this week. Both court cases were brought as challenges to provocations taken by the Trump administration to build and incite a political base founded on nativism, white supremacy, hate, and division. On June 15, the justices ruled by a 6-3 margin against job discrimination aimed at LGBTQ people (see other stories).
But the DACA decision is fragile: its narrow legal basis is the Trump administration's failure to carry out required administrative steps when it rescinded the DACA program: "We address only whether the agency complied with the procedural requirement that it provide a reasoned explanation for its action," wrote Chief Justice John Roberts in the majority opinion. This leaves the door open for a second Trump administration to repair the procedural failings and still jettison DACA.
The Dreamers' case had also charged that besides its procedural faults, Trump's rescission of DACA violated the Constitution's requirement that the laws provide equal protection for all. An appeals court in D.C. concurred with the Dreamers on this point, but eight of the nine justices did not agree to uphold that part of the appeals court ruling. The lone dissenter, Justice Sonia Sotomayor, wrote that rejection by the High Court "dismisses the statements President Trump made both before and after he assumed office." She cited "Trump's declarations that Mexican immigrants are 'people that have lots of problems,' 'animals,' 'the bad ones,' and 'criminals, drug dealers, [and] rapists.'".
Those stands, plus Trump's abolition of DACA and his continued abuse after winning the White House, show Trump's animus, the legal term for hate, against Mexican immigrants, she explained. His animus denies the DACA recipients and others who depend on them that equal protection, she added.
AFL-CIO President Richard Trumka called the Court's decision "a victory for all working people" and highlighted the leadership of immigrant youth whose "tenacity and vision" made it possible."
"Trump's 2017 decision to end DACA was cruel and wrong, and that injustice now has been undone—but only temporarily. We know that this is but one step in our long fight to win permanent rights and status for all those whose labor helps our country to prosper," Trumka added. "We will continue our struggle to end structural discrimination and demand changes to a system rigged to benefit the wealthiest and corporations," he pledged.
"The right way to protect workers is by expanding rights and protections, rather than ramping up enforcement tactics that spread fear in our workplaces and communities" he continued.
Nine thousand Dreamers serve as teachers and 14,000 are doctors, nurses, or health care support workers.
Hundreds of thousands are students. The top five occupation categories among Dreamers, according to Migration Policy Report are hospitality, retail, construction, education, and health care, and professional and scientific. "Many DACA recipients are our frontline workers keeping our grocery stores stocked and our hospitals staffed during this global pandemic," said Yves Gomes from the AFL-CIO constituency group Asian Pacific American Labor Alliance. "As undocumented people, we risk our lives taking care of other people's wellbeing."
"Our entire workforce has benefited from DACA" said Trumka. "This program helps to raise wages, support a stable workforce and reduce exploitation in our country."
Office and Professional Employees President Richard Lanigan called for "shift[ing] our focus to ensuring Dreamers can become U.S. citizens and fully take part in the civic life of the country they've called home since childhood."
Greisa Martinez Rosas, deputy executive director of United We Dream, called the Court decision "a victory for grassroots organizing and the immigrant rights movement that understands that police and ICE work together in our communities to detain, deport and kill undocumented people." She linked the legal victory to the Black Lives Matter movement sweeping the country from coast to coast: "We are in solidarity with Black people and Black immigrants who are calling for the defunding of police. We know the police, and the deportation force of ICE and CBP (Customs and Border Patrol) were born of white supremacy and anti-Blackness and must be defunded," she declared. Martinez Rosas, herself a Dreamer, used a Twitter post to call for "holding Trump and Republican politicians accountable in this fall's elections
APALA National President Monica Thammarath said, "We call for justice for Black lives, and that includes Black immigrants and Black DACA recipients. While this decision will provide much needed relief for immigrants, we must remember that Black immigrants are more likely to be deported than non-Black immigrants because of disproportionate policing.
Georgetown University student Arisaid Gonzalez Porras, also a Dreamer, told United We Dream; "I'm grateful the Supreme Court recognized what I already knew, that DACA is right. I was 16 years old when I first got my DACA protections. In that time, DACA has allowed me to dream big, it has allowed me to travel, to work, to feel like the rest of my peers."
"Yet, this is not enough.," Gonzalez Porras warned. "DACA is still only a temporary permit and doesn't protect the over 11 million undocumented people in this country. This decision does not mean the Trump administration will not attempt to rescind the program again, and we need all our state and local elected officials to take action to protect DACA recipients in their communities. The fight will continue for a permanent solution that helps people without hurting people.
"Home is here!" Gonzalez Porras concluded, using United We Dream's theme.
Trump left no doubt as to his intentions in the matter: "Now we have to start this process all over again," he wrote in a Twitter post.
Undaunted, Martinez Rosas told the Hill, "We're going to take him out in November."