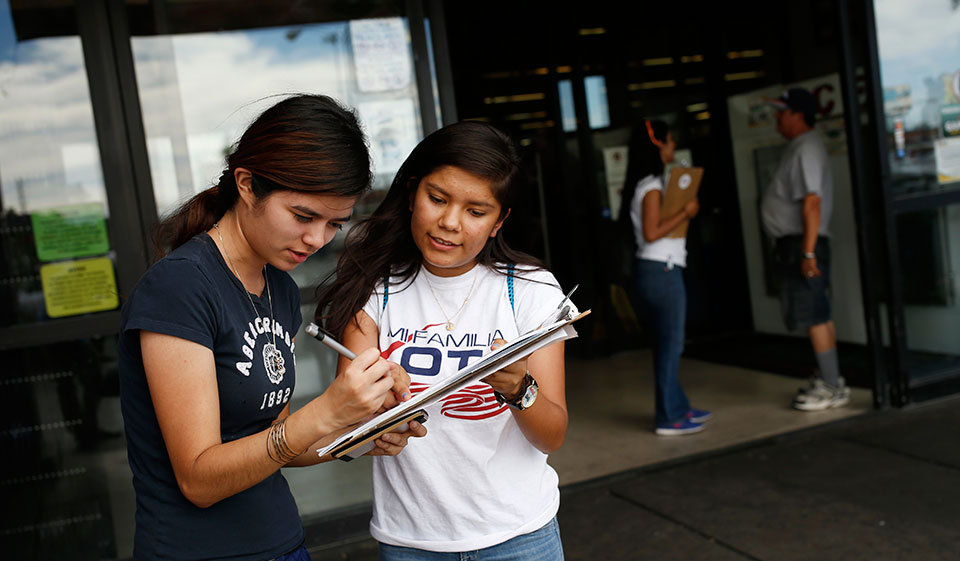 This November, the extreme right aims to win control of the Senate and House of Representatives and retain and augment control of key state and local posts. To defeat the Trump/MAGA-dominated Republican Party, mobilizing the greatest turnout of voters possible is imperative. This will require ideological, strategic, and tactical awareness and preparation.
A large turnout of working-class Latinos and their allies is critical to the overall mobilization for a mass people's victory. They can and will play a decisive role in many of the key battleground electoral efforts. The focus on the Latino community's working class is needed because, despite the obvious diversity of the Latino community, the majority of Latinos are working class.
The Latino community is made up of groups from over a score of countries of origin, primarily from the Western Hemisphere, and mostly from North America, with differing ethnic/racial traits as well as length of historical presence, and differing geographical concentrations in the U.S.
The corporate media, academia, and popular cultural discourse on Latino diversity ignore or minimize the dominant working-class commonality of Latinos. The mass media especially in recent years regularly highlights a seemingly growing conservatism in the political behavior and thinking of Latinos.
Such selective downplaying of their working-class characteristics and thinking leads to an underestimation of the potential of the Latino vote. In fact, Latinos are key to defeating the far right in national politics.
Key aspects of Latino demographics and voter turnout
The 2020 census, admitting to a 5% plus undercount of the Latino/a population, shows that Latinos make up 20% of the nation's population. Latinos are 18% of the workforce, only slightly under the 20% figure of the overall Latino population. This is primarily due to the relative youth of Latino workers, whose median age is 38.5, well below 42 years for the general working population. Thirty-one percent of Latinos are under the age of 18, much greater than other groups.
Some of the key state statistics show California's labor force is 37.7% Latino/a; Texas, 37.4%; New Mexico, 43.6%; Arizona, 34.2%; Florida, 29.4%; Nevada, 27.4%; New York, 18%; and Illinois, 18%. An indication of the wage differential for Latinos is that Latina women's wages are $0.57 to $1 for white men.
The census statistics show that some 65 million Latino folk reside in the United States. Their heaviest concentration is in the southwestern/Pacific states and in the larger metropolitan and industrial/agribusiness areas. Forty-four percent of all Latinos reside in California and Texas alone.
Another 25% reside in Florida, New York, Illinois, New Jersey, and Arizona. Other states with over 1 million Latinos include Colorado, Georgia, North Carolina, Washington, Pennsylvania, and New Mexico. Close to 1 million live in Virginia, Nevada, and Massachusetts.
These states have large numbers of senators, representatives, and electoral votes, and some are key battlegrounds in the elections. There are also large concentrations of Latinos in other key states, as this population has been growing in over 99% of the nation's counties in the 21st century.
Systemic obstacles to Latino voter turnout
When thinking about Latino's power in elections, there are three parameters to keep an eye on:
The number of people eligible to vote
 The number of people registered to vote; and
Actual voter turnout in elections compared to total voter registration.
Although statistics for these parameters vary by state, in all three categories Latinos trail the data in each category by 10% to 20% compared to white, African American, and other voting groups.
Eligible Voters
Latino eligible voters (not to be confused with those registered to vote) make up approximately 75% of their population, compared to roughly a bit over 90% for whites, and around or under 90% for African Americans.

This is due largely to the millions of adult Latino workers who are denied the vote due to non-citizen status, including legal residents, visitors and students, asylees, temporary workers, and undocumented workers. A second major factor is the large percentage—28%—of Latinos under the legal voting age of 18.
Registration Rates
The number of Latino registered voters remains the lowest among major ethnic groups, but it has been growing. In the 2020 election, 61.1% of eligible Latino voters registered to vote, an all-time high. However, this is far less than the 76.5% and 69% rates of registrations for whites and African Americans, respectively.

A major factor is that the integration of first- and second-generation immigrants into the social system is a gradual process, where education, economic and residential stability, and social acceptance are key. Another factor is that Latino households are multigenerational, with varying legal statuses. Those of legal status are still often inhibited by other family members' "living in the shadows" and don't register to vote out of fear they will jeopardize the family as a whole.
Voter Turnout
In 2020, 18.7 million Latinos—53.7% of eligible Latino voters—cast votes in the presidential election, a historic high. One in 11 voters were Latino. Yet the percentage of voter turnout of registered Latino voters was significantly smaller than that of whites and African Americans, 71% and 63% respectively.

Latino turnout is affected by several factors: low integration into the body politic, unfamiliarity with and fear of the voting process, pessimism about the accountability of government officials, overt and covert voter suppression, and other oppressive practices like gerrymandering.

For these reasons, GOTV campaigns use a "pragmatic" approach by prioritizing the more likely voter and ignoring or giving less priority to the less likely voter who tends to reside in what is known as "voter poor" communities.
Voter-poor constituencies
A large part of the Latino population lives in voter-poor communities, districts, and precincts. This varies by locale, state, and region. In Los Angeles County, where the largest concentration of Latinos in the country resides—including college-educated, professional, and skilled workers, as well as Latino organizations and organized labor—large swaths of Latino and other low-income workers of color live in voting-poor areas.
Perhaps the largest example in the June 2022 primary was the 9th Los Angeles City Council District. The 9th District, along with all other L.A. Council Districts, was recently reapportioned with an approximate population of 250,000. Only 6,198 people, or 2.4% of the overall population, voted in the primary (Los Angeles County Registrar-Recorder). It is perhaps the largest Latino and African American populated district, with the lowest income levels and high immigrant populations.
The 8th District is in the northern edge of what is termed South Central Los Angeles. Just a few miles to the north of the 8th District is the 11th District, with approximately the same number of residents (250,000); the turnout of voters during the primary was 35,960 residents — over five times greater than the 8th District's turnout.
The 11th District had a highly contested race where a challenger drew more votes than the incumbent, and the two are in a runoff in the November general election. In the 8th District, the incumbent had close to a 70% majority in the primary and was elected outright without having to campaign in the general. Two factors in the 8th District—low registration rates and an uncontested election—combined to produce a very low turnout.
The Southern California District organization committee and the Southeast Los Angeles County studied voter turnout in the L.A. County cities and major unincorporated areas, comparing the demographics of areas with low and high turnout. The average voter turnout for the primary election was slightly over 28%.
In the 10 lowest-turnout areas, the key characteristics were:
voter turnout ranged 9-18%;
30-40% born in another country;
residents are 80-95% Latino, with smaller percentages of African American, Asian, and white residents;
in 80-90% of households the language used at home was Spanish;
25-40% of households were owner occupied;
persons with a bachelor's degree or higher were 5% to 10% of the population;
12-20% living in poverty and similar numbers of those under 65 years without health insurance.
In the 10 highest-turnout areas, the key characteristics were:
40-50% turnout;
60% to 90% white residents;
mostly higher Asian and Latino than African American percentages of population;
5-25% foreign born and language other than English spoken in household;
50-90% held bachelor's degree or higher;
under 5% living in poverty or without health insurance;
50-90% of households were owner occupied.
What is key for the higher-turnout areas is greater voter mobilization activity and awareness of political issues. Among the 10 highest-turnout areas are two major ones, Ladera Heights and View Park, two neighborhoods with 69% and 77.5% African American populations in the city of Los Angeles with high homeownership and college education numbers.
These voters overwhelmingly supported African American mayoral candidate Karen Bass, who led the field in her primary.
A key feature of the lower-turnout areas is that most of them make up the "rust belt" of Los Angeles County, where major auto, steel, rubber, and other unionized industrial plants were located until the mid-1980s.
For many years afterward, labor leaders from different plants were elected to local area posts. The areas are perhaps even more working class today, with an important number of immigrant workers in unionized service jobs, many without citizenship status but with household members who are citizens. This can be deduced from the 30–40% owner-occupied housing, where many homes are shared by members of extended families contributing to mortgage payments.
Steps to greater turnout in voter-poor areas
A growing priority of much of the labor movement and Latino, immigrant and civil rights, and student and senior groups is to increase the Latino vote on national, state, and local levels. Such efforts tend to focus on battleground locales where greater Latino turnout can be decisive.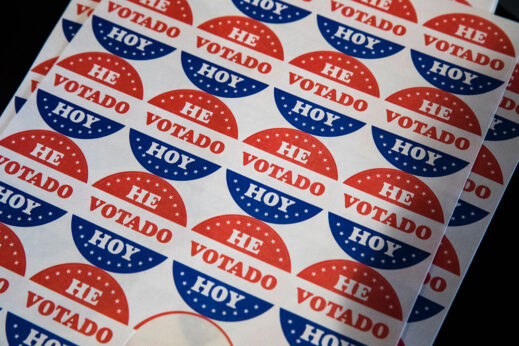 In the late 20th century, groups such as the Southwest Voter Registration and Education Project, the Mexican American Legal Defense and Education Fund, the Congressional Hispanic Caucus, the National Association of Local Elected Officials, and the National Council of La Raza waged concerted campaigns to increase Latino voting and representation. By the turn of the 21st century, organizations began participating in a growing crusade to increase the Latino vote so as to move politics in a more progressive direction.
One of the great achievements of these efforts was the legalization of some two million immigrant workers in the 1986 "amnesty" legislation. Although the Immigration Reform and Control Act instituted more stringent immigration limitations, it resulted in massive programs of civic education by schools, unions, faith organizations, and local state and national programs.
This led to electoral advances in the 1990s that accelerated the role of Latinos as a player in national politics. However, the politics of immigration and citizenship from the right have intensified to stifle and suppress Latino political advance.
Early in the 21st century, an Immigrant Freedom Ride was initiated from Los Angeles, led by labor leader Maria Elena Durazo and Rev. James Lawson. It rallied groups in the South and the eastern seaboard to support immigrant rights. Hundreds of thousands in many metropolitan areas and millions nationwide marched for immigrant rights. The election of Obama to the presidency and the defeat of the Republican right in 2008 and 2012 increased Latino voter turnout.
The 2016 debacle of the election of Donald Trump was a major setback, but the midterm elections of 2018 and the 2020 defeat of Trump also saw a substantial increase in Latino turnout that played a decisive role in key battleground races.
Anti-right-wing Latino voters have played critical roles in California and especially Southern California, as well as Nevada, Arizona, New Mexico, and Texas. Unions like Unite Here, SEIU, AFSCME, the Southern California and California Federations of Labor, and the national AFL-CIO, have prioritized reaching out to less-frequent voters, youth, immigrants, and low-income workers.
The COVID-19 pandemic complicated the mobilization of the vote against the far right, but it also brought more labor and community awareness of the need for greater commitment and unity to move forward. A major step forward has been taken this year by the Los Angeles County Federation, which launched the Peoples' Project for a comprehensive mutual aid program in major low-wage worker communities, which correspond closely to voter-poor communities. This should increase labor-led voter turnout in the midterm election, with an even greater impact in the 2024 presidential election cycle.
Action proposals for increasing Latino turnout in 2022 and 2024
An All People's mobilization of the Latino vote that includes the activation of immigrant workers and families is needed. It must include the call for citizenship for all immigrant workers and their families. Non-citizens are ineligible to vote, but they can influence their friends and family who are eligible.
Communist Party Districts should conduct concentration work in major Latino working-class areas on a precinct-by-precinct basis.
Districts and clubs should work with Latino and labor organizations to increase Latino voter registration and turnout and overcome voter suppression. We must emphasize that denial of the franchise to immigrant workers is voter suppression.
Call on key districts to work for greater Latino turnout and share experiences in People's World and Mundo Popular.
To build on this success, the electoral activity must go beyond the "pragmatic approach" and involve all sectors of the Latino working class: citizens, legal residents, undocumented workers, "visitors," asylees, students, youth, and senior citizens.