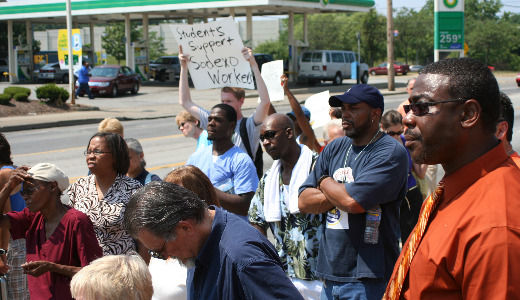 CLEVELAND – Scores of workers and union supporters rallied at Sodexo Laundry here July 8, serving notice that they were tired of low pay and unsafe and demeaning working conditions, and want to organize a union.
The facility employs about 100 mainly African American workers and services the Cleveland Clinic hospital complex. It is part of the multi-billion-dollar French-owned Sodexo service corporation with operations in 80 countries.
With the temperature in the mid-90s. Gaynell Jones, a slightly built woman, described working for $8.39 an hour in the "soil sort" department, dealing with laundry containing feces, medical waste, needles and infectious germs.
"The laundry is very hot," she said. "I get nosebleeds because it is so hot and dry in the plant." At the end of her shift she is covered in sweat, lint and dust.
"Unfortunately," she said, "the plant does not have hot water available for workers to wash their hands." Dispensers of anti-bacterial gel are usually empty, she said.
Dallas Sells, director of the Ohio State Council of Workers United, the union seeking to represent the workers, said Sodexo laundry facilities in Cleveland, Pittsburgh and Buffalo have been repeatedly cited by the U.S. Occupational Safety and Health Administration (OSHA) for violations because of injuries workers have sustained with dangerous machinery and the company's failure to provide job training.
Many injuries stem from speedup with workers forced to meet unreasonable production quotas like folding 500 blankets an hour. Employee complaints led to an OSHA inspection June 25. A report is pending.
Anton Spencer, a scissors lift worker who cleans the plant's machinery at night, said workers should be paid more for what they put up with. "We want to be treated like human beings," he said. "We can't afford the medical benefits. We need the union."
"The conditions at Sodexo are shameful," State Rep. Mike Foley told the rally. Many public officials are aware of the situation, he said. "We are angry and we support the effort to form a union. We will do whatever we can to help."
Photo: Workers rally at Sodexo Laundry in Cleveland, July 8. (Debbie Kline)