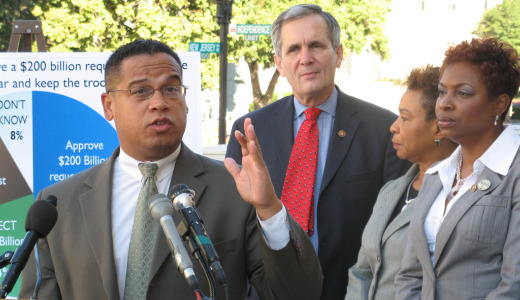 WASHINGTON – Progressive lawmakers are challenging the administration's $33 billion supplemental funding request for the Afghanistan war, they told participants at the America's Future NOW! conference here this week.
They see it as a chance to open debate in Congress on ending a disastrous war that is costing taxpayers about $100 billion a year, draining funds from jobs programs and other domestic needs and fueling the federal deficit.
Ending the war "begins with the debate over the supplemental," Rep. Keith Ellison, D-Minn., told a conference session June 9. It will "force a conversation" in Congress over getting the U.S. military out, he said.
On May 27, 18 senators voted for an amendment introduced by Russ Feingold, D-Wis., that would require the president to submit a withdrawal timetable. Many found it significant that two top Democrats, Illinois Sen. Dick Durbin and New York's Chuck Schumer, voted for the amendment.
"This vote was the Senate's first clear referendum on the Pentagon's new [military surge] strategy in Afghanistan and shows growing opposition to the war in that chamber," the Friends Committee on National Legislation pointed out. Noting that Durbin and Schumer are second and third in the Democratic leadership, the Quaker group said, "Their votes in favor of a timeline for withdrawal sends a clear signal to the administration" of the growing opposition it faces on the Afghanistan war. Another leading Democrat, Tom Harkin of Iowa, who also voted for the withdrawal timetable, said it's "time to start thinking about a different approach."
The debate now moves to the House of Representatives. In the House, Rep. Jim McGovern, D-Mass., has introduced a parallel version of the Feingold withdrawal timetable amendment.
In addition, Rep. Barbara Lee, D-Calif., co-chair of the Congressional Black Caucus, and also co-chair of the Congressional Out of Poverty Caucus, told the America's Future conference she will introduce an amendment calling for no more funding for the war.
When President Obama announced his decision last winter to send 30,000 more troops to Afghanistan, he pledged to "begin the transfer of our forces out of Afghanistan in July of 2011." But top officials testifying before Congress on the plan seemed to water down even that vague promise, with the head of the Joint Chiefs of Staff, Adm. Michael Mullen, calling July 2011 a date to start transitioning, saying, "It's not a date that we're leaving."
Mullen, Defense Secretary Robert Gates and Secretary of State Hillary Clinton told Congress that the administration would conduct another review of its Afghanistan policy in December 2010.
Meanwhile, the news out of Afghanistan continues to be grim, with experts saying the U.S. military presence is causing more harm than good.
Speaking with Ellison on a panel titled "Securing America: Progressive Perspectives," former Maine Congressman Tom Andrews said the military surge in Afghanistan announced by Obama was an example of how the right-wing military-industrial complex "is exerting enormous control on our national security policy."
Andrews, who heads Win Without War, joined Ellison in praising President Obama's policy statements, including his new National Security Strategy, for projecting a U.S. foreign policy that turns away from Bush-era militarism. However, Andrews said, "this president does not operate in a vacuum."
He noted that while the president was still conducting his review of U.S. Afghanistan policy, Generals Stanley McChrystal and David Petraeus both publicly pushed for a troop surge. They essentially indicated that they "could not support the president if he chose to go in any other direction," Andrews said. "This is the political climate in which this president is operating." And it's not new: "the Pentagon has played the White House like a fiddle for a long time," spanning many administrations, he commented.
This political climate has led to this president proposing two of the largest military budgets in U.S. history, Andrews pointed out. And Afghanistan is a "disaster that the military-led approach has created," he said.
Breaking the grip of the far-right military-industrial complex requires "a clear, forceful political movement that can have an impact on Congress" for "a new direction on Afghanistan and national security," he said. Such a movement will create "a new political climate" for President Obama so that the peaceful foreign policy he has talked about "can actually be implemented."
Many speakers at the conference pointed to the $708 billion military budget as a place cost cutters should go if they are serious about reducing the federal deficit.
Peace advocates urge the public to contact their representative and ask him or her to vote no on additional war funding and yes on a withdrawal timetable.
Photo: Reps. Keith Ellison, at microphone, and Barbara Lee, second from right, are joined by Reps. Lloyd Doggett, D-Texas, and Yvette Clarke, D-N.Y., at a 2007 Congressional Progressive Caucus press conference on ending the U.S. occupation of Iraq. http://www.flickr.com/photos/keithellison/1533664828/ cc 2.0