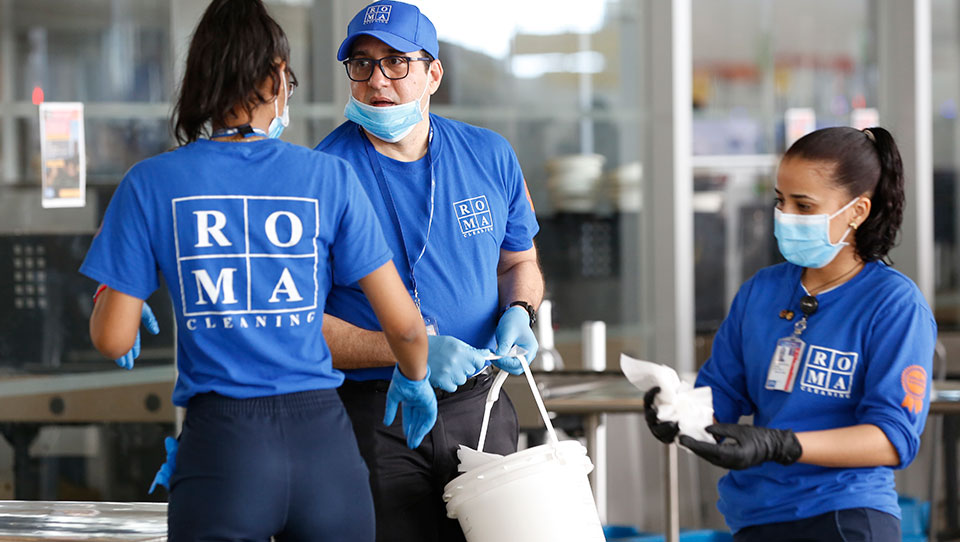 WASHINGTON—New Trump administration emergency rules for paid sick and family leave for workers impacted by the coronavirus pandemic have so many restrictions and loopholes that the two top congressional sponsors of the measure sent an angry letter to Trump Labor Secretary Eugene Scalia, saying the Labor Department is "twisting the law."
In their April 1 letter, Sen. Patty Murray, D-Wash., and Rep. Rosa DeLauro, D-Conn., stop just short of accusing the Trump regime of sabotaging the law, which was part of the $2.2 trillion economic stimulus package Congress approved on March 18 to rescue people and businesses as the economy tanked.
But there are so many restrictions in the temporary rules – set in question-and-answer-form — that the two lawmakers wonder if Labor Secretary Eugene Scalia is acting in good faith in his guidance to firms about whether they must obey the law and pay their workers.
"Several of the statements put forth in the document, labeled 'Questions and Answers,' contradict the plain language of the Families First Coronavirus Response Act and violate congressional intent," their letter says. They want Scalia to yank the offending rules and issue new ones that follow the law. Scalia has yet to reply.
The biggest loophole, and directly contradicting the blunt language of the law, says that if a state or a city orders people to "shelter in place" – in other words, stay home – business can deny the workers paid family and medical leave.
"DOL even indicates employees lose their right to paid leave if their employer closes the employee's worksite in the event of a government directive. This clearly defies the act, which grants paid leave to employees who are subject to quarantine or isolation orders from government officials," DeLauro and Murray said.
Murray, and particularly DeLauro, have pushed paid sick and family leave for years. Republican and corporate opposition repeatedly stymied them until the widespread ordered closures of businesses, factories, stores, and other enterprises – to stop "community spread" of the coronavirus pandemic — threw millions out of work and thousands into quarantine when they tested positive.
The two used that aspect of the crisis to get paid sick and family leave into the stimulus package, for the workers and families whom the coronavirus pandemic affects, including those who lose jobs.
The law provides up to 14 days of paid sick and family leave per worker, but it also covers caregivers for family members and covers the worker's family, too. And if your kids are out of school and you must care for them at home instead, you're supposed to get 10 weeks of paid leave.
But firms with more than 500 workers are allowed to set up their own paid sick and family leave programs, the law says. And firms with less than 50 workers can seek exemptions from the law if they can prove giving paid leave would economically harm them.
Scalia's rules, however, erect other hoops workers must jump through to get the paid leave. Indeed, the two lawmakers say, many of his rules let employers get away with denying sick workers paid sick leave.
"In the middle of the COVID-19 pandemic, the Trump administration is robbing workers of the paid sick days and paid leave Congress passed into law for them. That is unconscionable," said DeLauro, who also chairs the House Appropriations subcommittee that helps dole out DOL funds.
"People across the country are struggling to make ends meet, and essential workers who are still able to work need to know that if they or a loved one falls ill that they can take time off. Keeping workers from getting other workers sick is good for employees, employers, and our broader public health. Secretary Scalia needs to immediately rescind this guidance and put workers' needs first."
"The Trump administration is twisting the law to allow employers to shirk their responsibility and is significantly narrowing which workers are eligible for paid leave," Murray said in a statement.
"This simply can't stand. This guidance needs to be rewritten so workers get the leave they are guaranteed under the law." She's the top Democrat on both the Senate Appropriations Labor Subcommittee – which also helps dole out DOL's dollars — and on the Senate panel, the Health, Education, Labor and Pensions Committee, that writes many health laws and all labor laws.
The Trump-Scalia rules leave power over sick leave in the employers' hands, which is not what Congress intended when it wrote the law, DeLauro and Murray say. Among other problems they identified in DOL's "guidance" – the temporary rules for employers – are:
Employers can force workers to seek and get certification they qualify for paid sick and family leave. The employers must show the feds workers were forced to not work because of the coronavirus, in order to get the tax credit the law provides for reimbursing employers for the lost pay.
But the law doesn't require the workers to prove – through documents – that they needed to miss work, nor does it require another requirement the Trump regime would let bosses impose: Providing proof that the kids are missing school because the schools are closed and because caregivers can't come to work, either.
Neither requirement is in the law, the two said. But both are in Scalia's q-and-a.
Workers can take and get the leave only if they're "unable to work" – because of the coronavirus and the moves to curb it – and the boss has work for them to do. If the company is closed, though, there's no work.
"This guidance is in direct contradiction with the" family leave law, "which does not allow employers to use those tactics to prevent employees from receiving paid leave," Murray and DeLauro said.
Under current unpaid family and medical leave law, which DeLauro pushed through Congress more than two decades ago, workers can take "intermittent leave" – for such things as doctors' appointments – and still have their jobs waiting for them when they return. They don't have to take it all at once. The new paid family leave law is silent, so DOL said workers can take intermittent leave "only if your employer allows it."
"This conclusion is found nowhere in the text and gives the employer, rather than the employee who has the need for leave, the ability to decide how to use the employee's leave," the two lawmakers sharply said.
The paid family leave law has a narrow and specific exemption for health care providers, who are needed on the frontlines to combat the coronavirus pandemic.
"Without authority, DOL redefined a 'health care provider' to include nearly any employee who happens to work for an employer who also employs a health care provider, works at any type of quasi-medical facility, works as an employee contracted for non-healthcare services in a facility that houses a health care provider, or merely works in the medical supply chain.
The big one is "not guaranteeing paid leave during a 'shelter in place' order.
"DOL does not clarify that a government directive to stay at home qualifies for paid leave. In fact, DOL even indicates that employees lose their right to paid leave if their employer closes the employee's worksite in the event of a government directive. This clearly defies the FFCRA which grants paid leave to employees who are subject to quarantine or isolation orders from government officials," the two said.
The National Partnership for Women and Families, which worked closely with lawmakers on unpaid leave and – last month – on the paid leave law, weighed in, too.
DOL's temporary rules "are riddled with exclusions and will deny millions of workers the ability to take paid time off from work," said Debra Ness, the group's longtime president. Scalia's rules "fail to guarantee the 13 million health care providers and emergency responders who are on the frontline of this crisis, and those who are most at risk of exposure, access to paid sick days and paid leave," she said.
"Moreover, small businesses with less than 50 employees will be able to deny parents a paycheck when they have no choice but to stay home to take care of their children. We know that there are 55 million children whose schools are closed due to the coronavirus pandemic.
"While the intent of the Families First Coronavirus Response Act (FFCRA) was to provide a safety net to the workers who need it most, the regulations from the Department of Labor severely limit who will have access to paid sick days and paid leave. We are committed to working with leaders in Congress to ensure all Americans have paid leave protections to weather the health and financial challenges that this crisis has exposed."