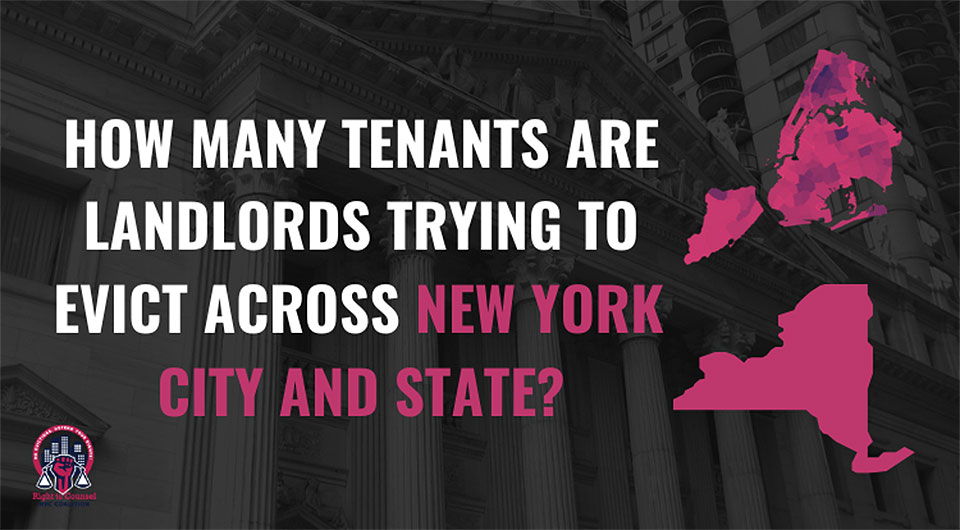 As far as tenants across the state of New York are concerned, "equality under the law" is only as good as the money it's written on. The statewide Right to Counsel coalition is fighting for reforms to stem the tide of evictions and make the courts less unfair to tenants.
Right now, property owners are actively trying to evict nearly 270,000 renters across the state, yet only a small percentage of the tenants will go into court with a lawyer. For example, Danni Smith, a former housing services advocate with the city of Albany, has pointed out that in the third quarter of this year, only 1.3% of Albany tenants had a lawyer, compared with 92-94% of landlords.
While all people nominally have the right to a lawyer in court, in reality, legal representation is limited to those who can afford it. And when tenants are unable to access a lawyer, any and all laws regulating landlord behavior become meaningless. Tenants have come to describe the N.Y. court system as an eviction mill.
To address the issue, around 80 activists from the tenant movement in Albany, New York City, Long Island, the Hudson Valley, Syracuse, Ithaca, and Rochester gathered at the Westminster Presbyterian Church in Albany last Mon., Nov. 21. After a communal meal and informational session on the details of the tenant movement's proposed legislation, and training on agitating fellow tenants, they marched to the Albany Civil Court for a rally and speakout.
Right to Counsel
"What do we want? Right to Counsel! When do we want it? NOW!" Citizen Action organizer Barb Rivera led the crowd in the opening chants.
If passed, the statewide legislation would guarantee the right to free legal representation for all tenants facing eviction. It would also provide lawyers for tenants who bring cases against their landlords regarding repairs or harassment, and for tenants fighting termination of their Section 8 subsidies.
As the gathering spoke in front of Albany's Civil Court, a cold wind enveloped the gathering, highlighting the cruelty of winter evictions. "Many people will be watching the sunset tonight from outside," said one. "And if it weren't for me having legal representation, I might be watching the sunset behind the windshield of my car."
In describing a series of nightmare scenarios, including her kitchen ceiling collapsing right before Christmas, Albany tenant Nikkiea Philpot said she contacted disability rights advocates, legal aid, and even the mayor, only to find, "No one could help me. I was told, 'There's nothing we can do because you are not being evicted.'
"So you see Right to Counsel is not just for those who are being evicted. It's pertinent for those of us who are living in homes with health hazards."
Dio Kaufman, a resident of the Saratoga Lakeview Mobile Home Park, spoke about the tactics of her current landlord, Mike Giovanone—who bought the park with the clear intention of razing it to the ground to expand his neighboring boat storage business—to drive everyone out. These have ranged from the degradation of the park to surveillance to intimidation and harassment to illegal evictions. "As the only public facing activist in the park, I became an immediate target for retaliation." The harassment has been collective and personal. "If my neighbors are seen talking to me in the community, they get phone calls," Kaufman said. "My comrades in the labor movement, they recognize these tactics."
Many tenants have already left. The organizer pointed out, "I've been told repeatedly by various people that if they had access to lawyers, they'd be making different choices."
Albany County Federation of Labor President Rev. Ibrahím Pedriñán drew the comparison between union members' Weingarten rights and the tenants' proposed legislation. "We as union members know what it means to have the right of representation!" Rev. Pedriñán is also on the board of United Tenants of Albany. "We know what it means to have the right of dignity and democracy in our workplace, and dignity and democracy are what you deserve in your home life as well!" they declared.
The fight for representation is not the only thing tenants and labor unions have in common. Tenants across New York are also fighting for "Good Cause Eviction." Just like employers cannot fire unionized workers without "just cause," including due process with representation, landlords should not be able to evict tenants for any reason. In both cases, it's owners vs non-owners. Non-owners need organization on the job site and the home site to fight back.
During the town hall in the church that afternoon, a Community Action for Safe Apartments (CASA) activist described the process of gentrification in terms of exploitation and disrespect. "We built this neighborhood, and they're bringing in people with more money that have no connection to it, who look down on us. They want us out, but this is our home and we won't go."
Just as Black, brown, women and young workers are targeted for super-exploitation on the job, women, people of color, domestic violence survivors, and families with children are specially targeted for eviction. Black women account for one out of every five renters who are likely to face eviction.
Danni Smith noted that in Albany, 70% of evictions are taking place in the city's historically red-lined communities.
"Across the state children are suffering," Oscar emphasized, an activist from Rochester. "The majority of children in Rochester have to worry when they come home from school, 'Does Mom and Dad still have a place for me to live?' That's not fair for any child to have to deal with."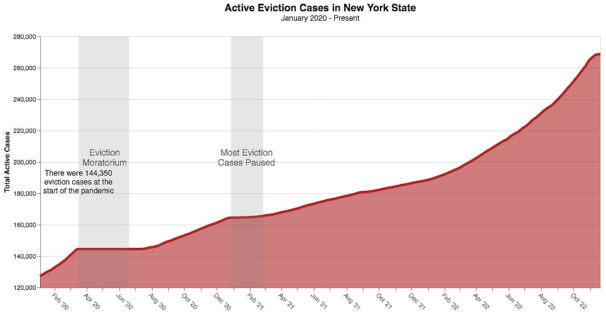 The Right to Counsel coalition was formed in 2014. In 2017, NYC became the first city in the U.S. to pass RTC legislation. Since then, similar legislation has been passed in 18 cities and three states. As of 2021, these cities have seen a 77% reduction in evictions.
However, NYC's version remains limited. Income requirements have only added administrative cost to the program while limiting its availability to those who need it the most, and it does not protect tenants in all circumstances.
Lack of funding and lack of lawyers have also created problems, particularly when the judges sitting on the bench—often appointed, or "elected" under a cloak of total anonymity—are biased toward landlords.
In clear violation of NYC's Right to Counsel law, the Office of Court Administration has been pushing forward with eviction cases when tenants are unable to get a lawyer. Earlier this month, NYC tenants gathered to protest Judge Anthony Cannataro, Acting Chief Judge of the New York Court of Appeals, demanding a pause in evictions until tenants can get representation.
The statewide legislation currently on the table would address many of these problems in NYC while expanding access across the state. A key issue is funding, which tenants are demanding to be included in the next budget.
"We're demanding that…Governor Hochul, Majority Leader Stewart-Cousins, and Assembly Speaker Heastie pass and fully fund statewide Right to Counsel, because we know that a vote ain't a vote if it doesn't have some dollars behind it!" said Rev. Pedriñán.
Who will pay for it?
While some might ask, "But who will pay for it?" a sensible answer would be, "Tax The Rich!" In Boulder, Co., Right to Counsel was funded by raising the rental license excise tax to $75.
Some N.Y. legislators have balked at the cost, but experience has shown that it would save the state $3-6 per dollar invested. This is because after people have been thrown out on the street, even more resources are needed to provide shelter and other homelessness services, to cover emergency room bills and other costs. As reported by the Daily News:
"Getting an attorney to represent a tenant in housing court typically costs a couple thousand dollars, while single adult shelters run the city an average of $138 a night—that's over $50,000 per year per person."
It is both more humane and more efficient to protect people from harm than it is to try to heal a wound once inflicted.
With 92,000 people without homes, New York State has the highest homelessness rate in the country. Eviction is a leading cause of homelessness. Empowering tenants to stop their own evictions before they happen should be a no-brainer.
What stands in the way?
One activist person held a sign reading, "Housing is a right, not a business." During the breakout groups, one grassroots activist pointed out that for some real estate investors, a big rental property is worth more to them empty than alive. They count on the value of the land going up as development takes place in the area, and without anyone living inside, it can be quickly sold without all the court fees and hassle involved in throwing people out into the street.
"People over profit!" was a recurring refrain on Eagle Street Nov. 21. In the long term, what is needed is exactly that—a system run by working people, not one controlled by the dictates of dog-eat-dog competition and maximum quarterly profits.
The old socialist-led German Democratic Republic provided one example of what this might look like. In that country, evictions were illegal. It was forbidden for a landlord to evict someone unless they found another place for that person to live.
Other socialist experiments have simply transferred ownership of the land into the hands of the general public, and individual houses directly into those of the tenants themselves. In present-day Germany, tenants celebrated a big victory in July of 2019, when the State of Berlin kicked out the private developers and took over 670 apartments, which were about to be taken over by real-estate giant Deutsche Wohnen.
Regardless of what the solution will look like in the U.S., working people will have to take control of the political system to make it happen. That starts with the mass movement organizing to get workers, tenants, and others in the mass democratic movement elected to government positions at all levels—including judgeships. Having done that, we can begin to remake a brand new system that really does put people and nature before profits.