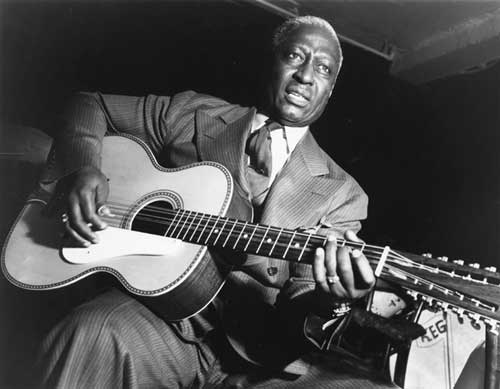 Folkways, the folks from the Smithsonian, releases a new five-disk collection of the songs recorded by Huddie William Ledbetter (1888-1949) on Feb. 24, during Black History Month. It comes with a beautiful coffee-table size book of 139 pages with excellent photos of that "hard man" throughout. Can any folk music aficionado resist? They can pre-order here.
At least one song, "Bellevue Hospital Blues," was previously unreleased. All the disks seem to have excellent sound quality, which is remarkable considering the various conditions under which they were recorded.
The facts about the life of Huddie Ledbetter, as well as they can be ascertained, are in the book. The Lead Belly legends are also explored. Is it really true that the long scar across his throat came from a knife fight? Did he really sing his way out of Southern prisons twice? Did he really travel and sing with the legendary Blind Lemon Jefferson?
Putting aside the background points, anybody with ears will enjoy these masterful performances of "Good Night Irene," "Bourgeois Blues," "Midnight Special," and the many other songs that Lead Belly made famous. His 12-string blues guitar and painfully strong baritone force reality into every line about the sufferings of African Americans in the South, whether they were merely in love or chained together in hot sweaty road gangs.
The book doesn't say a lot about Lead Belly's own politics, but he sang for working people and helped raise money for working peoples' causes. Friends of George Myers, longtime trade union leader of the Communist Party, know that Lead Belly performed in a Myers-organized fundraiser in the "bourgeois town" of Washington, D.C.
Lead Belly fans might also be surprised at the number of whimsical children's songs he wrote and sang. During his final years in New York City, his home on 10th Avenue was a favorite stop-off for young relatives and children of the area.
Lead Belly may be gone, and there will never be another like him, but Folkways has made it possible for us to continue benefiting from interacting with him through music and study.
Photo: Wikipedia (CC)