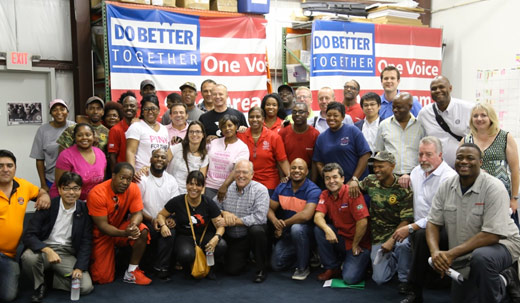 CANTON, Miss. – While meeting with Mississippi Nissan workers who have faced threats from company management of plant closure and job loss in response to their union organization effort, IndustriALL General Secretary Jyrki Raina rebuked Nissan for disrespecting workers' rights in the U.S.
Raina is in Mississippi leading a delegation of ranking trade union leaders from automobile workers' unions in Japan, France, Spain, Brazil, South Africa, and the UK, that represent Nissan and Renault workers. The group convened in Canton, Mississippi, to meet with Nissan workers and learn first-hand about Nissan's worker rights' violations. Unions represented on the delegation include Unite the Union in the U.K., the Confederation of Japan Automobile Workers' Unions (JAW), the Japan Council of Metalworkers' Unions (JCM), the French CGT and CFE-CGC, Spain's MCA-UGT and CCOO, South Africa's Metalworkers' Union , Força Sindical and CNM-CUT from Brazil, and Workers Uniting North America.
In meetings with workers, delegates learned about Nissan USA's growing reliance on lower-paid temporary workers, how the company has bullied those who speak in favor of unionization and has used anti-union videos and one-on-one meetings between workers and supervisors to dissuade workers from supporting the UAW.
Delegates say they will take these direct stories from workers back to their home countries to generate increasing international support for the workers among colleagues and other union members in their home countries, and to encourage local management, Nissan North America and Nissan Motor Co. executives to remediate the international labor rights violations, stop threats and intimidation and allow workers to hear both sides of the union issue while deciding for themselves whether to have a voice on the job.
In response to previous press inquiries about the workers' unionization effort, a Nissan Vice President, in a statement to U.S. press, said "If you are pro-union, you are anti-Nissan." Delegates say Nissan allows unions at its facilities around the world where workers have a voice and accountability from their employer, and has a strong record of positive relations with unions. However, less than a year ago Nissan refused a request from IndustriALL to discuss concerns about the treatment of Nissan USA workers. The delegation's request to meet with U.S. Nissan management in Mississippi was also denied.
Members of the IndustriALL group say they intend to fully demonstrate to Nissan North America workers that the global labor movement stands alongside them in their demand for fairness and justice, that they will communicate to Nissan management that the global labor movement will not be silent in the face of rights abuses, will not accept inadequate responses to well-documented problems in the plant and that IndustriALL and its affiliates will take any necessary steps to ensure that basic human and labor rights are respected in the United States.
IndustriALL leader Jyrki Raina says it's time for Nissan to stop blocking U.S. workers from their exercising their legal rights and let them join their global counterparts in unionizing. "Our message to Nissan is that we are not going away until these Nissan workers win the right to a union, as the 150,000 unionized Nissan workers elsewhere. And our message to Canton's Nissan workers is that they are not alone in their fight, use our support and fight with our support to join the UAW."
Canton Nissan worker Calvin Moore says he's glad the international delegation made the effort to meet with him and his fellow workers to hear their stories about attempts to form a union at Nissan. Moore, a member of the fair election committee, was unjustly terminated but later reinstated, with back pay, after Brazilian unions mounted protests outside Nissan dealerships in Brazil and a social media campaign in support of him. "I am a testament to international support and how unions in Brazil and around the world supported me when I was fired by Nissan. Because of their support, I am back working today," said Moore.
Moore's colleague Chris Milton says international labor support will play a key role in worker's eventual unionization at Nissan in Canton. They simply can't do it without global partners, said Milton, while pointing to another non-U.S. based auto company in the South where international support is an integral part to U.S. workers gaining a voice. "I went to the Volkswagen NLRB vote count in February in Chattanooga, Tennessee. Although pro-union workers didn't win, the company was neutral and didn't intimidate or threaten workers who wanted a union. They were neutral partly because unions in Germany supported neutrality in Chattanooga. We in Canton also need global unions to demand that Nissan respect our right to organize," said Milton.
Photo: leaders of international unions met with Nissan workers in Canton, Mississippi, pledging to tell their stories to workers in their home countries. IndustriALL.