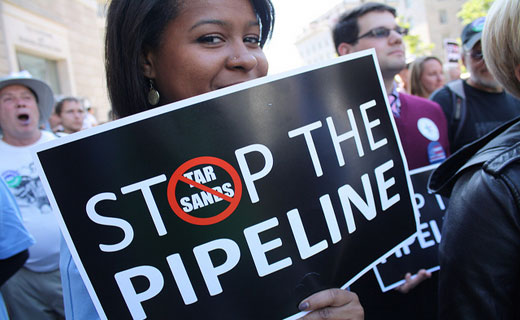 Prominent environmental and human rights leaders were arrested Wednesday outside the White House while protesting the proposed construction of the controversial Keystone XL Pipeline, as plans were being finalized for what is being slated as the nation's "largest climate rally in U.S. history" on Sunday.
Those arrested included nationally renowned figures, including climate scientist James Hansen, civil rights activist Julian Bond, actress Daryl Hannah, Sierra Club executive director Michael Brune, and Bill McKibben, co-founder of the grassroots climate group 350.org.
They were demanding the President Obama deny construction of the 1,179-mile pipeline that would carry crude oil from Alberta, Canada to the U.S. Gulf Coast.
Credo Action, a publication of Working Assets, described the Alberta tar sands as a potential "carbon bomb" and the Keystone XL pipeline as the "fuse to this bomb."
The third largest oil field in the world, the difficult extraction and transportation of the tar sands oil would ultimately produce up to three times the carbon emissions of traditional oil, according to Credo Action.
In addition, the project poses a massive spill risk in the six states along the pipeline route, including over the Ogallala Aquifer, which provides up to 30 percent of the nation's agricultural water, and would disrupt various ecosystems as it cuts through critical habitats.
"We have reached a fork in the road," warned Hansen, director of NASA Goddard Institute for Space Studies in New York, according to the Washington Post.
Hansen argues that promoting renewable energy as well as oil and gas production, with projects like the Keystone XL Pipeline, isn't feasible, Jeanna Bryner, LiveScience Managing Editor, noted.
Hansen warned that continuing to "go down this road of exploiting every fossil fuel we have – tar sands, tar shale, off-shore drilling in the Arctic" is creating an irreparable crisis "where our children and grandchildren will have no control over the climate system."
"The threat to our planet's climate is both grave and urgent," Bond, former NAACP chairman and 1960s civil rights veteran, said in a statement, according to LiveScience. "I am proud today to stand before my fellow citizens and declare, 'I am willing to go to jail to stop this wrong.' The environmental crisis we face today demands nothing less."
Estimates by the Environmental Protection Agency suggest the pipeline would increase the annual production of carbon emissions by up to 27.6 million metric tons, or the equivalent of nearly 6 million cars on the road, according to 350.org.
Opponents of the pipeline project are encouraged by President Obama's commitments in his January inaugural address and again his State of the Union speech Tuesday to seriously tackle the climate change crisis.
"If Congress won't act soon to protect future generations, I will," the President declared Tuesday. "I will direct my Cabinet to come up with executive actions we can take, now and in the future, to reduce pollution, prepare our communities for the consequences of climate change, and speed the transition to more sustainable sources of energy."
Obama has twice thwarted the Keystone XL pipeline because of concerns over its route through sensitive land in Nebraska, but has not indicated how he will decide on the pipeline now that Nebraska's governor has approved a new route, according to a personal post in an Associated Press article.
But, pipeline opponents are also aware of the pressures from pipeline proponents that the President is coming under.
The American Petroleum Institute (API), the largest lobbying group for the oil industry, said it will financially back ads supporting the pipeline and will mobilize grassroots events across the country urging President Obama's approval.
The promise of jobs, which are expected to result in far less than being touted by API, has also confused some in labor.
This mitigates in favor of broadening and expanding the climate change progressive coalition.
It argues for environmental groups, and its allies in labor and other social movements, to drive the point home that transition to a sustainable economy would be a far greater boost to job creation than the pipeline or other fossil fuel generated employment.
The Blue-Green Alliance, a labor and environmental coalition, has also called for guaranteeing workers being transitioned from fossil fuel industries – like coal -meaningful job training and placement into the jobs being generated by conversion to a sustainable economy.
Sponsors of the rally, called Forward on Climate, include 350.org, the Sierra Club, and Hip Hop Caucus, and is expected to draw tens of thousands of participants, many who will be bused from 28 states, as well as celebrity climate activists and representatives from hundreds of grassroots organizations.
The Forward on Climate rally is just one of many campaigns and projects being organized by 350.org and slated for 2013 to encourage the President to go through with his commitments.
Photo: The protest against the construction of the Keystone XL pipeline continued in Washington, D.C. Elvert Barnes/Flickr