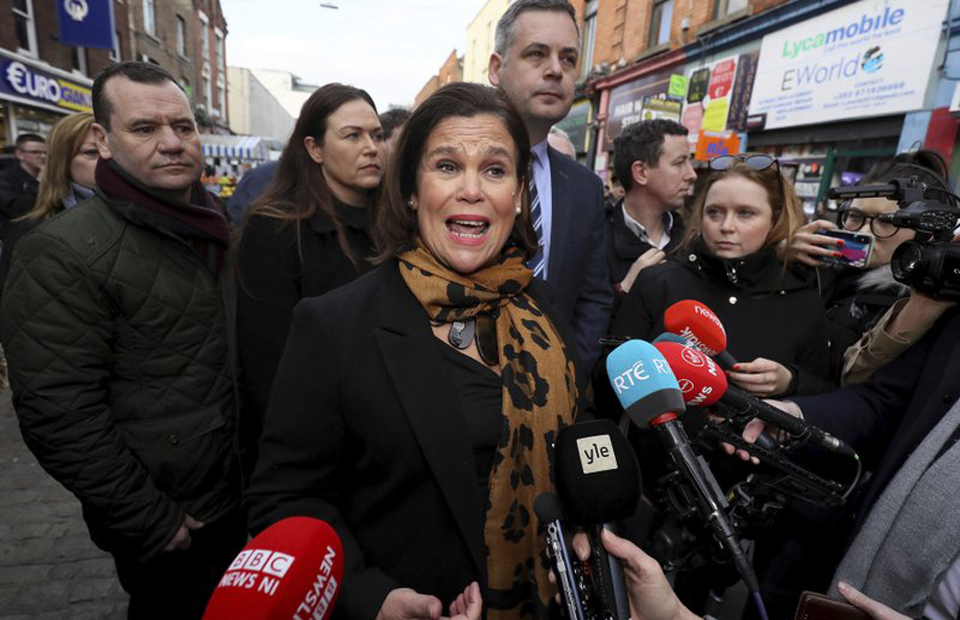 Sinn Féin, the left-wing republican party founded in 1905 and famed for its affiliation with the Provisional Irish Republican Army (IRA), has seen its popularity steamroll across the island in this weekend's national elections. Once considered a pariah in Irish and British politics, Sinn Féin appears to be poised to take a role in the formation of a new government.
On this cold, rainy Monday morning, as the poll workers returned to their stations to resume counting the ballots, a seismic shift in Ireland's politics was palpable. While it is still unclear what will become of yesterday's surge by Sinn Féin in the parliamentary elections, or how the next Irish government will look, the left-wing nationalist party's underpinning political program clearly spoke for  increasingly angered and frustrated workers in Ireland.
The Irish general election was held this past Saturday, February 8, having been called by the prime minister (Taoiseach) Leo Varadkar on January 14, after the dissolution of the 32nd Dáil Éireann (Irish parliament) by the President of the Irish Republic. Up for election were 159 of 160 Dáil seats. Since May 2016, the neoliberal Fine Gael party has led a minority government with help from smaller independent parties.
Unfinished business
The year 2020 appears to be one of reckoning in Ireland like few others in recent memory. A Feb. 3 poll by The Times (UK) indicates four in five Irish people want a united Ireland in the wake of Brexit, which effectively rebuilds a wall between Northern Ireland and the Republic. Brexit's fallout has pushed many voters in Northern Ireland and the Republic toward support for the island's unification.
Sharper still is the dissatisfaction of workers, older adults and young people in the Republic, who face an intensifying housing crisis and a failing health system as a result of nearly a decade of neoliberal policies.  All this, and a strong leftward movement made possible by younger voters, has led to the erosion of the duopoly of the "mainstream" parties, Fianna Fáil and Fine Gael.
Winning the votes of working people
Under the party's slogan "Building an Ireland of equals", Sinn Féin's president, Mary Lou McDonald, herself won 36% of her Dublin Central constituency, blowing away her election rivals who placed only 13, 12 and 10%, respectively. Under McDonald's leadership and by the current count, Sinn Féin have taken more than 30 seats in the Daíl and 24.5% of the vote. Fine Gael held 20.9% and Fianna Fáil 22.2%. These are not final tallies, but they are a strong indication that Sinn Féin has indeed won more votes than any other party and that is a historic victory. "My first option is for government without Fianna Fáil or Fine Gael," McDonald said this morning. "I want a people's government to be formed."
Before the election, Sinn Féin held only 22 of 158 seats in Ireland's lower house, and 6 out of 60 in the senate (Seanad Éireann). Sinn Féin also holds 27 out of 90 seats in the Northern Ireland Assembly, and 7 out of 19 Northern Irish seats in the British House of Commons.
"Giving workers and families a break"
Sinn Féin's 2020 political platform, Giving workers and families a break: A Manifesto for Change, calls attention to the struggles of working people over the course of the past century, and sets itself apart from the mainstream parties by asserting that they seek nothing less than "A United Ireland in which the economy serves the needs of our people and not the other way around."
Sinn Féin's criticism of the government led by Leo Varadkar extends to the entire system: "The current Fine Gael Government, supported by Fianna Fáil, has shown a complete lack of empathy and a detachment from the reality of life for most people in Ireland in 2020. At every step over the last four years they have sided with landlords, developers, insurance companies and vulture funds. And our people have been left the poorer for it."
The Manifesto is an impressive, exhaustive and costed laundry list of structural, social and economic changes well worth studying.
Putting Ireland's self-determination first, Sinn Féin has pledged full implementation of the Good Friday Agreement, the publication of a White Paper on Irish Unity, the establishment of a Joint Parliamentary (Oireachtas) Committee on Irish Unity, and securing a referendum, North and South, on a United Ireland.
Sinn Féin promises to implement the largest public housing program in Irish history, and putting an end to the hospital crisis by opening 1,500 beds and hiring thousands of medical staff.
Seeking to help struggling workers and their families, Sinn Féin also proposes to abolish the USC, the Universal Social Charge for the first €30,000 earned. This is significant because the USC is the Irish income tax as well as the social security/health insurance levy.
To meet the growing global climate emergency, a Sinn Féin government pledges to invest an additional €1bn in public transportation.
The party also wants to address Ireland's insurance industry crisis, including the introduction of legislation to ban unfair pricing, setting up a special police unit for insurance fraud, increasing transparency in contracts and policies, and intervening in a broken insurance market to provide stability to small business and the community/voluntary sector.
The party would also work to overhaul Ireland's industrial relations legislation and create a legal requirement on employers to recognize authorized trade unions in receipt of a negotiating license, for the purposes of collective bargaining and individual representation.
Aware of the growing population of older adults and the crisis that faces many older Irish workers, Sinn Féin pledges to establish the right to retire at the age of 65 and would promote the equality and dignity of older people by allocating an extra €1.19 billion (U.S.$1.3 billion) for current expenditure across state ministries and agencies that support older adults and people living with disabilities.
But of all the impressive policy goals contained in Sinn Féin's 2020 Manifesto, none is so important or as elusive as the party's goal of delivering for ordinary, working people. At the start of the Manifesto, the party states unequivocally, "We don't want to be part of the system. We want to change the system." If Sinn Féin sticks to its pledge for systemic change, it will take the concerted effort of not only elected officials, but of trade and service unions, and new and dynamic movements for national self-determination, ecological survival, and social and economic democracy.
In the 1908 pamphlet Sinn Féin and Socialism, the famous Irish socialist and trade unionist, James Connolly, wrote, "When, in short, we of the socialist working-class take to heart the full meaning of the term Sinn Féin, 'Ourselves', and apply it to the work of industrial reconstruction, the era of the strutters and poseurs will end and we will realize at last what was meant by Marx when he spoke of the revolt of those who have nothing to lose but their chains."
It remains to be seen if Sinn Féin, under the leadership of Mary Lou "Monsoon" McDonald, can help Irish working people and their trade unions to claim Connolly's vision, but there can be no doubt that this election represents a new day dawning on a century-old struggle.