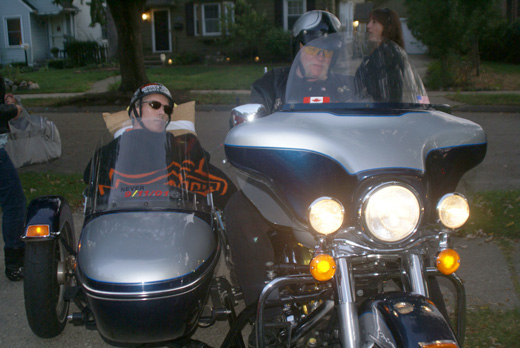 ROYAL OAK, Mich. – "From the first day I put the uniform on, I knew it was the job I wanted to retire from." That was in 2003 and thirteen years later, Royal Oak letter carrier John Dick said the love affair is still strong.
It turns out the people on Dick's route love him too. He recently returned from Washington, D.C. where he received the National Association of Letter Carriers Humanitarian of the Year award.
Dick received his award because of his seven-year friendship with Greg Glowacz, a customer on his route. For two years Glowacz was in good health, but the other five he spent as a quadriplegic after an aneurysm tragically burst in his brain.
Dick visited his friend in the hospital and helped organize fundraisers to pay his medical expenses. However it was what Dick did in the last weeks of Glowacz's life that caught the attention of the judges who selected him for the humanitarian award.
Like Dick, Glowacz was a Harley motorcycle enthusiast and desperately wanted one last ride before being removed from his feeding tube. Glowacz had decided that life on a feeding tube was no longer worth the effort.
Dick found a motorcycle with a sidecar and with others, lifted his friend for one last ride. He died a week later.
Amazingly, it wasn't the first time Dick had been singled out for coming to the aid of someone on his route. Several years ago he was featured in a front page article in the Detroit Free Press for helping an elderly customer. She had broken her hip and waited patiently knowing her mailman would hear her cries.
You might wonder if Dick is some kind of letter carrier super hero. He is not. He was one of six honored at the union's national headquarters, the other five winning Heroes of the Year awards. They were all selected by judges from many, many other well deserving nominees.
Dick said all the winners said the exact same thing. "I didn't really do anything special. I just did what anybody else would do."
The other recipients had saved people's lives after accidents had trapped them in their cars, quickly responded to suspicious criminal activity on their routes, saved people from burning homes, and collected huge amounts of food, 13 postal tractor-trailers worth, in just two weeks, for the victims of Hurricane Sandy.
One hero recipient, so concerned that an elderly customer had not picked up his mail for three days and noticing no footprints in the snow, called the police to investigate. The next day, noticing the police had not yet come (as there were still no footprints in the snow) called the police again and said he would stay there until they came. When the police finally forced their way in, they found the elderly occupant on the floor, malnourished and dehydrated.
Dick said such acts by letter carriers are commonplace. "Others do it all the time but get no recognition. They just keep delivering the mail."
Dick had another point he wanted to make. Too many people fail to think of letter carriers as government workers and don't fully appreciate the valuable services they perform.
"We're the government, in your neighborhood six days a week, walking up to your door, saying hi, checking in if there seems to be trouble."
He says his fellow workers are part social workers and neighborhood watch members, the "eyes and ears" of the government helping people.
Of the 180,000 letter carriers in the country, approximately 150,000 are walking our neighborhoods everyday but Sunday. "That's a lot of eyes and ears," he says.
It bothers him that those who led the drive to shut down the government, want to see the Postal Service privatized as he says no private company is gong to do what they do.
Returning from the nation's capital he said he has a "better appreciation" of his own job.
"I came back wanting to keep doing this."