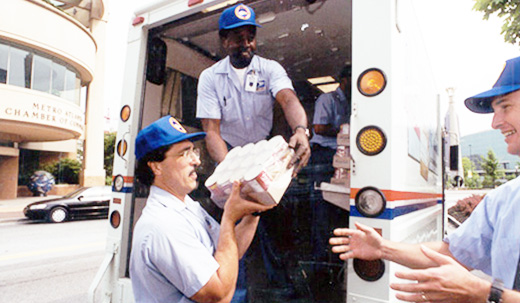 WASHINGTON (PAI) — With less than a month to go before the big day, the Letter Carriers are kicking off nationwide publicity for the union's 20th annual "Stamp Out Hunger" food drive.
The drive, the largest such campaign in the U.S., will collect cans and packages of donated food at post offices and by carriers nationwide on May 12 for distribution to food banks, soup kitchens and homeless shelters. Past drives have, combined, garnered more than 1.1 billion pounds of food.
Article continues after video:
Last year, people donated 70.2 million pounds of food, union President Fred Rolando said. "The needs are particularly sad, even staggering, in 2012," he added.
"Sixteen percent of all Americans are at risk of hunger – uncertain where their next meal may be coming from. That includes 1 in 5 children under the age of 18, plus 4 million seniors who are forced every day to choose between paying a utility bill and buying food.
"With help from our brothers and sisters in the rural craft, alongside other postal employees and volunteers, letter carriers will do what we can again this year to help all Americans," Rolando added. "Our customers are struggling to make ends meet during this recession."
Further details about the food drive are on NALC's website, www.nalc.org.
Photo: National Association of Letter Carrier members from Atlanta Branch 73 load food into a Priority Mail truck as part of the 2011 nationwide Stamp Out Hunger! food drive. AP