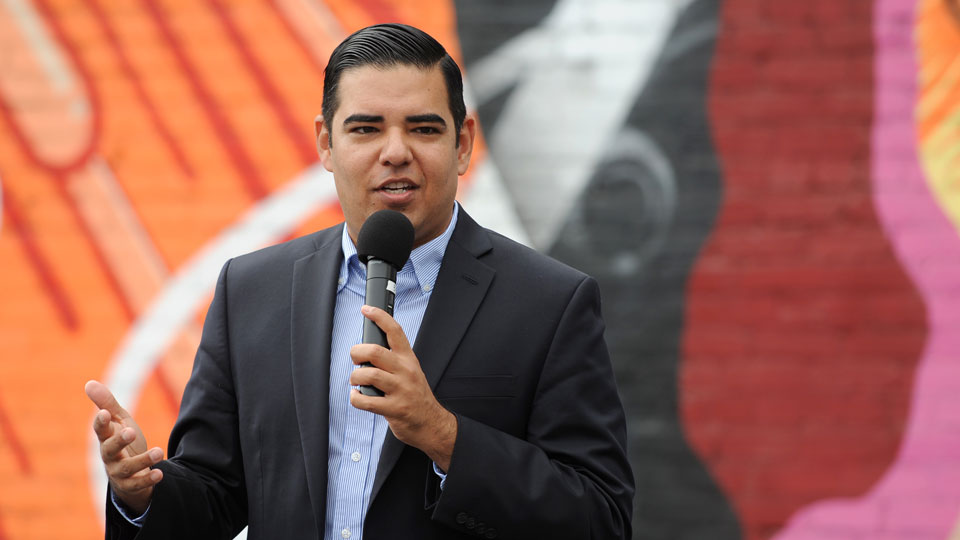 LONG BEACH, Calif. — Robert Garcia is the first LGBTQ mayor of Long Beach, the second-largest city in Los Angeles County and the seventh-largest in the state. Prior to his mayoralty, he served as a City Councilman from 2009 to 2014. Garcia is a Democrat running for election to the U.S. House of Representatives in the 42nd Congressional District.
Garcia advanced from the open primary on June 7, 2022, with 46.6% of the votes cast, handily beating seven others, including a number of other Democrats, a Green, and a single Republican candidate, John Briscoe, who came in second with 26.9% of the total vote, an almost 20% margin short of Garcia. So these two men will face each other in the general election this November 8, 2022. Every major polling outlet rates this CD as safe or solidly Democratic.
Long Beach had been represented by Democrat Alan Lowenthal since 2013. In late 2021 he announced he would not run again this year. With Garcia's wide primary lead, CD 42 is expected to remain in Democratic hands. Keeping the House and the Senate Democratic, and expanding the Democratic bench, is essential to helping Congress fulfill the promises of the Biden presidential campaign.
The redesigned district, following the loss of one Congressional seat for the state after the 2020 census, includes most of the City of Long Beach, then reaches north to Hawaiian Gardens, Bellflower, Downey, Bell Gardens, Cudahy, Maywood, Huntington Park, and a number of other communities, as well as south to Catalina Island.
Born in Lima, Peru, Robert Garcia is 45 years old and has a B.A. in communication studies, an M.A. in communication management, and an Ed.D. in higher education. He has been a professor of public policy and communications at the University of Southern California, California State University at Long Beach, and Long Beach City College.
About the Republican
John Briscoe is a sixth-generation Californian born in Altadena, claiming "distant family roots to Baja California and Mexico." Briscoe earned bachelor's degrees in psychology and speech communication from California State University at Long Beach, a master's degree in public administration from the same institution, and a master's degree in business administration from Claremont Graduate University in 1989. He has worked as a broker and property asset manager and serves on the Ocean View School District Board of Education. He held senior-level positions at major corporations including Kraft/General Foods, Mars, the Hain-Celestial Group, and Keebler/Bakeline.
In his civic life, according to his website, he "has worked relentlessly to instill patriotism and flag education in our schools as well as the display of our National Motto, In God We Trust," a relic of the anti-communist Cold War meant to distinguish the United States from atheist and secular-minded nations. He doesn't seem to be impressed by the original, or shall we say "originalist" secular motto of the nation, "E Pluribus Unum"—"out of many, one."
Briscoe is well aware he has an uphill battle and is not likely to win. "20 years without a GOP Rep!" he moans on his campaign website. "What do you have to lose?"—the same question Donald Trump scandalously asked African-American voters in 2016. Briscoe focuses his campaign on four major issues: homelessness, immigration, infrastructure, and healthcare. Embedded in his approach on these topics is his propertied contempt for working people and those so abandoned by society as to find themselves on the streets. To cite a few choice examples:
"Today the ordinary resident must step over sleeping urine-soaked bodies strewn sleeping on our streets and sidewalks. Our parks can be seen filled with daytime sleeping homeless folks, 'sleeping it off.' It is too much. We must put a stop to the rampant homelessness." The offense is palpable from this professional property manager, but it's directed its blame at those who've lost their apartments to exorbitant rents and the unavailability of low-income housing. His answers are all punitive, not constructive, coming from a place of class privilege and judgment.
On immigration, "We are a sovereign nation and a secure border is essential to maintaining our sovereignty. We must fix our U.S. visa system to ensure accurate industry-based immigration" (my emphasis). He elaborates on border control and removal of "bad seeds"—felons and criminals. Here's how he talks about Granny: "Family migration is wonderful! Under current law, if a family wants to bring in Granny from Cambodia or Vietnam, Granny is welcomed under family repatriation rules. However, the inviting family must promise in writing that Granny will never ever never be on welfare or collect social security. The sponsoring family promises to support Granny for all her remaining days of life. This is fantastic! Families brought together at no risk of taxpayer obligation." Never mind that "Granny" might be in her 50s, might have many working years ahead of her in America, and might be contributing childcare to the family, enabling other family members to advance in their careers. Voters will have to decide for themselves if this is what they want from a country symbolized by the Statue of Liberty—how about that elegant "never ever never" touch!—and also if there's just a hint of racism in Briscoe's singling out two Asian origin countries for Granny.
"Private and public partnerships can extend tax dollars effectiveness with benefits for all," he says about infrastructure, as he slams the California bullet train project. "The Federal Government must spend the highway trust fund dollars on infrastructure as intended." In other words, keep those new highways coming, don't even think beyond the car culture, and expect more toll roads. And get this: "Project Labor Agreements are the bane of cost savings and taxpayer value." He's not likely to gain much labor support! In fact, his website lists no endorsements whatsoever, though his campaign photo shows him in a bright red tie.
On healthcare, he sees the need to "open up the insurance market nationwide to increase competition and reduce pricing." In other words, free-fall corporate profits before comprehensive, egalitarian care for all. He certainly could not be counted on as a maverick Republican ACA supporter.
So that is what Briscoe means when he calls for "Bringing Common Sense Back To The 42nd." His campaign is, in so many words, a typical Republican project to expand the interests of the "haves" and guarantee that the "have nots" stay in their place.
Robert Garcia's story in his own words
"I'm running for Congress because every kid—and every family—deserves a real shot at opportunity. Congress should be an institution that actually helps people and improves Americans' lives.
"I would know. An act of Congress made all the difference in my life.
"My mom brought me to America not knowing English, without an education, and without the right immigration status. We came here on a temporary visa and stayed past its expiration date.
"But thanks to a progressive change in immigration law passed by Congress in the 1980s, we were able to apply for permanent legal residency. I became a U.S. citizen at 21. It was the happiest day of my life.
"Other programs also helped my family succeed. At times, my mom was able to supplement her income through government housing vouchers and Medicaid. I attended a public 4-year college and became a teacher. I was able to marry my partner because the Supreme Court legalized same-sex marriage.
"I owe everything to this country because America afforded me the opportunity to succeed.
"I know my story isn't typical for many who grew up like me. But it should be.
"Every young adult should be able to attend a tuition-free college or a skilled trade program. Every undocumented kid and their family should have the ability to earn their citizenship. Every worker should have the opportunity to pursue a meaningful career.  Every American should have healthcare and a roof over their head.
"There's no getting around it—America has big, persistent, and structural problems that Congress must address: Generational cycles of poverty and the consolidation of wealth and legal power into the hands of a powerful few must end. A minority of extremists with near-complete control of the Republican Party are attacking elections and our democracy. Systemic racism is steeped in our institutions.
"As mayor of Long Beach, I have seen firsthand how people coming from different walks of life can build coalitions to enact meaningful change—even in the face of entrenched and ideological opposition.
"There's no reason why the same can't happen in Congress."
Garcia focuses his appeal to voters starting with the following issues and citing his record:
Preparing for Future Pandemics and Emergencies: "We were the first city in California to vaccinate 99% of seniors and our teachers. I made sure we focused on the science and led efforts to ensure low-income communities had access to tests and vaccines."
Defend our Democracy: "The most important issue facing Congress today is to defend our democracy against attacks from the extreme far-right. I support the John Lewis Voting Rights Advancement Act and the Freedom to Vote Act."
Real Opportunity for Everyone—Not Just the Wealthy: "In 2016, I proposed raising the minimum wage to $15 an hour, ahead of our state. During the pandemic, Long Beach also became the first city in California to provide an extra $4 an hour of Hero Pay to grocery workers."
Strengthening the Social Safety Net: "In 2021 we also passed a guaranteed income pilot program, providing 500 single parents living in poverty and struggling to meet basic needs with $500 a month. In Congress, I will fight to protect and expand eligibility and benefits for Medicaid, Social Security, and Medicare."
Defending Immigrant Families & Fighting for More Paths to Citizenship. "In Congress, I will fight hard to expand pathways to citizenship for undocumented residents and fight to end legal discrimination against undocumented residents."
Medicare for All: "I believe the best approach to fixing our healthcare system is passing Medicare for All…. Healthcare is a human right and your coverage shouldn't depend on your employment."
Protect Our Civil Rights: "I've worked to adopt progressive policies that address racism within government and our institutions…. I strongly support the George Floyd Justice in Policing Act, and I will fight to modernize and expand our anti-discrimination laws."
Ending the Gun Violence Epidemic: "Congress must take action to save lives with responsible gun safety legislation. I will work to implement universal background checks and a ban on AR-15 assault weapons. We must also raise the national age requirement to own a firearm to 21 and create a strong national licensing program. Communities and schools must also receive federal support for expanded mental health programs and violence diversion programs."
Create New Jobs While Transitioning Away From Fossil Fuels: "I strongly support the Green New Deal. During my time as mayor, Long Beach has worked locally to invest in green jobs and lower emissions drastically, ahead of state standards…, electrified our buses and fleet, and expanded multimodal bike and transit. I have also signed the No Fossil Fuel Money pledge."
Cancel Student Debt & Make College Cost Free: "In Long Beach, we launched the Long Beach College Promise giving thousands of students two years of free tuition at Long Beach Community College. In Congress, I will fight to cancel student debt across America and fight for no-cost college for all our students."
Housing is a Human Right: "We must expand affordable and accessible housing across the United States and work to build quality public housing. We need to ensure that people who are unhoused have access to shelter, services, and permanent supportive housing."
Help Small Business Recover & Thrive: "Long Beach passed a historic economic relief package that ensured workers had access to paid sick time, retention laws, and small business had access to loans and grants. As we exit the pandemic, I'll fight to ensure small businesses can thrive."
Strengthen Federal Protections for LGBTQ+ Americans: "I helped strengthen protections for the LGBTQ+ community…. Long Beach has received a perfect score from the Human Rights Campaign for inclusive cities every year I served as Mayor. I'll fight for those same rights in Congress."
Make it Easier to Form a Union: "Throughout our history, union jobs have been escalators to the middle-class. I'll fight for changes that level the playing field between employees and employers and make it easier to join and form a union. I've always supported the rights of workers to organize and I'll fight to adopt the PRO Act [Protect the Right to Organize] in Congress."
End Citizens United: "I strongly believe in ending Citizens United. I am refusing corporate PAC checks in my campaign."
The contrast between these two visions of America's future is bold. Now it's up to the voters to send a resounding message to the nation from California's 42nd District. Further information on Garcia's campaign can be seen here. His lengthy list of endorsements, including from the California Federation of Labor and dozens of individual unions, can be seen here.
Eric A. Gordon assisted with this article.