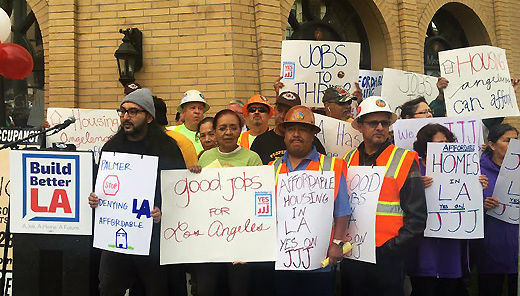 LOS ANGELES – With chants such as "We want Prop JJJ, not Trump's LA," and "Angelenos want better jobs,"  the Build Better LA Coalition, a coalition of labor and affordable housing advocates, held a rally on Sept. 13th with over 75 participants at the Medici Apartments, owned by luxury apartment developer- and Donald Trump's number one campaign contributor– Geoff Palmer. In an official statement to the press the coalition said they wanted to send a message that "the future of Los Angeles should not be in the hands of developers like Palmer, who are not furthering the best interests of our communities." The coalition is calling for "an inclusive solution through Proposition JJJ."
Proposition JJJ, which will be on the November 2016 ballot, will require developers who want special zoning changes to build affordable housing, and that at least 30 percent of the construction workers would have to be residents of the City of Los Angeles. In addition, the measure will provide incentives to developers to build more affordable housing near major transit hubs, and to include a "no net loss" policy that ensures the replacement of any rent stabilized units.
Geoff Palmer, company head of GH Palmer Associates, owns 10,400 rental units in Southern California worth over $3 billion collectively. In 2009, Palmer successfully sued the City of Los Angeles when he challenged the condition for the approval of his 350-unit apartment complex that would require that some of the units be made affordable to low-income households. Palmer sued to block the mandate, contending that the city was effectively setting the rent for his units, claiming it was a violation of the Costa-Hawkins Rental Housing Act.
Both a trial court and the Second District Court of Appeal ruled in Palmer's favor.  The Build Better LA coalition wrote in a statement that this win by Palmer was a loss for working people "and seriously hampered the ability of cities throughout California to build affordable housing." As the coalition states, "Palmer has fought regulations that he claims make private individuals responsible for lifting up working families, while many who build his apartment buildings earn poverty wages." (story continues after video)
A recent report by Hedge Clippers, a campaign made up of racial justice organizations, grassroots activists, students and progressive policy leaders, asserted that Palmer, along with two other prominent Trump campaign donors, (Steven Mnuchin and Thomas Barrack), have fueled and profited from the continued foreclosure crisis and the loss of affordable housing in California. The report, which does an analysis of the business dealings of Palmer, Mnuchin, and Barrack, summarizes that the three, "are guided by the same reckless greed that has driven Trump's career and even his infamous workshops at Trump University. It's a worldview that would also inform a Trump White House."
After marching around the 632-unit apartment complex Tuesday morning protesters gathered in front of the building to speak with the press. Policy Director for the Los Angeles County Federation of Labor AFL-CIO, Kokayi Kwa Jitahidi, opened up the press conference by calling on those gathered to chant loud enough to wake up both Donald Trump and Geoff Palmer. "Tell them we are here. That we matter. That we are LA, and that your [Trump and Palmer] type of values do not belong here! We deserve to live in a city that is affordable. We deserve to live in a city that pays a living wage. Wake them up!"
Josefina Castillo, a South LA resident and member of the Alliance for Community Transit – Los Angeles, spoke next at the podium. "I am here today because we cannot allow luxury developers like Palmer to continue pushing people out of our city, force us to move due to rising rents, or lack of housing options and quality jobs. Prop JJJ will make sure that developers do their part to create housing that is affordable and accessible to all families," said Castillo.
Mariana Huerta Jones, Campaign and Communications Coordinator for the Alliance for Community Transit – Los Angeles, explained at the press conference that "Our city is losing the little affordable housing that we have because of greedy developers who want to demolish affordable homes to replace them with luxury apartments. We don't need more luxury housing. We need housing options that are affordable and will allow us to stay in our communities."
Speaking on the need for standard wages and good jobs, Cliff Smith, Business Manager for Roofers and Waterproofers Local 36, said "Residents who need jobs the most cannot wait any longer for a good, local job… Through Prop JJJ, employers will create a more stable and productive workforce, while giving workers the guarantee of a secured job."
Speaking with People's World after the protest on the connection between the fight for affordable housing and a living wage, Kwa Jitahidi explained "When looking at the affordable housing crisis in Los Angeles, you cannot ignore the fact that the city is also the low wage capital of the US. In a city where the average rent for a 1 bedroom requires a wage of over $30 per hour, we must increase workers' income and affordable housing simultaneously. That is the purpose of Build Better LA."
Proposition JJJ will appear on the November ballot. More information on the initiative can be found here.
Photo and Video: Chauncey K. Robinson/PW