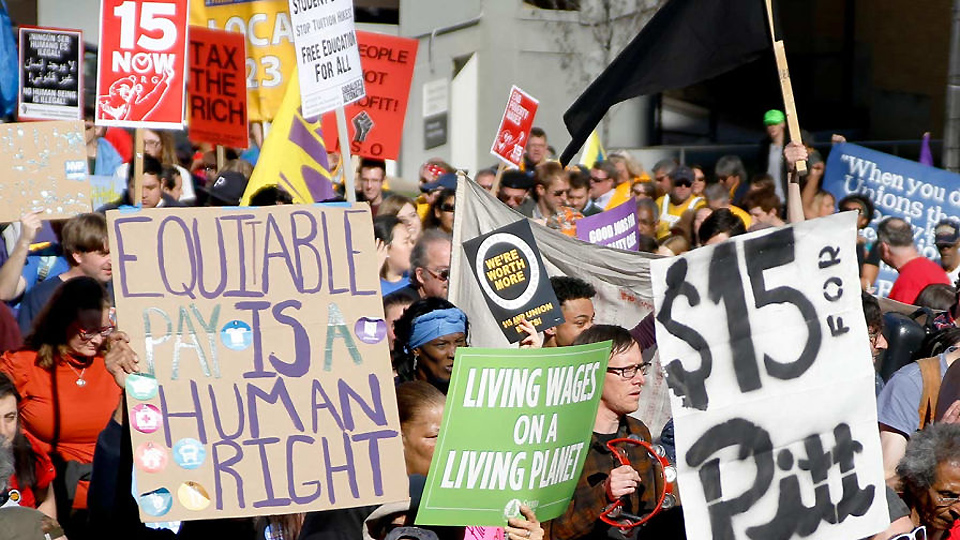 WASHINGTON — Cynthia Murphy wants a raise. Progressive Democrats in the U.S. House want to get it for her.
Murphy, an African-American woman with a daughter in college, has toiled at the Burger King in the Pentagon's underground food mall for a decade. She earns $9.50 an hour and hasn't had a raise, ever.
She's had to take a second job to make ends meet, "and I use food stamps and Section 8" public housing subsidies, she adds. She also borrowed $5,000 so her daughter could start at a local college.
Raising her pay to $15 an hour over seven years, which is what the Dems want, would help her – and millions of other working women – a lot.
"The Republicans" who rule Congress "are refusing to raise our wages while cutting the programs we depend on," Murphy told an outdoor press conference as the progressives launched their campaign for the Raise the Wage Act, introduced last year by Reps. Mark Pocan, D-Wis., Raúl Grijalva, D-Ariz., Jim McGovern, D-Mass., and more than 100 others. Grijalva and Pocan co-chair the Progressive Caucus.
The measure would raise the federal minimum wage, now $7.25 an hour, to $15, in line with the "$15 and a union" campaign pushed by goodjobsnation.org, the Service Employees – who are trying to unionize the low-paid workers – and other unions. The last federal minimum wage hike was almost a decade ago. A majority of states have raised their minimums since, as has Washington, D.C.
Their measure (HR15) would also substitute the new higher minimum wage for the tipped wage, which now goes to servers and others who are supposed to earn extra from tips. That wage, $2.13 hourly, hasn't increased in 27 years. Firms, notably restaurants, whose workers depend on tips, are supposed to make up the difference. Often, they don't, costing workers billions of dollars. HR15 also abolishes the youth subminimum wage.
Sen. Bernie Sanders, I.,Vt., has introduced the minimum wage hike there (S1242), with at least a dozen Senate Democrats joining him. Both bills haven't even had a hearing in Congress.
"Raising the wage will give more than 37 million Americans a long-overdue raise," said Pocan, a Painters Union member who co-chairs the Congressional Progressive Caucus.
GOP and business claim a minimum wage hike would primarily benefit high school students working after class, but Pocan responded "workers under 20 are only 20 percent of minimum wage workers, and the average age of a minimum wage worker is 36."
The minimum wage workers are also mostly women, and that drew support for the hike from women's groups, the Leadership Conference for Civil and Human Rights, the Center for American Progress (CAP) and others. All noted half of the 26 million full-time minimum-wage workers and two-thirds of all minimum-wage workers including part-timers, are female, 11 million are parents and 4.5 million of them are single parents.
"President Trump and Speaker Ryan" – GOP House Speaker Paul Ryan of Wisconsin – "tell us the best way out of poverty is a job," said CAP Poverty to Prosperity program director Rebecca Vallas. "But on $7.25 an hour, that's not a way out."
"The Republicans are puppets of the big corporations" who got Trump's tax cut "while millions of Americans are struggling to make ends meet. It's disgraceful," said Rep. Barbara Lee, D-Calif. "In the Bay Area, 15 percent of my constituents are in poverty, as are 23 percent of African-Americans. Raising the wage would get women of color out of poverty."
The Republicans "have done everything they can to kick workers in the teeth," added Rep. Linda Sanchez, D-Calif., a member of Electrical Workers Local 441.
But while the workers held signs proclaiming "$15 and a union," the theme of their "raise the wage" campaign, speakers stayed away from the "union" part, except for Murphy, Rep. Mark Takano, D-Calif., and Will Fischer, an ex-Marine Iraq War veteran and executive director of the pro-union VoteVets.
The Republicans are unlikely to consider raising the minimum wage. That left Pocan and Murphy suggesting other ways to achieve it. He pitched making it a political issue. She urged Trump to act.
In an interview afterwards, Pocan said he and other progressive lawmakers "haven't gotten around to" discussing specific strategies to move the minimum wage hike into law. McGovern tried to attach it to a budget bill several years ago, and lost on a party-line vote.
"The first thing we have to do is raise the profile of the issue," Pocan said. "If that doesn't work, we'll have to change the faces in November," by electing pro-worker Democrats.
Murphy demanded Trump "issue an executive order to have federal contracts only for companies that pay a living wage and recognize our right to organize a union."
That may be unlikely: Trump's predecessor, Democrat Barack Obama, issued an executive order telling federal contractors – such as the Burger King in the Pentagon mall – to pay workers a $10.10 hourly minimum wage. It said nothing about unionizing. And Trump dumped it.