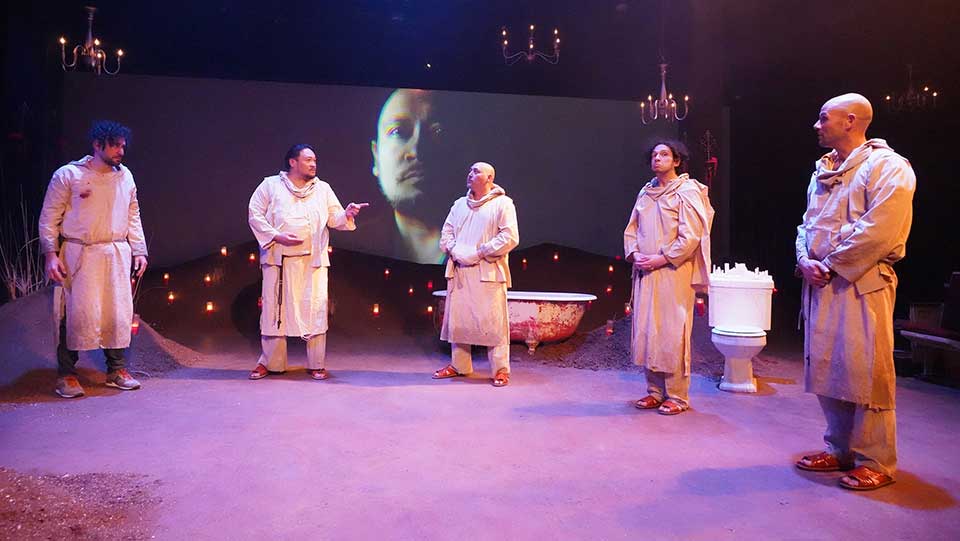 LOS ANGELES — "We are all travelers, Brother. Our journeys take place inside." If life happens to toss you on our doorstep, we will take care of you.
Such is the premise at a failing monastery alongside Highway 99 in Grangeville, Calif., pop. 496 and home to migrant workers, that is on the brink of losing financial support from the local Catholic Archdiocese. The six characters we meet at this ramshackle outpost of the 936-year-old Carthusian Order are something less than what you might expect—humble seekers of inner peace who choose to devote their lives to God and serving the poor.
It would be more accurate to say that each found his way there most unceremoniously, either escaping from their own personal demons or dumped there because their farmworker families could no longer afford to keep them at home.
The stage set shows mountains of dirt punctuated with lines of votive candles. Before the play begins, the pre-curtain soundscape with passing jets informs us we are in the present day. I'd convinced myself it was going to be about the centuries of Indigenous workers forced to work at the missions, and it would take place on the haunted campo santo, the holy ground or cemetery, with the spirits of the exploited Natives. I was wrong.
Chicano playwright Luis Alfaro, born and raised in L.A., is the son of farmworkers from the San Joaquin Valley. "I read an article about a seminary in Central California that had been around for a long, long time," he says. "Everybody there had gotten out of working in the fields during the big drought and had gone there to try to get free food and housing. Really out of desperation. Some farm workers leave their children at monasteries as a way of getting them out of the fields. They know the church will take care of them, feed them. My story is about the guy who shows up who seems like the least likely candidate for seminary, but is actually the most spiritual."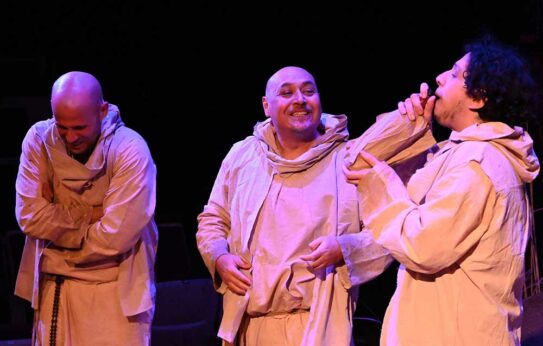 That guy, named Juan, crashes onto the ground at the community of brothers with a gaping, bloody gunshot wound at his heart, gasping for breath and survival. The others have no medical skills and no clue how to treat him. They can't even tell if he's already dead, but they recognize the hand of God in his sudden appearance. Luckily, the bullet missed a direct hit on his heart, and gradually, without much help, he recovers. Who knows what fortuitous circumstance might lead a person to a new sense of purpose in life?
A theatergoer familiar enough with Catholic belief and ritual might immediately see a bloody torso as stigmata of the crucified Christ—and they might be right.
MacArthur Foundation "Genius Grant" recipient Luis Alfaro is a much sought-after playwright. Latino Theater Company, in association with San Francisco's Magic Theatre and resident home company Campo Santo, presents The Travelers, directed by Magic Theatre artistic director Sean San José based on original direction by Catherine Castellanos, in the play's Los Angeles premiere, running through October 15 at The Los Angeles Theatre Center. It's laugh-out-loud hilarious, magical storytelling as we hear the backstory of each character, and poignant in spiritual and bodily suffering. Alfaro's language is piquant, salty, and ripe with poetic imagination.
Though steeped in irreverent, existential absurdity worthy of Ionesco, Sartre, or Beckett, and full of references to popular locales well known to Latino Californians, The Travelers carries us on a journey of profound reflection and healing as we discover human connection in the most unlikely places. Every character is transformed by the end of this mystical 90-minute intermissionless experience. And I believe some audience members, aside from being heartily entertained, may find some memorable lessons in it too.
Before the play even begins, a quick glance at the program reveals something remarkable: The Brothers' names match, in large part, those of the actors. The characters include Brother Santo (Sean San José), left on the doorstep when he was ten, and is now the senior monk in charge; Brother Daniel (Daniel Duque-Estrada), a former clown and horse trainer from Zacatecas, Mexico; Brother Nancho (Kinan Valdez), an agricultural worker escaping the hot fields, who apostrophizes his skin as the color of the very dirt he was born of; Brother Yiyo (Guillermo Yiyo Ornelas), a Bay Area free spirit who becomes the monastery's vegetarian chef; Brother Ogie (Ogie Zulueta), an innocent who has lived his entire life in the sanctuary's bathtub, with its only toilet just two or three feet away (at one point Ogie drapes his hand over the edge of the bathtub, creating an image that recalls the murder of the French Revolutionary Jean-Paul Marat); and Brother Juan (Juan Amador), the traveler from Sacramento who turns up with the bullet wound and proves himself a useful handyman. As the protagonist, he parses his brothers' souls to uncover what else might be in need of fixing.
"Part of my process," Alfaro explains about the use of their own names, "is that I build a play together with and around the community—in this case, the actors. I've woven elements of their lives into the characters."
Alfaro also weaves in elements of the Catholic mass in his structure. Not literally, but prompts that each scene, with names such as "The Transformation," The Resurrection," "The Novitiate," "Catechism," or "Transition to the Religious," like the Stations of the Cross, or like each part of the mass, has its appointed place and meaning in the architecture of the play.
The Travelers premiered at the Magic Theatre in February 2023 in San Francisco. The creative team for the Los Angeles production includes scenic designer Tanya Orellana; lighting designer gg (GriselTorres); sound designer Christopher Sauceda; video designer Joan Osato; costume designer Abra Berman; and movement director Patricia Ong. The stage manager is Lauren Quan.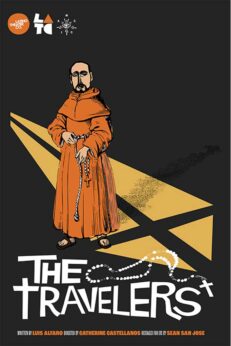 Churchgoing has been on the decline in America for the last couple of decades—not fast enough for our ardent secularists, of course, but unsettling for the leaders of many denominations. Young people are turned off by the empty ritual, the hypocrisy of professed values versus the actual practice, the scornful detachment from ordinary people's concerns. Alfaro has his Brothers going to local prisons to offer spiritual comfort, but it sounds entirely performative and futile. He certainly demonstrates that the monks are mostly missing the point of a selfless, contemplative life. Yet even so, the few glimmers of holiness that shine through are bright enough to light the way toward worldly redemption.
Recommended for anyone with a serious commitment to any kind of faith—and others who enjoy watching masterful, original, live theater.
The Travelers (seen opening night Sept. 23) plays Thurs., Fri., and Sat. at 8 p.m. and Sun. at 4 p.m. through October 15. The Los Angeles Theatre Center is located at 514 S. Spring St., Los Angeles 90013. For more information and to purchase tickets, call (213) 489-0994 or go to www.latinotheaterco.org.