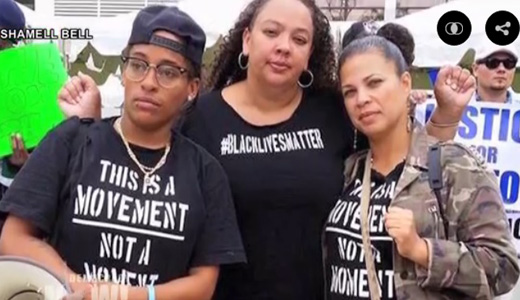 A young African American political activist is trembling today at the thought of having to face as many as four years in prison after becoming the first black person ever to have been convicted of the charge of felony lynching.
Jasmine Richards, a leader of the Black Lives Matter movement in Pasadena, Calif., got the word yesterday while she waited with her lawyer, Nana Gyamfi, at the Pasadena courthouse.
Richards was grabbed by cops and charged with felony lynching two days after she had been at a Pasadena restaurant in which a black woman was detained on August 29, 2015, for allegedly failing to pay for a meal.
Eyewitnesses say the store owner ran out of the restaurant chasing the young woman who had allegedly not paid her check. The woman ended up across the street at a small gathering of Black Lives Matter activists who had just taken part in a local protest.
When police arrived, they told the owner he would have to make a citizen's arrest because they had not witnessed the supposed incident. The owner agreed to do so, and police say that at that point they were required by law to carry out the arrest.
Police Lt. Tracey Ibarra told local press that officers "attempted to go ahead and make contact" with the accused woman, but that when they proceeded to detain her "part of the Black Lives Matter protest group attempted to intercede."
Two evenings later, police arrested Richards and charged her with four crimes she allegedly committed that day outside the restaurant. They included inciting a riot, child endangerment, delaying and obstructing peace officers in the discharge of their duties, and felony lynching. In the time between the arrest and the trial, all charges but felony lynching have been dropped.
As she was handcuffed and escorted out of the courtroom after the verdict Richards chanted, "It is our duty to fight for our freedom."
"It is our duty to win," her supporters chanted in response. "We must love one another and support one another."
"We have nothing to lose but our chains!" Richards shouted as she entered a holding cell in the court house.
"This was a political prosecution, not a criminal prosecution," her lawyer, Gyamfi, told the local press. "This was a jury that could not tell the difference between a loud black person and a violent black person."
Frank Chapman, a field organizer for the National Alliance Against Racist and Political Repression (NAARPR) spoke with People's World by phone from the group's headquarters in Chicago. "The conviction of this young woman is a horror, a stain on justice," he said. "The fact that they selected that charge sends a frightening message to all people who support democracy and civil rights. Be very careful about where you go in this country because in many places power is still in the hands of people who have no respect for either democracy or civil rights."
The actual charge that came down from the court with the final verdict was "Attempting to Remove a Suspect from Police Officers." The "lynching" language was dropped from the law after a firestorm of protests against comparing political protests with the crime of lynching.
California's lynching law took effect in 1933. It was designed to keep mobs from forcibly taking people out of police custody for hangings or other forms of vigilante justice.
Many thousands of black people in southern states and elsewhere have historically been grabbed from police custody or even at random by white lynch mobs for the purpose of hanging them to death.
Groups like the NAARPR see Richard's conviction, not what she did at the restaurant that day, as the real crime here. "Finding her guilty of felony lynching. That's the real lynching," said Chapman. "It was an attempt to shut down a political activist."
Richards was not the only person at which the lynching law has been aimed.
Maile Hampton, another young African American woman, had also been originally charged with felony lynching in connection with the incident at the restaurant. The charges against her were eventually dropped.
Hampton and Richards are both well-known activists in Pasadena. Both have been involved in many of the protests over police killings of Michael Brown and Tamir Rice.
Hampton too had been arrested several days after the misdeeds she had allegedly committed.  Police identified her as a person attempting to pull people away from officers during a protest. She was arrested later, in her case at her home.
Linda Parisi, Hampton's lawyer, was quoted as saying, "It's an irony that a woman of color, who was at a public rally to shine a light on police brutality, is arrested for lynching."
There is already broad support for a move to amend the California penal code. "The current 'lynching' definition is an affront to the estimated 3,500 African Americans and 1,300 whites who were lynched in the United States between 1882 and 1962 as a means to threaten and intimidate African Americans from exercising their right to vote," said California State Sen. Holly Mitchell (D-Los Angeles) in a recent interview with the Sacramento Bee.
Lynching typically involved a mob seizing a Black person from a jail or from anywhere else, including his or her home, beating and torturing that person, sometimes burning the individual with torches, and even drowning the person before hanging him or her from a tree or a street lamp where the public could see the mob's handiwork.
White people, although in lesser numbers, were also victims of this crime, as were large numbers of people of Mexican descent in the Southwestern part of the U.S.
Although the real numbers of African Americans lynched in the U.S. will probably never be known, the Equal Justice Initiative published a report covering lynching in 12 Southern states between 1877 and 1950 that documented more than 3,900 cases.
Bills to outlaw lynching failed to pass the U.S. Senate and the Congress repeatedly from 1922 until 1935. It was only in 2005 that a measure condemning the lynching of thousands of Black people, drafted by Mary Landrieu (D-Louisiana), finally passed in the Senate.
Photo: Jasmine Richards, left, at a protest with two friends.  |  Video screenshot courtesy of Democracy Now