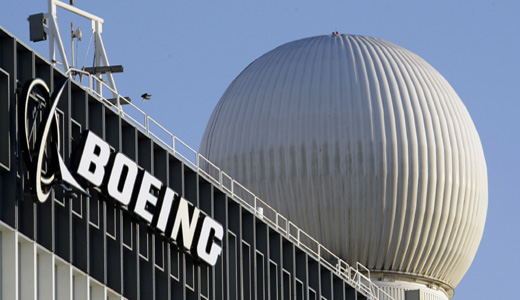 WASHINGTON – The Machinists are gathering allies as the battle grows over a top National Labor Relations Board official's statement that Boeing broke labor law by moving aircraft production to anti-union South Carolina.
"The NLRB charge against Boeing is the most significant NLRB case in half a century," union President Tom Buffenbarger told International Association of Machinist's (IAM) several hundred delegates to its legislative conference here May 10.
Even as he spoke to IAM, Buffenbarger noted that Gov. Nikki Haley, R-S.C., "was addressing the U.S. Chamber of Commerce, and deriding and disrespecting this union."
IAM has picked up union support for its stand – upheld by NLRB Acting General Counsel Lafe Solomon, the agency's top enforcement officer. They note Boeing opened its second 787 "Dreamliner" assembly line in North Charleston, S.C., strictly in retaliation against its IAM locals at an aircraft assembly plant in Everett, Wash., and at a parts plants in Portland, Ore.
The Machinists filed a complaint, buttressed by quotes from company officials, from the CEO on down, that Boeing moved Dreamliner production to right-to-work, anti-union South Carolina because it faced union criticism, and occasional strikes, at its Pacific Northwest plants.
That's illegal retaliation, Solomon said, adding that the remedy is for Boeing to move Dreamliner production back to Everett.
Buffenbarger admitted IAM "still has a hill to climb" before the case concludes. He predicted it would go all the way from a June 14 NLRB hearing in Seattle through appeals to the full board and the courts, "all the way up to the Supreme Court."
But IAM picked up strong support from the AFL-CIO when Executive Vice President Arlene Holt Baker addressed the legislative conference May 11. She called the right to strike "the fundamental backstop" for labor, and said IAM is defending it against Boeing's pressure – pressure that forced strikes in Everett, Buffenbarger noted.
"Listen, I know that nobody makes the decision to strike lightly," Holt Baker said. "But it is the fundamental backstop, one of the strongest points of leverage we have. All a worker has is his or her labor."
While she praised Boeing's planes as "the best in the skies" because they're built by union labor, Holt Baker blasted the company's management.
"We believe Boeing executives broke the law," she declared. "Their decision to move production to South Carolina, their decision to publicize the reasons why, amount to a clear threat that Boeing workers heard loud and clear: If you exercise your rights, we will take away your jobs.
"And that threat, sisters and brothers, is a violation of federal labor law, and that makes the company's decision to expand production in South Carolina a matter of law enforcement."
Buffenbarger also pointed out that Boeing faces two shareholder suits charging the company management hid details of the financial impact of the move and the Dreamliner's problems.
Solomon's complaint against Boeing drew opposition from right-wing Rep. John Kline, R-Minn., chair of the House Education and the Workforce Committee, who demanded all records of contact between the NLRB regional office and its D.C. headquarters on Solomon's filing, as well as the precedents Solomon used.
"We understand no union employee" in Everett "has lost his or her job or been financially harmed by" the firm's opening of the South Carolina assembly line, wrote Kline and right-wing Rep. Phil Roe, R-Tenn. They called Boeing's move "a legitimate business decision." They claimed the proposed penalty – returning the assembly line to Everett – is "extraordinary and would have a detrimental impact on the economy and workers of South Carolina" while "chilling" business activity elsewhere.
Their letter also prompted the NLRB's Solomon to stick up for his legal filing.
"Contrary to certain public statements made in recent weeks, there is nothing remarkable or unprecedented about the complaint issued against the Boeing Company on April 20," Solomon said on May 9. "The complaint involves matters of fact and law that are not unique to this case, and it was issued only after a thorough investigation in the field, a further careful review by our attorneys in Washington, and an invitation by me to the parties to present their case and discuss the possibility of a settlement. Only then did I authorize the complaint alleging certain statements and decisions by Boeing officials were discriminatory under our statute," said Solomon.
"At any point, the parties could reach a settlement agreement and we remain willing to participate in any such discussions at the request of either or both. We hope all interested parties respect the legal process, rather than trying to litigate this case in the media and public arena."
Photo: Boeing Company plant and signage in El Segundo, Calif. (AP/ Reed Saxon)