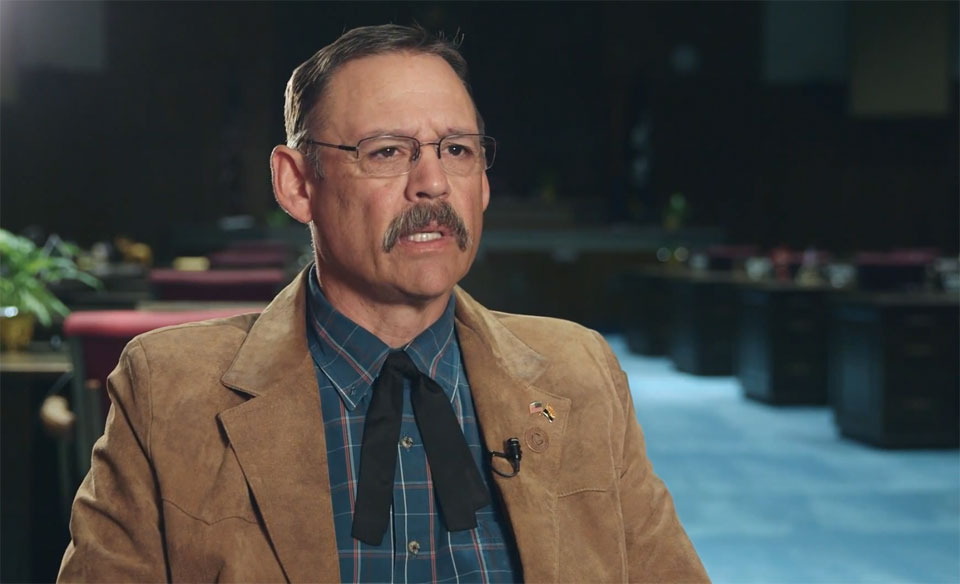 PHOENIX—While Kansans' resounding support for abortion rights and rejection of Republican attempts to take away their constitutional rights took the headlines in the August 2 primaries, the results in other states showed that, among Republicans voting in their party's primaries, Trumpites and outright fascists won the Republican nods. Two exceptions were the victories of Reps. Jaime Herrera Beutler and Dan Newhouse, both R-Wash., both who voted to impeach Trump for masterminding the Jan. 6, 2021 coup attempt.
Overall, however, the balloting illustrated the almost-total control of one of the nation's two major parties, the Republicans, by Trump, white nationalists and supremacists, conspiracy theorists, racists, and their ilk.
How total is that control? In Arizona alone, at least half a dozen election deniers, spouters of Trump's "Stop the steal!" lies and worse, won Republican nominations up and down the ballot. And in a Grand Rapids-centered Michigan congressional district a former Trump regime official and right-wing political commentator, Dan Gibbs, ousted a third pro-impeachment Republican, Peter Meijer.
Gibbs put a congratulatory phone call from Trump on speakerphone and the ex-White House denizen declared "I'll see you soon." The district is considered solidly Republican.
Topping the Arizona Trumpites: Secretary of State nominee Mark Finchem. If he wins this fall, he'll control Arizona's election machinery—just two years after he was among the insurrectionists who marched on the U.S. Capitol that January 6th. A member of the violent white militia Oath Keepers, Finchem says he didn't invade the Capitol, as his colleagues did in their Trumpite coup d'etat try to stop the Electoral College count. The count gave the election to Trump's foe, Democrat Joe Biden.
One of five election deniers
Finchem is also one of at least five election deniers and/or conspiracy theorists who won Republican Secretary of State nominations this year. If they triumph this fall, they'll control election machinery in their states—including swing states Arizona and Pennsylvania—and could manipulate the results for their favorites, especially Trump, regardless of the actual vote counts.
Meanwhile, Democratic races on August 2 were largely devoid of drama and conflict, save for the incumbent-versus-incumbent matchup between progressive and strong pro-worker advocate Rep. Andy Levin, a former union organizer, and "moderate" corporate Democrat Rep. Haley Stevens in Oakland County, Mich., just outside Detroit. She won, 60%-40%.
That high turnout, of 875,000 votes and counting as of 10 p.m. Central Time, augured well for progressive forces, showing that one big issue—preserving the constitutional right to abortion, despite the U.S. Supreme Court—can turn their voters on, and turn them out, even in the searing heat of August.
As Kansas voters as a whole were backing abortion rights, Kansas Republican primary voters, however, handed their party's nod for state Attorney General to one of Trump's favorites, racist anti-Hispanic former Kansas Secretary of State Kris Kobach. He won 41.5% in a three-way tilt, victorious by three percentage points.
Other key results included:
In the Michigan gubernatorial primaries, incumbent Gretchen Whitmer (D) was unopposed.
She'll face conservative former TV personality Tudor Dixon (R), who also got a late Trump endorsement, though she soft-pedaled it and ducked questions about whether she believes Trump's Big Lie that the 2020 election was rigged against him.
Trumpites, upset by Whitmer's policies battling the coronavirus plague—while Trump did nothing—hatched a plot in summer 2020 to kidnap Whitmer. The FBI broke it up.
Trump wasn't the only big GOP wheel backing Dixon. Even more important to her drive were masses of corporate money recruited by multimillionaire former Trump Education Secretary Elizabeth "Betsy" DeVos, a former Michigan Republican Party chair and a hater of public schools, teachers, their unions, and especially their students of color.
The American Israel Public Affairs Committee—the notoriously pro-rightwing "Jewish lobby"—crowed because it knocked off Michigan Jewish lawmaker Levin, who dared to stand up for Israeli-Palestinian peace and against the right-wing Israeli government. In a tweet, AIPAC's "dark money" campaign finance committee, the United Democracy Project, promised more of the same against any "detractor of the U.S.-Israel relationship."
So did corporate interests. Like AIPAC, which spent $4.2 million, they pumped millions into anti-Levin ads. They hated that he's a former Service Employees organizer, AFL-CIO Deputy Organizing Director, and an ardent environmental advocate who also backs Medicare for All and is an ally of Sen. Bernie Sanders, Ind-Vt., who campaigned for him in the race's closing days.
Backed by unions
Levin's environmental stands, particularly for the Green New Deal, also led many building trades unions to sit out the Levin-Stevens race. Other unions flocked to Levin's side. Their endorsements failed to save his seat in a combined heavily Democratic district tilted in Stewart's favor by redistricting.
AIPAC also went after Levin's next-door Detroit colleague, Rep. Rashida Tlaib (D), one of Congress's few Arab-Americans. And the corporate interests who opposed Levin also backed a St. Louis lawyer against first-term Rep. Cori Bush, D-Mo., the first Black Lives Matter activist ever elected to Congress. Both Tlaib and Bush are members of "The Squad" of progressive, activist, female lawmakers of color. Both won handily.
Meanwhile, most Republican primary winners sounded like Trump. All sought—and many got—his nod, indicating just how far the Republicans have migrated into consuming Trump's toxic stew of white nationalism, separatism, racism, xenophobia, and hostility to democracy.
For example, high-tech executive Peter Thiel, who is also close to Trump, is trying to buy two U.S. Senate seats for Republican right-wingers: J.D. Vance in Ohio's earlier primary and Blake Masters, another election denier, in Arizona. Trump backed both, late—after Thiel pumped in at least $10 million to each hopeful's campaign. Both won, Masters in a three-way race with 39%.
In Missouri, Attorney General Eric Schmitt (42%) decisively trashed sexual predator former Gov. Eric Greitens (19%) in the primary for an open Republican-held U.S. Senate seat. In his victory speech, Schmitt unleashed a rant against "radical progressives," Democrats, abortion rights supporters, and any other enemy he could think of.
How Trumpite is Schmitt? He joined a red-state lawsuit led by Texas, to throw out the electoral votes of four swing states on the implausible grounds that their wins for Democratic nominee Joe Biden deprived red states of their electoral power. That was too much even for the right-wing U.S. Supreme Court majority. It tossed their case out.
Schmitt also got an Election Eve endorsement–sort of–from Trump. On August 1, the former White House denizen tweeted he backed "ERIC," in capital letters—without adding a last name. Every Eric in the race claimed Trump's blessing. The hopeful who finished second, between Eric Schmitt and Eric Greitens, Rep. Vicky Hartzler, distanced herself from Trump, who trashed her.
In Washington State, one of its two Republicans who voted to impeach Trump, Rep. Jaime Herrera Beutler, finished second in its all-comers primary system, where the two top leaders, regardless of party, advance to the general election. Democrat Marie Gluesenkamp finished first in the Vancouver-based Third District. The other pro-impeachment Republican, Dan Newhouse, barely finished first, with 27%. He'll face Democrat Doug White (26%), this fall. Trump endorsee and election denier Loren Culp (22%) was third.
Incumbent Democratic Secretary of State Steve Hobbs, whose office runs Washington's totally vote-by-mail elections, lapped the field, with 41%. Independent Julie Anderson was second (13%) and three Republicans trailed them. Hobbs and Anderson will face off in the fall.
The Republican Party has migrated so far right now that an Arizona gubernatorial primary hopeful, Karrin Taylor Robson, a businesswoman, is considered a "moderate." She comes from the Barry Goldwater wing of the GOP, not from the Trumpite crazies who've taken it over. Backed by former Vice President Mike Pence, Robson's one of the few who bucked the Trump tide.
Lake victory a looming danger
As of 10 a.m. on August 3, the race was still too close to call between Robson and extremist Kari Lake, whom Trump campaigned for. With 80% of precincts reporting, Lake, a complete election denier, led Hobson, 46.2%-44.4%, or by 11,324 votes out of more than 575,000 between them alone.
Lake too was a TV personality, on Phoenix's right-wing Fox station, for decades. That prompted Robson to comment: "We need a leader with a record of accomplishment, not a career talker with the teleprompter."
Lake has pledged to end all mail-in voting if she gets the governor's seat in November.
But Robson, even without Trump's endorsement, parrots Trumpian canards. "Joe Biden may be the president, but the election wasn't fair," she told interviewers. "States across the country changed their voting rules in the weeks and months before the election; the mainstream media generally refused to cover stories harmful to Joe Biden," she alleged, without proof. The winner will face Democratic Secretary of State Katie Hobbs (D), who cruised to victory in the Democratic primary. She is a strong supporter of the 2020 election results and a supporter of abortion rights.
Meanwhile, Sen. Mark Kelly (D), the former astronaut and husband of former Rep. Gabby Giffords (D)–forced to retire after being shot in the head several years ago during a constituent meet-and-greet–will face a to-be-determined Republican.
The leader in that primary fight is venture capitalist Blake Masters. He also won Trump's backing. Masters leads businessman Jim Lamon, 39%-29%, but 22% of precincts remain to be counted. State Attorney General Mark Brnovich ran third with 18%. Networks called the race for Masters, though.
Brnovich's prior lawsuit on behalf of the Republican-run legislature challenging voting rules—such as absentee voting during the pandemic–gave the U.S. Supreme Court's right-wing Republican-named majority another excuse to curb voting rights. The majority grabbed that chance.
The Republicans' swing towards the racist right may not be good news for progressive Dems who worry that, in addition to making some GOP candidates easier to defeat in November, the seizure of the GOP by the extreme right is opening the door for corporate lobbies and their political puppets, armed with loads of cash, wielded in "dark money"-funded ads, to try to co-opt the Democratic Party.
The Levin-Stevens race was Exhibit A for that possibility in this round of elections.
Stevens raised loads of cash from corporate interests, including JPMorganChase and Alphabet, the holding company for Google, and beat Levin handily in the money sweepstakes. Before that, Stevens had cozied up to corporations in her 3-1/2 years so far in Congress.
Stevens earned corporate support by being skeptical of progressive legislation, notably the Green New Deal, which Levin enthusiastically endorsed. She also opposes Medicare For All, preferring the weaker "public option."
Co-opting the Democrats is what corporate lobbies did when Bill Clinton was in the White House and when then-Rep. Rahm Emanuel, D-Ill., chaired the party's House campaign committee.
Emanuel and, before him, then-Majority Whip Tony Coelho, D-Calif., deliberately recruited corporate contributions (by Coelho) and "moderate" Dems (by Emanuel) to fund and run in rural areas and swing seats. Bill Clinton, of course, repaid the corporate donors and the moderates. They were self-styled "New Democrats" who were often anti-worker, and pushed policies like so-called "free trade," deregulation, welfare "reform," and NAFTA—with the aid of the lawmakers whom Emanuel enlisted.