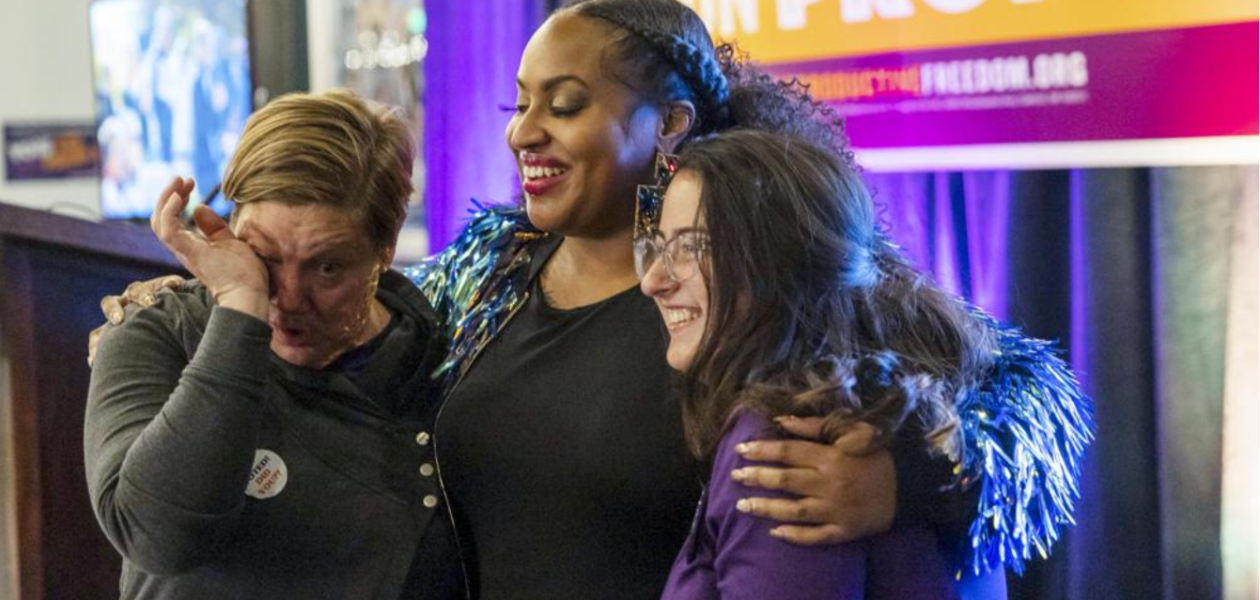 WASHINGTON—Republicans who expected a GOP sweep in the elections Tuesday were dealt a major blow as voters across the country rejected fascist candidates up and down the ballot.
Defying history whereby the party in power loses many congressional seats in its first midterm elections, Democrats are likely to hold onto their control of the Senate and may even hold onto the House with what looks like a razor-thin margin. That call is still to be made, and it's unclear how soon the final results will be available.
Huge turnouts by women, youth, and African Americans, along with the organized backing of the labor movement and its allies, all helped propel Democrats to victories in the midterm elections Tuesday—victories that major media predicted would not happen at all.
Republicans went down to defeat in many competitive races, and voters, in exit polls, shot holes in GOP propaganda that inflation and crime would sweep Republicans into offices around the country.
Neither inflation nor low approval ratings for President Joe Biden could push voters to negate their concerns about the attack on democracy and specifically the attacks on abortion rights by the MAGA Republicans.
One of the most uplifting events of the night for progressive forces was when Lt. Gov. John Fetterman flipped Pennsylvania's Republican-controlled seat in Pennsylvania, increasing the likelihood that Democrats could hold the Senate. Republicans, after the Fetterman victory, would have to win both Nevada and Arizona to gain control, an unlikely prospect.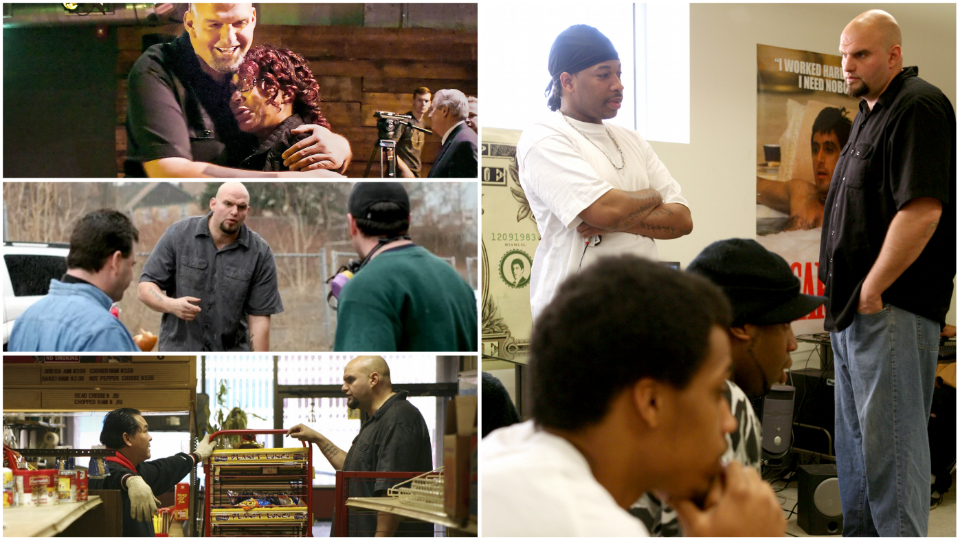 If the Dems come out with 50-50 control of the Senate again, with Vice President Kamala Harris breaking the tie, Raphael Warnock would be likely to win a Georgia runoff because white Georgia Republicans would be unlikely to turn out for Herschel Walker in a scenario where Democratic control of the Senate has already been determined. That would give Dems one vote more than they have now in their majority.
In the House, Democrats kept seats in districts from Virginia to Kansas to Rhode Island, while many seats in states like New York and California remain to be called. It should be noted that districts in New York where Democrats were having a hard time were those where lines were drawn by a judge who unexplainably did the bidding of state Republicans.
Democrats also were successful in governors' races, winning in Wisconsin, Michigan, and Pennsylvania, all key battleground states critical to Biden's victory in 2020. Also in those states, the election deniers running for positions that could swing 2024 results away from a Democratic victor in the popular vote all went down to defeat.
Many Trump-backed challengers to Democrats, along with some of the most extreme Trumpites in general, lost.
In Pennsylvania, Fetterman, a 6-foot-8 pro-worker champion who campaigns in shorts and a hoodie, campaigned in rural "red" areas on his motorcycle. He supports raising the minimum wage and backing the right to organize. He beat Donald Trump-endorsed Dr. Mehmet Oz, flipping that Senate seat.
Fetterman had faced scurrilous attacks about his fitness for office after suffering a stroke just days before the state's primary. But he nonetheless bested Oz in a major rebuke to the former president. In a very un-Trumpian move, Oz called Fetterman to concede.
"I'm so humbled," Fetterman, wearing his signature hoodie, told his supporters early Wednesday morning. "This campaign has always been about fighting for everyone who's ever been knocked down that ever got back up."
And Pennsylvania Attorney General Josh Shapiro (D) trashed a Trump endorsement of his election liar Republican foe, State Sen. Doug Mastriano, who littered the race's final days with anti-Semitic slurs.
Democrats also held a crucial Senate seat in New Hampshire, where incumbent Maggie Hassan defeated Republican Don Bolduc, a retired Army general who had initially promoted Trump's lies about the 2020 election being marred by widespread fraud that did not occur. He tried to shift away from some of the more extreme positions he took during the GOP primary, but the damage was already done.
One of the most-incendiary fascist lawmakers, Rep. Lauren Boebert, R-Colo., lost to moderate Democrat Adam Frisch, 54%-46%, in a mostly rural western and southern district that was redrawn to make it even more Republican than when she ousted a regular Republican in the party primary in 2020. She also outspent Frisch, $6.4 million to $4.4 million.
But with ballots still being counted, especially in West Coast states, many races were still uncalled as of press time, 1 p.m. Eastern Time on Nov. 9. That was especially important in Nevada, where Gov. Joe Sisolak and Sen. Catherine Cortez Masto, both pro-worker Democrats, were locked in dead heats with Donald Trump-backed candidates. Cortez Masto is the Senate's first Latina.
The catch in that race is that the outstanding ballots are apparently all from Clark County (Las Vegas), which dominates the state and where 50,000-member Culinary Workers Local 226, the largest local in Unite Here, put on an even more extensive get-out-the-vote operation than in 2020.
Maritime Trades Secretary-Treasurer Dan Duncan, quoting contacts in Nevada, said the lines at Las Vegas polling stations were so long that voting was extended for another 1-1/2 hours Tuesday.
With so much undecided, the AFL-CIO leadership, who were in committee meetings on Nov. 9 and scheduled an Executive Council meeting in D.C. for Nov. 10, put off their traditional post-election press conference to analyze the results. Only National Education Association President Becky Pringle, head of the nation's largest union, issued an extensive statement. Excerpts included:
"Students, parents, educators, and public schools were the big winners of the 2022 elections, as pro-public-school candidates won in key gubernatorial, state legislative, school board, and federal races. Voters also made the right choices on key ballot measures from New Mexico to West Virginia, Massachusetts, and elsewhere," she declared.
"Voters rewarded candidates who articulated a clear, positive message about public education," before rattling off a long list of NEA-endorsed winning Democratic governors including Wisconsin's Tony Evers—a former state education commissioner—and union members Gretchen Whitmer in Michigan and Tim Walz, an Education Minnesota member.
Right-wing extremists rejected
"Parents and voters explicitly rejected extreme politicians who engaged in the politics of division, politicizing our classrooms, banning books, dragging their culture wars into our public schools, and pushing failed privatization schemes, Pringle said.
Other key results for workers included:
Illinois enhanced its reputation as a pro-worker bastion. Not only did it handily re-elect pro-worker Gov. J.B. Pritzker (D) and the pro-worker state legislative majorities, but voters approved a proposed constitutional amendment to guarantee collective bargaining and outlaw so-called "right to work" laws. And United Food and Commercial Workers member Nikki Brudzinski (D) won the open—and redrawn—13th Congressional District.
The Working Families Party crowed over the U.S. House win by State Sen. Summer Lee in Pennsylvania's 12th District. "Summer Lee is a people's champion, and this is a victory for the people," said the party's Pennsylvania Organizing Director, Nicolas O'Rourke. "Right-wing and corporate forces spent millions of dollars on negative ads to smear a Black progressive woman, but our grassroots movement could not be stopped. Summer is going to join a growing bench of Working Families Democrats in Congress who will fight for higher wages, lower costs, safe communities, and clean air and water."
Minnesota became a trifecta, where pro-worker forces retained the governorship—with union teacher Tim Walz (DFL) winning a second term—and took control of the State Assembly. The Democratic-Farmer-Labor Party already controlled the State Senate. Another Education Minnesota member, current state auditor Julie Blaha (DFL), won a second term. State Attorney General Keith Ellison (D), a past chair of the Congressional Progressive Caucus who has often jousted with the party "establishment" of pollsters and campaign operatives, won by 20,000 votes over Trumpite Republican Jim Schultz, who promised to stop prosecuting corporate criminals. Trumpites also opposed Walz and other top Dems. DFL state senate hopefuls Judy Seeberger of Paramedics Local 167 had a 300-vote lead out of 42,000 votes cast. Erin Murphy of the Minnesota Nurses Association romped to an 84%-15% win. Nine other unionists sought Assembly election.
Three constitutional amendments to protect the right to abortion by adding it to state constitutions passed, in California, Michigan, and Vermont. Voters in deep-red Kentucky followed their colleagues in deep-red Kansas and defeated a referendum attempt to abolish abortion protection from the state's basic charter. All four votes defied the Republican-named U.S. Supreme Court majority which obliterated the right nationally in June. That 5-4 ruling sent millions of angry women and their supporters into the streets in ensuing months.
Pro-worker Democrats added two governorships, in Massachusetts and Maryland. Moderate Republican governors ruled both for eight years but did not run again. Wes Moore (Maryland), who heads a non-profit organization, made history as the state's first Black governor and the nation's third. Massachusetts Attorney General Maura Healey did, too, as the state's first woman governor and the nation's first lesbian governor.
Incumbent woman governors won again, too, including Gretchen Whitmer, D-Mich., Kathy Hochul, D-N.Y., Michelle Lujan Grisham, D-N.M., and Janet Mills, D-Maine. Hochul was the first governor the New York State United Teachers, AFT's largest local, endorsed in years. Both she and Whitmer—object of a foiled Trumpite kidnap-murder plot last year—beat Trumpite election liars. So did Gov. Laura Kelly, D-Kansas, in the state where the Aug. 2 pro-abortion referendum win, 58%-42%, encouraged women voters nationwide.
At press time, votes were still being counted across the country, meaning that, in theory, Republicans could still emerge with control of both chambers of Congress. A victory by the GOP in the Senate, however, is not seen as likely, and the one thing that is abundantly clear is that the predicted GOP surge never materialized.
If the Republicans win the House, however, a handful of extreme right-wingers and fascists will be in a position to hold the country hostage on key pieces of legislation, including but not limited to raising the debt ceiling.
Despite the blow to MAGA Republicans and fascists Tuesday night, the fight against them will continue, with or without Donald Trump. Trump was sending out feelers about announcing another run for the presidency in the very near future, one he hopes will shield him from prosecution by the Justice Department. He had been planning on making that announcement following massive victories by Republicans that did not materialize, so it is unclear whether he will go ahead with those plans.
Exit polls showed that crime, an issue the GOP tried to ride to success, was low down on the list of voter concerns, with only 11% seeing it as the top issue. The economy, abortion, and democracy were the big issues according to the exit polls.
The predictions of Kevin McCarthy, the representative poised to be House Speaker if the GOP takes control of the House, failed to materialize Wednesday morning. He had said Tuesday night, "When you wake up tomorrow, we will be in the majority." Democratic House Speaker Nancy Pelosi countered that her party would hold the chamber: "While many races remain too close to call, it is clear that House Democratic Members and candidates are strongly outperforming expectations across the country."
Some have said there is not much to worry about because even if the GOP takes both chambers of Congress, Biden will be able to veto whatever they pass. The reality is, however, that what the mass movements do from here on out will, on top of the outcomes of the races for House and Senate, help determine the fate of a progressive agenda in the next two years.
Republican control of the House would likely trigger endless investigations into Biden and his family. A GOP Senate takeover would cripple the president's ability to make judicial appointments.
In the face of historic headwinds, an alert and determined voting population managed to hold back the predicted advance of the Republicans' extreme right-wing faction, but they weren't able to completely block GOP gains.
Some Republican wins
Incumbent Republican governors had some victories. Georgia Gov. Brian Kemp won re-election, defeating Stacey Abrams in a rematch of their 2018 race. Florida Gov. Ron DeSantis and Texas Gov. Greg Abbott, two future possible Republican presidential contenders, beat back Democratic challengers to win in the nation's two largest red states.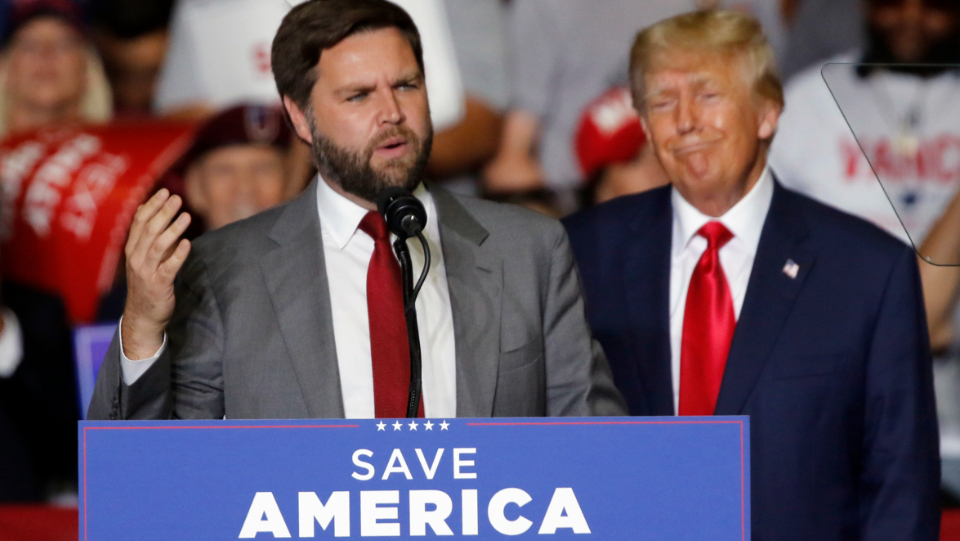 Exit polls showed Biden didn't entirely shoulder the blame for inflation, as Republicans had hoped. Half of voters said the higher-than-usual prices were more because of factors outside of his control, including price gouging by major corporations.
Candidates who bragged about their support for the Jan. 6 insurrection and the Trump coup were rebuffed by voters in some key races. But in the first national election since the coup attempt, some who participated in the attack on the U.S. Capitol were poised to win elected office.
One of those Republican candidates, J.R. Majewski, who was at the U.S. Capitol during the deadly riot and who lied about his military service, lost to Democratic Rep. Marcy Kaptur in a district gerrymandered heavily in his favor. Democratic Reps. Abigail Spanberger and Jennifer Wexton held off right-wing Republican challengers in Virginia districts the GOP had hoped to flip.
Trump did manage to lift one Republican Senate candidate to victory, however, in Ohio. J.D. Vance, the bestselling author of Hillbilly Elegy, defeated 10-term congressman Tim Ryan.
Trump had endorsed more than 300 candidates across the country, hoping the night would end in a red wave that he could ride to the 2024 Republican presidential nomination. After summoning reporters and his most loyal supporters to a watch party at his Mar-a-Lago club in Florida on Tuesday, he ended the night without a triumphant speech.
Biden, meanwhile, spent the night calling Democrats to congratulate them on their wins.