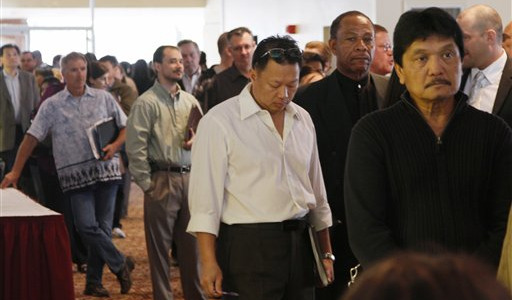 One day after Sen. Tom Coburn, R-Okla., vowed to block all future jobs bills in the Senate, the Leadership Conference on Civil Rights called on members of Congress to co-sponsor the Local Jobs for America Act.
"There are now six unemployed American workers for every single job vacancy, double the ratio in the last recession," the nation's largest civil rights group said in a statement. "Almost every American has been touched by the economic downturn and rising unemployment, and almost every community has been deeply impacted by the cuts in services that result in cuts to state and local revenue. That's why we are urging members of Congress to cosponsor House Education and Labor Committee Chair George Miller's Local Jobs for America Act (HR 4812)."
The bill, which has more than 100 cosponsors in the House as of now, provides $75 billion over two years for states and localities to use to create new jobs that meet crucial community needs and to save other jobs in danger of being cut. It also provides $24 billion for education jobs, funding to hire police and firefighters, and funding for on-the-job training programs.
The Campaign for America's Future, which has called the legislation the first "real" jobs bill to emerge in Congress, also launched a new national effort to get co-sponsors today. "To help climb out of this recession, we need our government to directly create jobs and this bill will do just that," the group said in a statement. Robert Borosage, the group's co-director, said, "It will invest billions into direct government hiring at the state and local level, creating or saving an estimated one million jobs. It needs more sponsors." The campaign is urging the public to take action via its web site.
The two moves in support of the jobs bill came after Sen. Coburn threatened yesterday to filibuster every future bill that invests in job creation. He has already stalled a bill that would extend unemployment benefits until the end of the year.
Coburn said that "all future spending bills in the Senate should be 'fully paid for'" with cuts in other programs.
Democrats were quick to point out that Coburn would not support their efforts to get rid of the Bush tax breaks for the rich. Ending those breaks would make billions of dollars available for job creation.
President Obama's proposed budget would eliminate Bush tax cuts for individuals with income above $200,000 and couples earning above $250,000. The resulting tax revenues would yield about $41 billion next year and $969 billion over the next decade, according to the Treasury Department.
Unlike Coburn, even some of the wealthiest Americans have come out in support of ending the tax breaks for the rich. One group representing more than 700 wealthy Americans pledged to donate members' 2010 tax cuts while lobbying for the cuts to be eliminated next year.
Andrew Roth of the Club for Growth, which opposes taxing the rich, said, "Obama and the Democrats probably will win the legislative battle this year, but we're going to make it tough on them politically."
Photo: Job seekers wait in line to attend a career fair last month in San Jose, Calif. Hundreds turned out for the three-hour event. (AP/Eric Risberg)