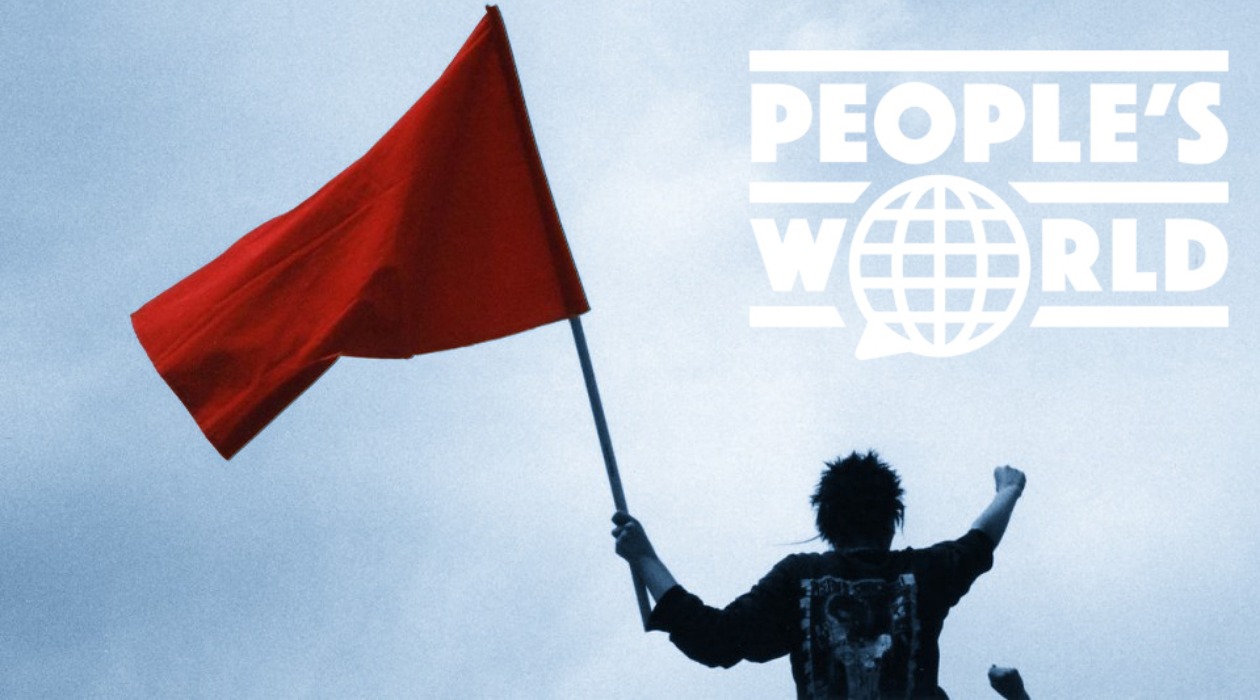 More people around the world celebrate May Day than any other holiday. What many don't realize, however, is that it was triggered by immigrant workers demonstrating in Chicago in the 19th century for the Eight-Hour Day, with no cut in pay!
The bosses tried to take this holiday away from us and prevent us from celebrating it with the rest of the world, so they moved it from May 1st to the first Monday in September, Labor Day. Not to be sidetracked that way, each year we are taking back May Day and, on top of that, we are celebrating it this year in an entirely new way.
This May Day, at night, when the celebrations and marches and rallies would normally come to an end, People's World will be hosting a nationwide party that everyone can join from the comfort of their homes as they rest their bodies, tired from the day's events.
While the holiday has always been marked by demonstrations, parades, and marches, the pandemic severely impacted these events and has led many to consider the usefulness of the internet as an alternative way to mobilize and inform working-class people. The upcoming nationwide virtual event will do just that. It's the culmination of the People's World fundraising drive, which has so far raised $62,000 of its $75,000 goal.
It is appropriate that young people, who this year have led the effort to unionize at corporate behemoths like Amazon, Starbucks, and now Apple, are heading up this unique May Day celebration. Leading and organizing this group of young people is Laura Cambron, who spoke about how the online gathering will be new, different, and fun and how fundraising for People's World is essential to making progress in all the struggles workers currently face.
"We're gonna be experimenting with a more interactive model on the livestream. We found this platform for it called Eventgroove, and it's awesome because essentially it consolidates and streamlines all the fundraising activity. People can see how much money is being raised in real time, and can also create their own pages where they can raise money for People's World.
"There's also a chat feature that people can interact with, and we'll have People's World trivia questions. The idea is to bring out a bit of what May Day looks like worldwide and represent that here. We'll have some shout-outs from workers, we're trying to incorporate video testimonials from People's World readers that are also supporters, and we're going to have music performances."
Music has often been a part of demonstrations, especially during May Day celebrations around the world. But according to Cambron, there's something that will make the music featured in this virtual celebration unique. "We tried to focus especially on community music projects," she remarked. "Like we'll have a youth group that plays traditional music from Mexico. It's not only a great way to acknowledge the efforts of people doing work musically at the community level, but you also get a different kind of spirit that comes with community projects, a kind of special sustainability and talent."
Groups like Mexican musicians are important also because May Day demonstrations, for the past 14 years, have become huge as traditional labor organizations have joined with immigrant rights groups to turn out thousands at events from coast to coast.
The People's World event will also serve the purpose of clearing up misconceptions about the labor movement, such as defining workers only by their struggles and not by their humanity. "Everybody who works hard for workers' rights also deserves to have fun," said Cambron. "Some people are out on the streets, some people donate. Right now, we have an amazing moment not only to deepen the fight but also to raise awareness; to humanize the effort, and show and tell people's stories. When you experience the human side of the struggle, that's one of the most compelling things."
Part of that human side is in the levity that follows a day of social and political action, and that's an element the fundraising celebration aims to capture. "It's about highlighting People's World while also highlighting May Day and raising funds, but also celebrating those efforts. Because it's going to be in the later evening, we're also looking at this as a kind of after-party. After people have been out in the streets participating in activities and marching at rallies, they can come back home, relax, and let us be like the wrap-up to their day. Sometimes people get consumed by the level of work, but within May Day is the beauty and opportunity to see the plethora of different ways people do things."
Of paramount importance and representation will be the actual fundraising for this news publication, which since the inception of the Daily Worker in 1924 has been at the pinnacle of the fight for the rights of workers, not just on May Day but every day. "We need to garner support for People's World," Cambron agreed. "There's no lack of hard work behind the publication. I remember handing out Peoples World newspapers with my mom and dad, so this is important to me not only as a reminder of that but also because now – more than ever – access to international content and online accessibility is very important. These things really serve as tools to bring light to all the things that are happening." Part of the effectiveness of this livestream will be in "showcasing what we can do," she continued, "and using the tools at our disposal in a helpful and productive way."
The hope in continuing to build and empower the labor movement is that events such as this will serve as the impetus for workers internationally with a common struggle to come together. "This is a chance to see the diversity of what May Day looks like to workers around the world," Cambron concluded. "When we see each other in action, there's no more compelling motivation than that."
Sunday, May 1st @ 5pm (PST), 7pm (CST), 8pm (EST)