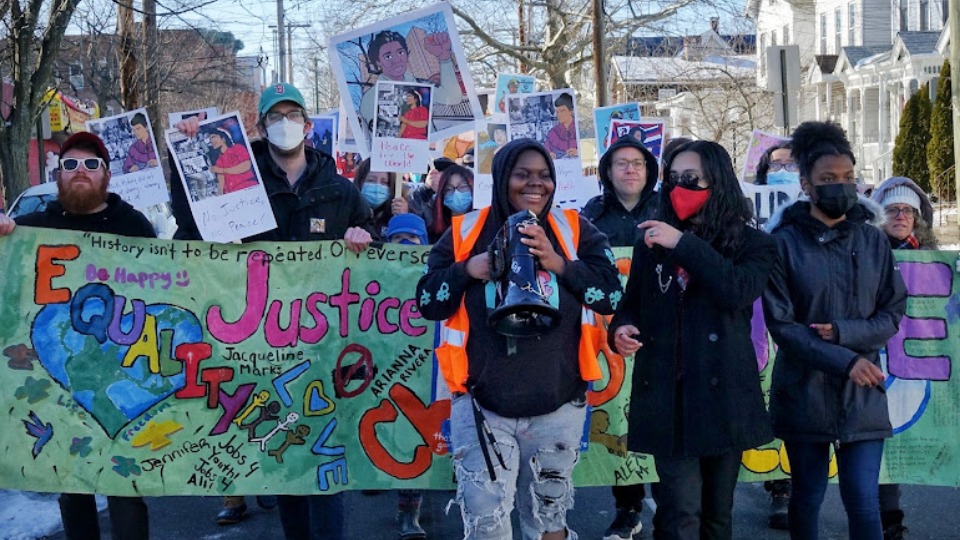 NEW HAVEN, Conn.—Community residents, comrades, elected officials, friends, and youth all gathered in front of Troup School here on Feb. 26 with signs and banners in hand, eagerly waiting to participate in the youth march kickoff of "Teaching Black History – Making Good Trouble," the 48th annual Black History Celebration hosted by Connecticut People's World, which also featured a virtual event the following day.
New Haven Young Communist League chair Manuel Camacho had proposed that the youth-led march/bike/car caravan be held in honor of Art Perlo's legacy for racial and social justice after he passed away in December, a beloved activist and leader in his neighborhood, his union, and in the Communist Party. Everyone attending the weekend's events received a button with a drawing of Art Perlo by Jahmal Henderson, as well as posters of women figures in the African American freedom struggle.
The gathering crowd was greeted and welcomed on the school's entrance steps by Ward 24 Alder Evette Hamilton, with a tribute to Art's role as ward co-chair and dedicated organizer; she called him her "gentle giant." She said Art "made an impact no matter where he went. We are here making good trouble and continuing his legacy."
Hamilton read a message from Frank Douglass, Ward 2 Alder who was a steward in Local 35 Unite Here and worked with Art over many years "on some of the most impactful campaigns to secure union contracts, issues, and accomplishments." Douglass said that Art "lives on in each of us on the ground making equality most important to everyday lives."
Randall Furlow, Ward 24 co-chair, then presented a citation from the New Haven Board of  Alders detailing Art Perlo's "unwavering commitment to equality, peace, social justice, and to end exploitation to make this world a better place." In response, Perlo's wife and Communist Party leader Joelle Fishman gave a passionate call to action, encouraging everyone present to stay involved the fight and carry on Art's work and legacy.
YCL leaders Jennifer Graham and Camacho led off the half-mile youth march loudly chanting "S.T.O.P. the violence" and "Black Lives Matter" throughout the neighborhood streets, alongside neighbors, union brothers and sisters, and comrades in the movement for "People, Peace and Planet Before Profits." A car caravan behind the marchers honked in time to the chants.
When the crowd arrived at the New Haven People's Center, they were greeted with refreshments, remarks, and stories.
Local 34 Unite Here staff director Barbara Vereen recalled her first meeting with Art decades ago during a union organizing drive at Yale New Haven Hospital and three contract fights at the university. "He brought his knowledge about the movement and about unity," in the Yale Club of the Communist Party, where workers from all the drives were included. "Creating equity in this world was his whole mission. We stand here to keep the legacy moving forward," she concluded.
Graham, who joined the YCL ten years ago and helped organize the march, said, "Art was a good man. He was always at every activity we ever did. He is still there for us."
Lisa Bergmann, organizer with the Communist Party and YCL, recalled that when 31 youth lost their lives to gun violence in 2011, "Art, in this moment in crisis, shared numbers with the young people showing youth deaths increased at the same time that youth summer jobs had been cut in half," leading to the Jobs for Youth / Jobs for All campaign taken up by the Board of Alders. "Art Perlo is the father of our youth organizing and will always be with us in our organizing for peace, equality, and Jobs for Youth / Jobs for All," she said.
"We celebrate a man who inspired many and impacted everyone who met him," said Camacho, youth leader of Ice the Beef and YCL. "Many of the victories were because of the immense behind-the-scenes work Art was so passionate about." Calling for solidarity with Amazon and Starbucks workers and recognizing the ten-year anniversary of the killing of Treyvon Martin, Camacho asked everyone to "make a promise to Art that we will continue to fight in the name of justice and equity for all demographics and ages."
A citation from the Connecticut General Assembly introduced by Rep. Robyn Porter and Sen. Gary Winfield recognized Art as "a multi-layered freedom fighter who danced ever-so-gallantly on the battlefield of life," concluding "We humbly and emphatically salute him for his courageous and unrelenting resistance on behalf of those he lifted as he climbed," calling his legacy "a beacon of light."
As the YCL youth presented flowers to Joelle Fishman, recognizing her mother Edie Fishman listening from a nearby car, participants stood together in unity and solidarity to continue and keep up the fight, hard work, and the legacy of Art Perlo.
The weekend continued the following day with the virtual event, "Teaching Black History – Making Good Trouble," addressing the sharp attack across the country against the teaching of Black history and the origins of racism and white supremacy. This year, Connecticut became the first state to require that public high schools offer courses on African American, Black, Puerto Rican, and Latino studies. The legislation was passed as a result of testimonies, rallies, and lobbying by youth groups.
The event, broadcast from the New Haven People's Center with live emcees Mary Thigpen and Camacho and panelists, also featured a keynote address, drumming and dance performance and awards for a student arts and writing competition.
State Sen. Gary Winfield, chair of the Judiciary Committee, called out the stereotypes that can be heard constantly depicting African American youth as contributing to increasing crime. "In fact, Connecticut is one of the safest states in the country," said Winfield, emphasizing how dangerous these stereotypes are.
"It is important to teach Black history because it reflects who we are and what we're capable of doing," he said, calling for support of the Stop Solitary CT movement to ensure that those in prison are treated like human beings. He gave an impassioned plea for support of his top legislative priority this year—keeping youth out of prison.
Leslie Blatteau, newly-elected president of New Haven Federation of Teachers (AFT 933) stressed that Black history is a part of the history of our nation. "We cannot teach history without teaching Black and Latino history," she said, "and speaking as a white woman, underscoring the importance of exposing the history of white supremacy that holds back progress today." She acknowledged the Good Trouble made by Students for Educational Justice and other movements for justice and equality, saying, "it works."
Representing Students for Educational Justice, high school student Jayleen Nieves thanked the panelists for recognizing how important it is for youth to learn Black history. "Black and Latino history, not just slavery, is not talked about enough," she said, asking, "Why should there have to be a separate course to teach Black and Latino history? It should all be part of teaching American history." She said it is important to get in Good Trouble "to fight for what we want."
Keynote speaker Eric Brooks, co-chair of the Communist Party USA's African American Equality Commission and community activist in Indiana, spoke on the importance of teaching Black history in public schools in light of the right wing's attacks on Critical Race Theory. "The attack on teaching Black history is designed to disappear the experience of oppression and super exploitation that characterizes U.S. history from the beginning of the colonial and chattel slave experience until today," he said.
Brooks ended his speech by telling the virtual attendees that "the attempt to erase Black history is a struggle to undermine the democratic voice of Black people in U.S. society, and to advance the agenda of the ultra-right and those who see systemic change on behalf of building a society that meets the needs of the people as threatening."
Issuing a call to action, he said "Let us all join in demanding that Black History be fully and realistically taught, let us all make efforts to teach ourselves, and most of all, engage in collective struggle around the pressing issues facing us as human—Black, white, indigenous, migrant, Asian, and all other oppressed peoples today."
The evening's events ended with drumming by Brian Jarawa Gray. Earlier in the program, a wonderful dance selection was presented by Afro Beat.
Mary Thigpen urged all present to contribute to the People's World in the name of Art Perlo.
Jahmal Henderson, Manuel Camacho and Joelle Fishman contributed to this story.
> WATCH Eric Brooks' presentation on teaching Black history.